TO READ MUSLIM ARTICLES CLICK
HERE
FOR OLDER ARTICLES ETC. GO TO
PAGE 2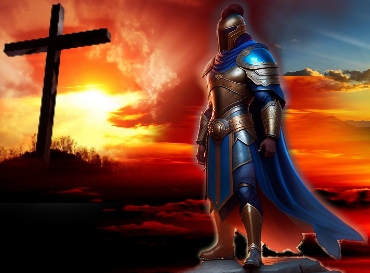 CHECK OUT OUR NEW WEBSITE!
NEW AND OLDER ARTICLES!
POWERFUL SCRIPTURES AND MORE!
* * *
General Jim Released!
May 4, 2023
GOOD NEWS! Recently General Jim was finally released from prison after five years and nine months of being locked up for nothing but nonsense. The enemy had to work hard to come up with enough lies and liars to justify throwing Jim in prison. Yet so it has been throughout history: those who are determined to follow the leading of the Holy Spirit, strive to live in holiness, and work hard to carry out the Great Commission, have always been attacked by the kingdom of darkness. And the scriptures tell us that all who live godly in Christ Jesus will suffer persecution (2 Tim. 3:12). True Christians will always be targeted by the kingdom of darkness in one way or another. Yet let us never forget that it is an honor to be persecuted because we belong to Jesus. Jim is still adjusting to being back with his people, for many things have changed during the five years he was locked up. Thank God that we are still marching together as militant soldiers determined to take Jesus to all the world!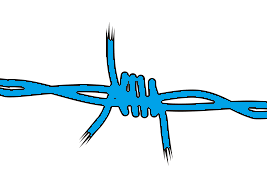 General Deborah
Found NOT GUILTY and RELEASED!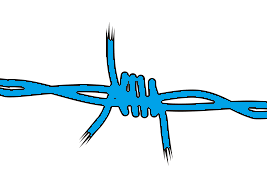 On January 28, 2022, General Deborah Green was released from prison. She is happy to be back with her people and very thankful to the Lord for keeping her safe through that long and arduous test. God is still blessing her (and us) with a steady stream of Prophetic Words of the Spirit. She wants to thank everyone for their prayers. Following is a copy of the request for a new trial which was the tool God used to secure Deborah's release.The enemy will always accuse God's people. And God will stand with them through it all.
In The Interest Of Justice:
MOTION FOR A NEW TRIAL BECAUSE OF NEWLY DISCOVERED EVIDENCE
Defendant Deborah Green respectfully requests, according to rule 5-614, NMRA, a new trial in this matter because of the discovery of new evidence not previously disclosed by the State. All of this evidence, which the State failed to disclose through discovery before the trial in this matter, constitutes new evidence that can form the basis for a new trial. Because such evidence is exculpatory, and essential to any jury's consideration of the allegations against Mrs. Green, this motion should be granted, the jury verdict and sentence in this matter should be vacated, and Mrs. Green should be awarded a new trial.
Factual Background
Deborah Green was charged, by an amended indictment, with two counts of kidnapping in the First Degree, two counts of Abuse of a Child (Does Not Result in Death or Great Bodily Harm), two counts of Abuse of a Child Resulting in Great Bodily Harm, three counts of Criminal Sexual Penetration in the First Degree (Child Under 13), one count of Abuse of a Child Resulting in Death, two counts of Tampering with Evidence (Capital Crime or First of Second Degree Felony), and one count of Tampering with Evidence (Third or Fourth Degree Felony). The first eight counts allege crimes against alleged victim M.G., while the remaining five counts allege crimes against victim E.M. The Court later severed the charges for the purpose of trial, ordering that the counts related to alleged victim M.G. be tried first. All eight of the counts regarding M.G. Include some allegation connected to the sexual abuse of M.G.

A trial for the Counts related to alleged victim M.G. Was held from September 18, 2018 through September 26, 2018. Following trial, the jury returned a verdict of guilty on all counts. Mrs. Green was then sentenced to seventy-two years of incarceration in the New Mexico Corrections Department. She then pled no contest to three of the remaining charges against her, receiving an additional sentence of ten years to run concurrent with the previously imposed seventy-two year sentence.

Since trial, Counsel for Mrs. Green has uncovered, or been alerted to, the existence of exculpatory evidence not previously disclosed by the State. This previously undisclosed evidence includes:

1. A 2006 psychological assessment of M.G. Performed by Dr. Carol Larroque wherein Dr. Larroque concluded that M.G. Showed no signs psychologically of being traumatized or depressed and denied abuse. While the State had previously disclosed a summary of Dr. Larroque's evaluation, the State failed to seek or actually disclose any records related to the actual exam. The medical records related to this examination are currently undergoing in camera review before Judge Villalobos in State v. Peter Green, No. D-1333-CR-2017-00262.

2. A second SANE exam of M.G. during which M.G. denied abuse. During this exam, M.G. received an examination in her genital area. The SANE exam uncovered no signs of sexual abuse.

3. Medical records related to M.G.'s hospitalization at Children's Psychiatric Hospital when she first began to disclose abuse. This disclosure was made after M.G. Was living with a foster family for several months, which included a primary caretaker that suffered from bi-polar disorder, and who was arrested after threatening to kill himself, unplugging the phone when his wife tried to call 911, battering a police officer, and using his car to block the driveway so his wife and foster children could not leave the residence.

4. A safehouse interview of M.G., conducted on August 25, 2006, during which M.G. Denied abuse after being questioned by Dr. Larroque and undergoing a full SANE exam of her genitals.

Ms. Green now files this motion, seeking a new trial on counts One through Eight of the Amended Indictment because of this new evidence.

Argument
A motion for a new trial under Rule 5-614 must meet six criteria: 1) the new evidence will probably change the result if a new trial is granted; 2) the evidence must have been discovered since the trial; 3) the new evidence could not have been discovered before the trial by the exercise of due diligence; 4) the new evidence must be material; 5) the new evidence must not be merely cumulative; and 6) the new evidence must not be used merely for impeachment or contradiction. See State v. Volpato, 1985-NMSC-017, ¶ 7, 102 N.M. 383, 969 p.2d 471; State v. Fero, 1988-NMSC-053, ¶ 13, 107 N.M. 369, 758 P.2d 783. The evidence discovered since the trial in this matter fulfills every prong of this analysis. Ms. Green's motion should be granted, and the Court should order a new trial for all charges related to M.G.

I. This motion is timely filed.
As a threshold matter, this motion is timely filed under Rule 5-614, NMRA. That rule requires such a motion to be filed before a final judgment or within two years after the entry of a final judgment. Rule 5-614(C), NMRA. Rule 516 does not define when there is a final judgment, and there is a split of authority regarding when a judgment becomes final for the purposes of this rule. Some cases imply that a judgment is final upon sentencing. See State v. Moreland, 2007-NMCA-047, ¶ 13, 141 N.M. 549, 157 P.3d 728 (explaining, the context of reviewing a rule 5-614(C) motion, that "[i]t is well settled that until a sentence for a crime is imposed, there is no final judgment in a criminal case.") (internal citation omitted). In contrast, federal authority counsels, in the context of mtions for new trials under the corresponding Federal Rule of Criminal Procedure, that there is no final judgment until all direct appeals are exhausted. See, e.g., Casias v. United States, 33 F.3d 354, 356 (10th Cir. 1964) (holding that, in context of a motion for a new trial because of newly discovered evidence, a judgment is not final until the time to take an appeal has expired or all appeals are complete). Ms. Green's motion is timely under either test.

Ms. Green was convicted on September 26, 2018 and was sentenced on October 16, 2018. Moreover, Ms. Green's former counsel never filed a notice of appeal or a waiver of appeal for this matter. Therefore, under Moreland, Ms. Green's motion is timely because it is filed within two years of sentencing, and under Casias, the motion is timely because Ms. Green has yet to file an appeal, and still possesses a right to file a direct appeal. Ms. Green's motion is timely and should be considered on its merits.

II. All six Volpato factors are present, mandating that the court exercise its discretion and order a new trial in this matter.
Applying the Volpato factors to the new evidence present through this motion militates in favor of a new trial. First, Ms. Green must establish that the new evidence would probably change the result of the previous trial. In this case, Ms. Green puts forward a motion which details several pieces of new evidence, all of which are exculpatory to the allegations that she sexually abused M.G. Specifically, the new evidence contains one new SANE examination which concluded there was no evidence of abuse, which is clearly exculpatory when the allegation is that Ms. Green sexually abused M.G. by penetrating M.G. with sticks, screwdrivers, and needles. There is simply no possibility that M.G. Could have been penetrated in that matter and there was no evidence of abuse. Moreover, the evidence also includes psychological records establishing that M.G. Showed no symptoms of trauma or sexual abuse. And the evidence also includes safehouse interviews, during which M.G. Stated that she was not sexually abused, or that it was another individual and not Ms. Green that sexually abused her. All of this evidence is exculpatory and supports Ms. Green's defense that she did not sexually abuse M.G. Therefore, there is a probability that the evidence would have changed the result of a trial.

For example,in United States v. Martinez, 388 F. Supp. 3D 225, 232 (E.D.N.Y. 2019), a prison guard was charged with and convicted of sexual abuse. The evidence presented at trial was not "considerable forensic [or] other physical evidence," but was instead based "primarily on the perceptions" of witnesses. Following trial, the defense uncovered an interview with a witness that did not testify, and which was not turned over during discovery, during which the witness testified that the alleged victim in that case discussed having sex with a prison guard in great detail but never stated that she was assaulted or abused. Explaining that "[c]ontradictory evidence can destroy a jury's confidence in a witness's story," the trial court determined that there was a liklihood of a different outcome at the trial. Id. This conclusion was further bolstered by the fact that the undisclosed, exculpatory statement offered "'independent corroboration of the defense's theory of the case by a neutral and disinterested witness.'" Id. (quoting Boss v. Pierce, 263 F.3d 734,745 (7th Cir. 2001)).

The same is true in this case. The newly discovered evidence presents independent corroboration that Ms. Green did not sexually abuse M.G. and presents that evidence from neutral and disinterested witnesses. The first Volpato factor, therefore, counsels in favor of a new trial. Moreover, because exculpatory information, like the newly discovered evidence in this case, could affect the outcome of the trial, it is material, and meets the materiality requirement of Volpato. See United States v. Bagley, 473 U.S. 667, 678 (1985) (defining "material" exculpatory evidence as evidence that would "undermine the confidence in the outcome of a trial"). See also United States v. Coppa, 267 F.3d 132, 146 (2d Cir. 2001) (holding that "material required to be disclosed by Brady . . . is material, which, if not disclosed, creates a reasonable probability of altering the outcome" of a trial).

The newly discovered evidence also meets the second prong, because the proffered evidence was never disclosed during discovery in this case and was only discovered after Ms. Green was convicted, sentenced, and pled no contest to additional charges. The fifth Volpato factor is also fulfilled in this case because this evidence is not cumulative because it contains a previously undisclosed SANE exam, previously unknown safehouse interviews, and a newly discovered psychological examination concluding that M.G. was not a victim of sexual abuse for the time period that she was in Ms. Green's custody. Finally, the sixth factor is also me because the evidence is not merely impeaching or contradictory but represents new evidence from neutral witnesses that M.G. was not sexually abused as alleged by the State. See Volpato, 1985-NMSC-017, at ¶¶ 9-11 (holding that evidence through the form of new testimony is not merely contradictory when that testimony corroborates the defense's story because a defendant should have the right to have all of the testimony submitted to a jury in order that the jury might then determine guilt or innocence).

This motion also fulfills the Volpato factor requiring that the newly discovered evidence could not have been discovered before the first trial with the exercise of diligence. The New Mexico Courts have applied a relatively lax standard when determining whether defense counsel exercised due diligence. For example, the Supreme Court has held that there was no exercise of due diligence when the newly discovered evidence was related to information which the defendant possessed before the trial. See State v. Mabry, 1981-NMSC-067, ¶ 29, 96 N.M. 317, 630 P.2d 269 (explaining that due diligence requires the investigation of prior knowledge otherwise "a [motion for a] new trial would subject ever criminal trial to the possibility of reopening on the ground that the defendant 'remembered' something after trial"). Here, while there is limited prior knowledge regarding the second SANE exam and the psychological records, the State represented to the defense and to the court that those records were lost or not obtainable. Moreover, all of the examinations detailed in the new evidence were conducted after M.G. was removed by CYFD and was in the custody of a foster family. Therefore, neither the defense nor Ms. Green had any knowledge that such records existed before her initial trial.

Moreover, the Supreme Court has held that due diligence requires a defendant to conduct an investigation "to discover witnesses [or evidence] that would tend to exculpate an accused." State v. Stephens, 1982-NMSC-128, ¶ 12, 99 N.M. 32, 653 P.2d 863. For example, the New Mexico Courts have found that there was not sufficient due diligence when an allegedly exculpatory recantation was referenced in a nolle prosequi that was previously filed in the case. State v. Miera, 2018-NMCA-020, ¶ 28, 413 p.3D 491. Similarly, the Court of Appeals of New Mexico found that new evidence failed the due diligence prong when it was identified and available for copying prior to trial. State v. Armijo, 1997-NMCA-080, ¶ 35, 123 N.M. 690, 944 P2d 919. And, the Supreme Court of New Mexico has held that results of post-trial diagnostic testing were acquired following due diligence during trial when the basis for the testing was not apparent before trial. State v. Moreland, 2008-NMSC-021, at ¶¶ 18-21.

No such circumstance is present in this case. An investigation was conducted in this case, with interviews of dozens of witnesses and thousands of pages of discovery disclosed. None of those interviews or records disclosed available copies of the previous SANE exam, safehouse interviews, or psychological evaluations related to whether M.G. had been sexually abused. Nor did the State identify for the defense that such evidence existed. In fact, no witness list of the State identified the medical professionals involved in the SANE or psychological exams, nor did any witness list identify the individuals that performed the undisclosed safehouse interviews. Therefore, Ms. Green exercised due diligence during the trial. The motion for a new trial because of newly discovered evidence should be granted.

III. Defendant is entitled to a new trial because the failure to disclose the new evidence violates Brady v. Maryland.
Brady v. Maryland imposes upon the State the obligation to reveal evidence within its possession that is material to the guilt of the accused. 373 U.S. 83, 87 (1963). To obtain a new trial based on a Brady claim of newly discovered evidence, the defendant must show that: "(1) the government possessed favorable evidence to the defendant; (2) the defendant does not possess the evidence and could not obtain the evidence with any reasonable diligence; (3) the prosecution suppressed the favorable evidence; and (4) had the evidence been disclosed to the defendant, there is a reasonable probability that the outcome would have been different." United States v. Vallejo, 297 F.3d 1154, 1164 (11th Cir. 2002). A "reasonable probability" is "a probability sufficient to undermine confidence in the outcome." United States v. Bagley, 473 U.S. 667, 672 (1985).

The new evidence uncovered in this case meets that test. First, as discussed in greater detail above, Ms. Green did not possess evidence related to the second SANE exam prior to trial. That SANE exam was also mentioned for the first time during trial, therefore, Ms. Green could not have accessed that SANE exam with reasonable diligence. Moreover, the evidence was possessed by the State because it was in the possession of the Cibola County Sheriff's office and produced to counsel for Peter Green in State v. Green by that office. Finally, it was suppressed because it was never disclosed to the defense, and because the State has continuously asserted that any records related to the second SANE exam were lost. That, however, was untrue.

Because the second SANE exam is exculpatory and confirms the defense's theory at the initial trial, then there is a reasonable probability that the evidence would undermine confidence in the outcome of the first trial. Therefore, separate from any analysis of the Volpato factors, the Court should also grant the motion for a new trial because the State failed to meed its obligations under Brady.

IV. The Court should Exercise Its Discretion to Grant a New Trial Because a New Trial is Required in the Interest of Justice.
"Because the trial judge has observed the demeanor of the witnesses and has heard all the evidence, . . . the function of passing on motions for new trial belongs naturally and peculiarly to the trial court." State v. Smith, 1986-NMSC-038, ¶ 17, 104 N.M. 329, 721 P.2d 397. This is especially so when the evidence is reliable and tends to show the actual evidence of a defendant. See Montoya v. Ulibarri, 2007-NMSC-035, ¶ 32, 142 N.M. 89, 163 P.3d 476. Therefore, the Court should exercise such discretion, specifically granted to the court by Rule 5-614, and order a new trial in this case as required in the interest of justice. Rule 5-614 (A) (stating that when a defendant has been found guilty, the court on its own motion may grant a new trial, "if required in the interest of justice"). The newly discovered evidence in this motion is evidence that should have been disclosed by the State during discovery prior to Ms. Green's trial. See Rule 5-501(A)(3), NMRA (requiring the disclosure of any records "which are material to the preparation of the defense") and Rule 5-501 (A)(4), NMRA (requiring the disclosure of "any results or reports of physical or mental examinations . . . made in connection with the particular case"). The failure to disclose such evidence violates the State's Brady obligation to disclose exculpatory evidence. See Copa, 267 F.3d at 146 (holding that Brady requires the disclosure of exculpatory evidence "in time for its effective use at trial or at a plea proceeding"). It is therefore in the interests of justice to order a new trial in this matter. See e.g., United States v. Cestoni, 185 F. Supp. 3D 1184, 1195-96 (holding that the prosecution's Brady violations can be the basis of granting a new trial in the interest of justice).

Conclusion
The Court should grant the motion for a new trial, vacate the jury verdict for this matter, vacate the sentence imposed on Ms. Green, and order a new trial on all charges.

Respectfully submitted,
Carter B. Harrison IV
Nicholas T. Hart
Harrison & Hart, LLC
1001 Luna Circle NW
ABQ, NM 87102
505.295.3261
harrisonhartlaw.com
Counsel for Deborah Green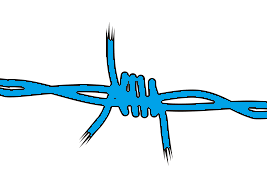 I'm sure you are all anxious to hear about what is happening at ACMTC
AGAIN!!!!
We have been very busy trying to answer questions and let the truth be told.
We suggest everyone first checks out Kathy Helms' series of articles, beginning tomorrow around noon (Tue, Aug. 22, 2017), published in the Gallup Independent newspaper (www.gallupindependent.com -- you will have to subscribe to their paper for 1 week to get the article). General Jim had a very good, long interview with her at the Cibola County Detention Center this afternoon (August 21).
Also, please study our Px2 Files (see the "Answering our Critics and Friends" link along the left side of our webpage, then click on the "Px2 Files" link at the top of the page). Part 1 is the best, and everything hinges on the information revealed in that part. This will give a foundation to the truth that exposes all these INCREDIBLY FALSE accusations against the Generals and ACMTC members.
In time, we will try to satisfy all those seeking interviews.
The Generals are requesting an audience with the Governor and other state officials.
NOTE: After the shock and all of the tactical swat team raid, after the members (excluding the children) were handcuffed, everything was handled very professionally by all the officers involved. They were professional and courteous. Sheriff Tony Mace and Undersheriff Michael Munk handled the situation very well, as all the members of ACMTC would agree.
[UPDATE: It became apparent, very early on, that the "professional and courteous" manner of the Cibola County Sheriffs was just a show: in fact, they ended up lying, covering up evidence, suppressing the facts and being very "unprofessional and uncourteous" towards all of us.]
Below is an updated response to the first article that appeared in Albuquerque (a KOAT7 news article).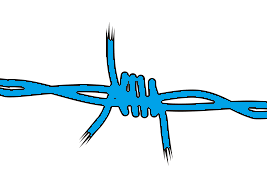 To whom it may concern:
I work with ACMTC and the accusations against the accused are all unbelievable. General Jim was accused in 2006 of the same accusations and they were proven to be totally false. These allegations are totally false again. We don't know who all the accusers are, but the accusations are just re-runs of old lies that have been investigated and shown to be malicious attacks against a legitimate ministry, time and again. Please contact us if you need more information.
Now, concerning Joshua Green. The accusations about him are utterly false. It was his wife who didn't want to register the child because of her legal status in the United States (she is from St. Kitts), and also because when she chose to come to New Mexico, she had cut off contact with her parents (she owed them money -- they had supported her in college), and she didn't want them to know where she was. See all her emails for verification. At ACMTC it is up to each parent to decide how and when they register their children; many ACMTC members and affiliates across the United States have children that were born in hospitals and have birth certificates.
Peter Green and Deborah Green are being accused by the same girl, a crippled girl from Uganda, who was also proven to be lying when she falsely accused General Jim of molesting her in 2006 -- he was not even in the area in 2006, by court order, at the time she falsely claimed the events took place.
Furthermore, Deborah and Jim took this young girl to a surgeon three times for a natural birth defect, desperately hoping this would help her condition. Later on, she broke her already fragile leg while swinging on a swing, and the Generals immediately took her to the closest hospital, which was at Zuni. From there, they went with her to a hospital in Albuquerque to get her even better medical attention.
It is reported that the Generals deprive people, particularly children, of medical attention, but in all horrible irony, this young girl was actually stolen from the Generals by the CYFD in 2006, while getting treatment in a local hospital! This is on record in Albuquerque. Please contact us if you have more questions concerning this issue.
KOAT7 news reported on August 21 the following shocking statement:
"The warrants say Deborah controlled the group's money and rarely wanted to pay for hospital visits, preaching that those who are sick 'must repent to be healed.' She's now charged with neglect resulting in the death of a child."
In addition to what has already been shown above, note that since ACMTC's founding in 1981, it has never been ACMTC policy to withhold medical attention or deprive anyone from going to the hospital. In fact, many people have received hospital care over the years.
The young girl from Uganda spent much of her life with the Generals being wheeled around in a wheelchair, or on crutches, and the Generals were trying to help her learn how to walk after the surgeries (but she was stolen not too long after receiving this medical care). The sickening accusations that certain persons were molesting a young crippled girl in a wheelchair are unheard of! General Deborah's sincere care for the young girl is unquestionable. All allegations relating to Peter Green are absurd considering it was Peter himself who had prudently handed the care of this young girl over to a woman (General Deborah) when his (Peter's) wife was no longer present to care for the girl. He felt in his true Christian morality that this would be best for her. If you want to know more about all this, please contact us.
One more note on medical attention: ACMTC pays for all the eye exams, glasses, dental work, etc., of all its members. (Remember those operations mentioned above – guess how much all that must have cost!) So any allegations about General Deborah being "tight" with money is ABSURD.
All the accusations hurled at this ministry, including unfounded child abuse claims, have been proven false over all these years. We have all the newspaper clippings to show the hype, and the records show everything was proven false. Since 1983, thorough investigations have been done, all accusations proven false, and yet the persistent, one-sided storytelling continues.
Finally: Another of the accused, Stacy Miller, has not been a member of ACMTC for over a year and a half. And for all the horrible reporting about a minor dying here, realize that in all the decades that ACMTC has been a missionary group, among all the hundreds of kids that have come through, only one minor has died, and that of natural causes. (How many minors died that same year in hospitals, and how many poor, innocent, defenceless babies were slaughtered legally in medical clinics the day that one boy died naturally? We heard that 17 people died of that same flu, in a local Albuquerque hospital, receiving the best medical attention available. Look up the statistics for the proof. Now, how come no one is mentioning that fact?)
-- First Sgt. Amos, Communications
-- General James Green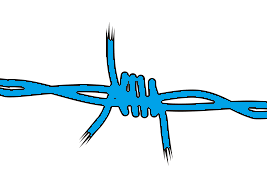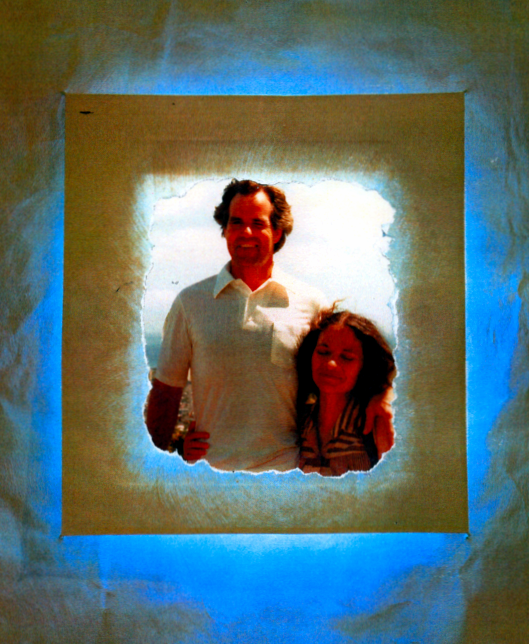 I'm Married to a 3-F General
-By: General James Green- 7/19/19 - POW #86322
She wasn't always a general in God's army. We were married in 1971 (we committed ourselves to the Lord Jesus and to one another). I was 26 and she was 24. In 1981, the Lord began to challenge both of us to start an army of the Lord. We had spent the first 5 years of our Christianity in a Pentecostal Church training to be both pastors and missionaries. Our first out-of-the-country mission was Mexico.
In 1977, the Spirit led us out of our Church organization and into Himself. He began to teach us by His Spirit. In the early 80s the Spirit began His work in us about the 3-Ds: Dominion, Deliverance, and Discipline – the foundation for the "Army."
In 1983, the Spirit prompted us to establish a training corps called "Aggressive Christianity Mission Training Corps" (ACMTC). It was at this time the Lord said (by His Spirit) that He wanted us to be colonels. Several years later and many countries later we became Brigadier Generals, then Major Generals.
But what about my wife being a 3-F General? Three outstanding traits my darling wife, Deborah, has: 1- "Fearless;" 2- "Faithfulness;" 3- "Frugal," i.e., thrifty. She has basically run ACMTC on these 3. They have seen us through many a hard time as we've labored in many nations, giving out free ACMTC materials and having to stand strong in the face of dangers. General Deborah has been and continues to be a real GENERAL. Her steadfastness and courage to win the battle is admirable. She is frugal but not stingy. She is faithful to keep at her Post of Duty (POD) no matter what. She is both hated and loved.
I am a most blessed man to have a wonderful wife like her. She loves Jesus passionately and I get to feel that love also. When I see her in her uniform and beret I think of Song of Solomon 6:4; "O my love, YOU ARE AS BEAUTIFUL as Tirzah, lovely as Jerusalem, AWESOME as an army with banners!"
In most nations of the world where we've planted the flag, they call her both General and mother. Now she is in prison for her faith. A POW / PIP (prisoner of war/ prophet in prison). We both are, plus, our son-in-law Lt. Col. Peter. But we rejoice in the Lord. We're fellowshipping the suffering of the risen Christ and the soldiers / saints gone before us. Our love for our commander-in-Chief, Christ the Lord, has only grown. And my love for Deborah burns bright - it will never die.
May we 3 continue to proclaim Jesus' "good news" to those who sit in jail and prison cells. Jesus is looking for a few good soldiers.
_______________________________________________________________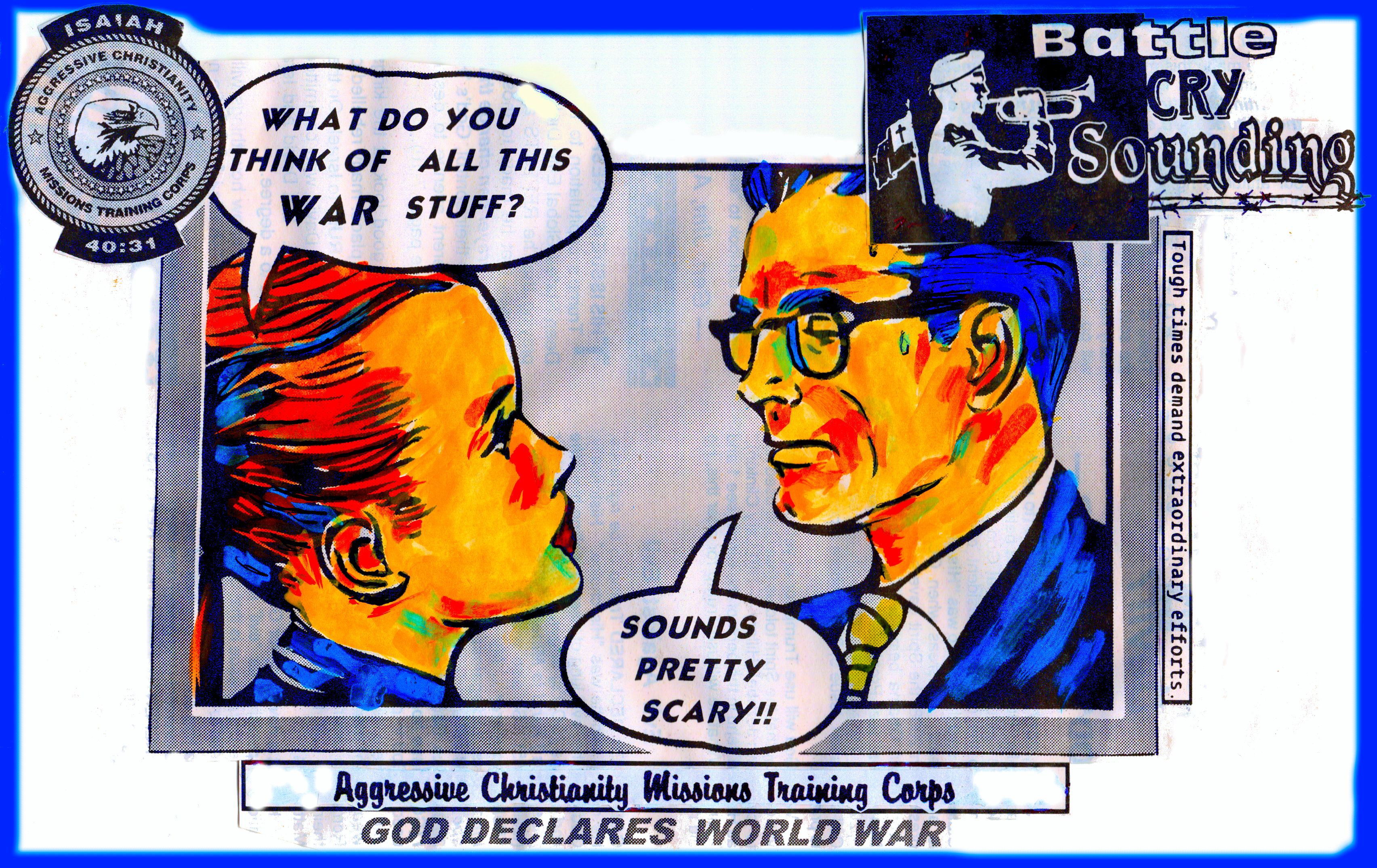 Aggressive Christianity Missions Training Corps
BCS, an idea time bomb....not for the squeamish or selfish. Aggressive Christianity's "Cutting Edge" magazine since 1983, teaches Spirit-Warfare and challenges you to GO to the world's battlefront and FIGHT the GOOD FIGHT of FAITH!!! (1 Timothy 6:12). BCS has been training, equipping, and gearing up Christian soldiers for the coming REVOLUTION, which is NOW here, which is called the New World Disorder, a.k.a. New World Order. For those covered in Babylonian churchianity (pleasure puke seekers) BCS is the antidote, full of antibodies against compromise. BCS is considered by many thumb-sucking churchites to be over-the-edge critical and incisive, skull-crushing, compulsively anti-just about everything. These same languidized dastards also accuse ACMTC of fratricide, matricide, and regicide. But the Generals Jim and Deborah, and their H.Q. team, do not recoil at such accusations from those of the demon underground repository (church la la land). From sysops to psyopts, BCS exposes conspiracies and sexual sicknesses, along with church heresies and heretics-with occasional rants and rages.
Order your Battle Cry Sounding magazines-the "Sword That Cuts and the Fire That Burns," "incendiary and too often too graphic" our critics complain-poor babies!! ACMTC is not only pseudo- anarchy but strange, or should we say anti-strange (queer)... taking the readers to extremes by being anti-America First (by this we mean anti-global power structure whereby U.S. citizens are used/abused by the U.S. Gov. in sundry and dirty ways.)
Let's face the harsh reality: The American church, state, and family unit is ROTTEN to the CORE-ODIOUS-MORIBUND, ultra-militaristic (we do not condone the use of physical weapons in our warfare). BCS is avant garde in its fervent defense of the Gospel of Jesus Christ: "Taking Jesus to All the World" (see Matt. 28:19). If one wants to do the "Jesus Only" thing, get ready for lots and lots of hate mail from irate groups, moral fascists, GLBTQ sickos and pro-American folks who are steeped in idiosyncracy and democracy. ACMTC is both LOVED and HATED: the oxymoron is on the table.
No, our material is not like cyberspace-a medium that gives people the "feeling" they have been transported, bodily, from the ordinary to the imaginary: NO! We practice what we preach; we go where others merely read about. We're not like you churchites who sing and dance and prance, but your reality is ZERO
your spirituality is a mile wide and an inch deep. Sorry, you would be miserable around us.
NO! We're not about transrealism: the two basic principles of which are: 1) write about immediate
perceptions in a fantastic way, and 2) base your character on real people. We base our experiences on ourselves, not what others have done or what they say they intend to do: Hey! "Get off your lazy behinds and get to the frontlines, there's a WAR ON!" Are you one of the millions (with a capital M) bobbing around, shucking and shirking, waiting for your ministry to fall into your lap? Well, get real-get BCS and get motivated for movement lots of good ol'
persecution, hard times, discipline, denial, suffering and, of course, blessings; not your typical "hyper- dimensional church hallucination". None of this church tryptamine stuff. DMT produces a "visionary experience," but EKKLESIA living produces the real thing. Stop seeking galactic kind of experience there are genuine ones in true Biblical Christianity... angels, demons, and all.
Combat! Not your churchy kind whereby one swings and sways your hips and arms while under the influence of rock 'n' roll music (or rap etc.), swinging your invisible sword, cutting demonic forces into tiny pieces. You know the kind. The kind we see in almost all mega-Churches, and wanna be mega-Churches. Well, I hate to give you the "Bad News", but all that ABSTRACTION is not what Biblical combat is all about. Not to say we don't fight demonic forces (as in Eph. 6), but your kind of fighting is devoid of godly characteristics. This type of "spiritual warfare" is fundamentally deceitful, yet taken for granted as the REAL thing. Churches are literally full of armchair warriors who wouldn't know a demon if it bit them on the butt!
There is an undeniable reality which isn't up for grabs by the Christless Church; it is Aggressive Christianity. It is as old as the Bible itself; eternal-flaming, eternal-cutting... legendary stuff. Are you ready for BRAINWASHING??
We live in a rebellion-against-God generation, rebels of reptilian origin, the new and terrible American dream: 50 states without God; a lucid dream (designating an interval of sanity in a mental disorder) as long as America remains in this state, no ATROCITY will be past us, for we finally kicked that old holiness God out of our territory once and for all. Hurrah!
Just about everybody's samplin' and bitin' off the rebellion... bustin' loose-that's a whole nother kind of restraint, maggot brain. BOUND TO SIN! But not all is lost, oh no, some are tryin' to analyze or figure out our sordid predicament. Others have puked in their cup... their cup runneth over.
BCS does not leave any stone unturned. It's brutal truth-can you handle it? It's intense truth-can you eat it? It's a whole new way to hurt-can you take it? Chaos junkies take nibbles now and then. The whore of Revelation despises it; subversive dominatrices ponder it; malcontent idiopathics are afraid of it; and those with carpal tunnel syndrome can't destroy it.
You know, the Bible is a book of many authors, Who, by the way, were not passive but aggressive, and who wrote under the inspiration of the Holy Ghost-TERROR on parchment and paper. Terror to the lawbreaker; blessing to the law keeper (I speak of the O.T. Law and N.T. moral law).
With today's emergent Church (those most notable jellyfish-like creatures who HATE Biblical ABSOLUTES), the non-emerging believers are a real pain in their butts. The latter read BCS of course. Of course!
Think about it. Just about the entire thrust of churchianity is unscriptural in one way or another. Do we need a Spirit revolution? "The solution to the stinking pollution is bloody revolution!"... the blood of Jesus cleanses us from ALL SIN.
One of today's obsessions is living in a world where one does damn well as they please. Well, we're just about there. America, year after year, has lowered the standards and barriers to entry and let ordinary people participate in this "do your own damn thing" party. Wherever there's a new medium, there's always a struggle to find out whether the Bible or the Constitution is going to allow it. So, America has become the age-rage. But frankly, all this is a recipe for disaster. America's DNA is skrewed. It's genetic code is in question-abeyance, i.e. temporary suspension. Articulation of what one sees, feels, or hears is in a breakdown mode. In reality,
deconstruction is the cultural norm. The Bible says a lot about this if one cares to read it. Make no mistake about it, most Americans are literally scared-to-death to chance an introspective view of themselves-they don't want to know that this CULTURE known as the United States of America is in the breakdown mode. Trust me, if we continue to make major alterations in the collective USA mind, we court total disaster. We've been writing about this for years now.
What have we said? We've said that we Americans have to come to grips with what we've done against God and country and the world. We've got to face the AWE and TERROR inspired by demonic forces. America-the Church, State, and family unit has IMPLODED -no nuclear Armageddon, just plain ol' rebellion against God and His Truth.
You, dear American, track the procedure. See if we're right or wrong. See if you, dear readers, have a place in the rebellion-against-God ethos. Or is what I write unnecessary and insulting? You feed the Beast, the Beast becomes a totalitarian controller over you.
Agenda 21st Century is controlled by wicked politicians, preachers, and perverts! Political, religious, and sexual subversion is GRINDING AMERICA DOWN. Don't expect official Babylonian and organized conservatives to do much about this MENACE. Oh no! They might have to fight. Imagine that?? It is time to REPENT!!!

__________________________________________________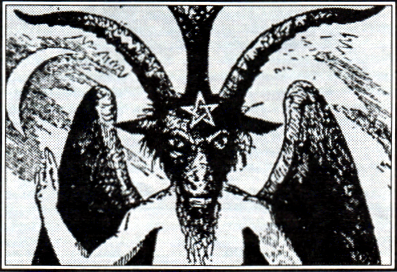 The World Under Satan's Control
Gen. James Green
FIRST JOHN 5:19 says, "We know that we are children of God, and that the whole world is under the control of the evil one" (NIV). The KJV has, "…the whole world lieth in wickedness." The TCNT has, "…all the world is under the influence of the Evil one." The Weymouth translation has, "…in the power of the evil one," while the RSV reads, "…and the whole world is in the power of the evil one."
I think we get what St. John was saying: Satan is the "god" of this world. He is EVIL and his power CONTROLS this present evil age (see also Lk. 13:16; 2 Cor. 4:4; Gal. 1:4; Eph. 6:12; and Heb. 2:14). In Mt. 4:10, we find Jesus saying, "Away from Me, Satan! For it is written, 'Worship the Lord your God, and serve Him only,'" quoting from Deut. 6:13: "Thou shalt fear the LORD thy God, and serve Him, and shalt swear by His name." Verse 14 adamantly says, "Ye shall not go after other gods…" Verse 15 tells us why: "(For the LORD thy God is a jealous God among you) lest the anger of the LORD thy God be kindled against thee, and destroy thee from off the face of the earth" (see my long article on "The Jealousy of God").
In 1 Chron. 21:1 we find, "And Satan stood up against Israel, and provoked David to number Israel." We also find Job being tempted by Satan (chs. 1 and 2). We find David mentioning Satan in Ps. 109:6. He is also mentioned in the book of Zechariah 3 times (3:1, 2). When we step into the New Testament era we find his name/person many times.
Dualism
WE DO HAVE a choice in the matter: we can choose to serve Christ or Satan. Of course First John tells us in 2:15-17, "Love not the world." "The world" has several meanings. Commentators generally insist that the term "world" (κόσμος), in vv. 15-17, and usually in the Gospel of John, refers not to the order of creation (including man), but to men's lives as alienated from God. "Do not love the world" appears, indeed, to suggest a markedly different aspect of the world from those sayings which speak of God's love of the world (Jn. 3:16) or of Jesus as the Savior of the world (1 Jn. 4:14). There are verses, and some in this epistle (1 Jn.), where the meaning of the term is evidently narrowed so as to refer to the world in its human aspects; 1 Jn. 3:1, "The world does not know us," and 4:5: "The world listens to them" (contrast 3:17; 4:17); so, the meaning of the term varies in different passages.
But here in 1 Jn. 2:15-17, "world" means more than "mankind fallen away from God,"—it deals with the "Satanic." 1 Jn. 5:19 states that "the whole world lieth in wickedness" (KJV), or, "the whole world is in the power of the evil one" (RSV). The picture of the "world" laying helplessly in the GRIP of EVIL is very much true. It is the Christian's duty to present the WAY OUT!: "And we know that the Son of God is come…that we may know Him that is true; and we are in Him that is true, even in His Son Jesus Christ. This is the true God, and eternal life" (v. 20, KJV). This text gives one of the most explicit statements in the New Testament of the deity of Christ.
So, we can get to KNOW our Savior by repenting of our sins and asking God to forgive us…inviting Christ into our lives to be both Savior and Lord, thus escaping from the grip of Satan.
First John 3:8 reads: "He that committeth sin is of the devil; for the devil sinneth from the beginning. For this purpose the Son of God was manifest, that He might destroy the works of the devil." This was Jesus' mission-to-earth.
Satan is the father of the children of the world; Christ is the father of the children of light. Jesus makes it clear in John 8:44 that His adversaries… "are of your father the devil, and your will is to do your father's desires…"
You see, Jesus is very much concerned with the depth and malignancy of SIN. Jesus was always rebuking the "religious" of His day, for they were inwardly FALSE; how could false teachers/prophets lead people OUT OF SIN?! LOOK AT TODAY'S RELIGIOUS LEADERS—FALSE! THEY PRETEND TO BE "CHRISTIAN," even presenting sorts of "celestial benevolence," but still are servants of the "world" and of the "evil one."
Jesus came to destroy the works of Satan; faith in the Incarnation of Christ delivers us from the grip of sin, repenting finalizes it.
The "world" represents hate and death; "Christ" represents love and (eternal) life (see vv. 1 Jn. 3:11-18).
First Murderer
THE BIBLE RELATES to us about the world's first murder and murderer. 1 John 3:12 points out the culprit: Cain… "who was of that wicked one, and slew his brother" (KJV). The RSV has "murdered his brother." Cain is already, "of the evil one," for the devil (Satan) "was a murderer from the beginning" (Jn. 8:44), hence, Cain is of the devil and his wicked deeds reflected it.
Why did Cain murder Abel? Verse 12 tells us, "Because his own works were evil, and his brother's righteous." This indicates more than mere jealousy, it was HATRED!, for verse 15 tells us so: "Whosoever HATETH his brother is a murderer: and ye know that no murderer hath eternal life abiding in him."
The Bible also teaches us that the darkness shrinks from the light and HATES it; and Christ observes that because He has given God's Word to His disciples, therefore, "the world has HATED them because they are not of the world, even as I am not of the world" (Jn. 17:14).
True Love
JESUS WAS AND IS the depiction of love, "Hereby perceive we the love of God, because He laid down His life for us…" (1 Jn. 3:16). You see, while we were ALL sinners, Christ died for us...not when we were righteous. By our repenting of our sins, we receive eternal life—which is "ethical love." The antithesis here is: hatred vs. love and death vs. life. John recollects a time when he and his fellow believers were in death (v. 14, "we know that we have passed from death unto life..."). If you have never experienced this great transformation, it is yours for the asking (I did it back in 1971).
Over against all the world's HATRED is Christ's love…the message for this mess-age. All this New Age hype, about how every man/woman can find in themselves life, love, and light, is sheer madness. Love—true love, is rooted in the love of God the Father and the Son. Collectively, those who will not receive Christ's love will remain in death, slaves to the wicked one.
ALL THESE PERSONS WHO CLAIM TO BE "SAVIOURS" ARE THEY THEMSELVES IN NEED OF A PERSONAL SAVIOUR. The New Age philosophies of today conceptualize man's passion to immortalize himself/herself and their cultures—to pass from death into life—in the symbols of saviours who have attempted in history to deliver disintegrating societies from the "grip of death." Only the God-incarnate in a man conquers death. "God was in Christ, reconciling the (lost) world unto Himself…and hath committed unto us the Word of reconciliation" (2 Cor. 5:19). Verse 18 tells us that, "all things are of God, who hath reconciled us to Himself by Jesus Christ." Verse 17 relates that, "if any man be in Christ, he is a new creature (creation): old things are passed away; behold, all things are become new." Reconciliation (Greek, katallage, Strong's G2643) is an aspect of redemption. It refers to the restoration of the sinner to fellowship with God (see our magazine on "Eternal Salvation").
Currently, America is undergoing a revolution, with the "Left" trying to regain the "death grip" they once had on America. By "Left" I mean the disciples of Saul Alinsky (who wrote "Rules for Radicals," see our latest DVD–"The Roots of America's Dangerous Left"), which are none other than Communists/Socialists.
In "In These Times" (March 2017, a Socialist magazine), the Big Headline on the cover is, "The Fight of Our Lifetime," the climate movement goes to war with Trump. In the Letters section, under Democratic Socialism, we read:
"I've been a democratic socialist like Bernie since the 60s and have been waiting for this country to realize that democratic socialism is good for all of society rather than just the elites ("Socialism's Trump Bump," February).
"It's not rocket science. Denmark and Sweden have healthy economies. Their people have free education and medical care, and make a living wage. Live and learn" (Kathy R., via Facebook).
This is just the kinda BULL I was referring to about "Saviours." Communism/Socialism has NEVER worked for the good of the people as a whole. Remember the Commies murdered over 100 million of their own citizens in the beginning, not to count the millions since those years of trial.
These poor misguided SUCKERS are really BLIND! The Clintons, the Bushes, the Obamas & Biden.
Place the blame on these psychos, not on Trump [at least not yet]. Place the blame on ultra sicko George Soros, who sponsored much of the revolutions, perversions, etc. that have made the world much more DANGEROUS and nugatory.
Spiritual Warfare Continued!
The U.S. Government under Prez. J. Biden has become a hot bed of political witchcraft/wizardism. This sick leader has opened the doors of Hell for every manner of wickedness to flood in upon the nation. The "open borders" is the physical counterpart!)
Talmudists/Qur'an adherents/Marxist reprobate church leaders et al are workers of witchcraft/stagecraft. . .serpents in human bodies. Then we have pharmaceutic enchantments; suppliers/appliers of drugs that keep the nation in abundant supply. Wizards spin mis/disinformation (media) causing any and all with their "news/blues" to the dumb multitudes, the indisputable fact, that so many "spirits' exist around and many too many—are being POSSESSED; few there are who are "God possessed"! The whole "wokeness/politicalcorrectness" movement is presided over by demons. . .misleading the imaginations of the masses. Sickos like G. Soros etc. Some call him a "loathsome lunatic" who gives millions upon millions of dollars to left and far left movements/individuals each year.
The evil influence of credulity contagious, so that individuals/movement/nations will trust the witchcraft of others in spite of their own senses. America is fast becoming a nation of DISORDER and INSANITY, a nation of the VULGAR and IGNORANT...a nation that has intercourse with demons, hence, evil bastard children are birthed. Impostors, sorcerers, magicians, witches, warlocks, soothsayers, spiritualists, etc. these are in politics as well as the church. (See Deut. 18: 9-14 for occult abominations.) Is it any wonder that America, aka Amerika has fits of convulsion? Drag Queens now are allowed to entertain your children in the pubic (public) schools. We consider ourselves to be oh, "so enlightened", yet we have returned to the "dark ages". We have become a nation insensibily occupied with Marxist/Talmudic/Qur'anic ideas and tenets unnatural to the SANE mind. We've adopted a lifestyle diametrically opposite to Biblical Christianity whereby we have provoked God's ANGER. We've adopted a lifestyle (deathstyle!) whereby we have the habit of enjoying pleasure and importance, ad nauseam!
Religious and political soothsayers, who pretend to act on "secret/higher" information from sublunary spirits, soar to higher plains if they please the spirits. (promotion!) in the practice of physic fore tellings.
If perchance, one does not hear from the spirits, one can rely upon pharmaceutic enchantments—just get STONED and utter demonic and stupid things...there will always be those with itching ears to listen. Politics and the backslidden church will have plenty of diviners of futurities.
One thing we can count on, we can't count on anything (of the world's people at this time.) We can, however, trust/rely upon the ALMIGHTY GOD, but then one has to divorce oneself from the world.
The DREADFUL DISEASE of DECEPTION covers the land like a dirty blanket. The dissenters from sanity will continue to eat the bread of deceit. The liars will continue to lie. The hungry for the forbidden will continue to partake greedily of deception. The fire-fighters will continue to extinguish the Holy Spirit Fire that wants to BURN THE HELL out of this nation, that once gave glory and honor to the Lord Jesus Christ.
_________________________________________________________________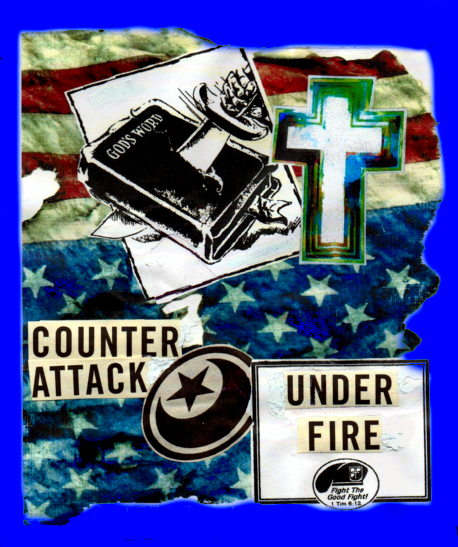 The Christian-Islam Controversy
Pt. 1
Gen. James Green
L ET'S SETTLE the matter of the crusades: Was it Christian aggression, or was it Islamic aggression that sparked the Crusades?: "There is far more violence in the Bible than in the Quran; the idea that Islam imposed itself by the SWORD is a Western fiction, fabricated during the time of the Crusades when, in fact, it was Western Christians who were fighting BRUTAL Holy Wars against Islam" (Andra Bistrich, "Discovering the common Grounds of World Religions," interview with Karen Armstrong, Share Int'l 26, No. 7, Sept. 2007).
"Commands to kill, to commit ethnic cleansing, to institutionalize segregation, to hate and fear other races and religions…all are in the Bible, and occur with a far greater frequency than in the Quran. At every stage, we can argue what the passages in question mean, and certainly whether they should have any relevance for later ages. But the fact remains that the words are there, and their inclusion in the Scripture means that they are, literally canonized, no less than in the Muslim Scripture" (Philip Jenkins, "Dark Passages," 2009).
We might STOP HERE and ask, "Why don't these 'scholars' cite the Hadith?," even though the Quran has its share of "VIOLENT" SURAS—which I quote time and time again in my writings (I have literally several hundred articles in print, plus a dozen or more DVDs, exposing political/religious Islam—free). Before we get into our comparative study on Islam/Christianity in the Crusades, let me mention a thing or two about the Hadith. Almost everybody cites the Quran, but few cite the Hadith. While the Quran is the most read and most popular, IF YOU WANT TO KNOW ABOUT ISLAM'S FOUNDER—MUHAMMAD (OR MOHAMMED)—YOU'VE GOT TO GET INTO THE HADITH. Islam is defined by the words of Allah (Islam's false moon god) in the Quran and the words and deeds of Muhammad, the Sunna.
The Sunna is found in 2 Collections of texts:
1) the Sira (Muhammad's life);
2) the Hadith.
The Quran has in writing 91 times that his words/deeds are considered to be the divine pattern for (all) humanity. Of course we know this is not true.
A hadith (tradition) is a brief story about the (false) prophet Muhammad, what he did or said. All the hadiths are called a Hadith. One thing that the Muslims do not want us to know is that thousands of hadiths have been done away with. The most read Hadith is the Muhammad Ibn Ismail Al-Bukhari, or just "Bukhari." The second is the Abu Al-Husayn Muslim, or "Muslim." Bukhari once had 600,000 hadiths, he took the most reliable (ones he thought true!) 6,720, and recorded them in the Sahih of Al-Bukhari. Some scholars in Islamic matters claim 300,000, not 600,000. The 300,000 figure was dropped down to 100,000 that might be true. He then, as some scholars/historians claim, narrowed this number (100,000) down to 7,275, many of which are repetitions, so they claim the number is near 3,000. That means that BUKHARI (A MUSLIM) ADMITTED THERE WERE OVER 295,000 ERRORS!!
I have read enough from the Quran and Hadith to know that so much therein is hard to believe: but the terror/war aspect can be trusted, for Muslims love to brag about those.
Here is a list of authors (in descending order) that Muslims consider credible:
Sahih of Al-Bukhari (d. 256 A.H.=after Hijrah);
Al Sahih of Muslim (d. 261 A.H.);
The Sunan of Abu Du'ad (d. 275 A.H.);
The Jami of Al-Tirmidhi (d. 279 A.H.);
The Suand of Al Nasa (d. 303 A.H.); and
The Sunan of Ibn Madja (d. 283 A.H.). Along with these hadiths, there were biographers who wrote "miracle" stories (which are not always believed by Muslims themselves). They are Ibn Sa'd (d. 123 A.H.), Ibn Ishaq (d. 151 A.H.), and Ibn Hisham (d. 218 A.H.). Abdul Saleeb (in "Answering Islam," 1993) says that Shia Islam rejects the above categories, but they accept the Quran as it is.
So, hadiths are sacred (what's left of the 600,000) literatures. The Quran, over and over again, points Muslims to 'the Book' (of the Jews/Christians), and to the hadiths.
Remember
IN THE DEBATE about the Crusades, remember, the Old Testament IS WHAT IT IS. It does not even try to deceive its readers about war/violence. But when we turn to the New Testament, we find war/violence still there, BUT IN THE BACKGROUND; love, mercy, compassion, salvation etc. becomes the main theme. Jesus is not considered a man of violence—like Muhammad is. In fact, the Quran makes this evident.
Remember, Muhammad came centuries after the founding of Christianity. Did Muhammad take Jesus' words seriously about "loving one's enemies and neighbors?" NO! Islam was and IS a political/religious system of the SWORD (see my many "2 Faces of Islam" series, and the many booklets we have in print).
Although the Quran has 99 names for Allah, not ONE of them is LOVE! We read, "In the name of God (not the Biblical God though), most Gracious, most Merciful…" But this gracious, merciful god instructed Muhammad to KILL his enemies, enslave, rape, torture, tax etc. etc. (all this is proven too!).
Arthur Jeffery speaks out about these 99 names: "THE LISTS OF THESE NAMES AS FOUND IN THE TEXTS VARY GREATLY…" (he quotes, "The Journal of the Royal Asiatic Society," 1880, which collected 552 different names for Allah; Jeffery, "Islam, Muhammad and His Religion," 1958, p. 21). The Quranic basis for the 99 names is found in sura 59:22-24 (for a list of 99 names, see the book "Tasbih Asma Allah al-Husna," by Muhammad al-Madani).
Jihad
SO, IF ONE WANTS to see what Islam really stands for—and it is NOT PEACE!—then research the Quranic jihad suras. I have listed over 100 that pertain to jihad alone, not counting all those in the Hadith (which describes in detail some of Muhammad's violent acts, those of his cult, etc.).
Quran 61:11 says, "Believe in Allah and his messenger (Muhammad) and fight valiantly for Allah's cause (jihad) with both your wealth and your lives…"
The Hadith prepares the foundation of jihad; about 21% of Bukhari is about jihad...and jihad encompasses an entire way of life. According to Islam, the world is divided into:
1) dar al Islam=land of submission, and
2) dar al horb= land of war.
The second is the country FREE of Islam, free of (false) Allah. The first is the land of the submitted, that are slaves of Allah. According to Islam's (true) belief system, this struggle is eternal, universal, and obligatory for ALL Muslims. Because most Muslims refuse to do jihad, the true Muslims count them as apostates, hence, death! This is why we see ISIS killing so many Muslims in the world right now. The ISIS soldiers for Allah represent the TRUE ISLAM.
PEACE is temporary.
WAR is permanent.
So, don't expect Islam just to go away or be nice!
The Hadith lays out/spells out, the details of bloody jihad. The hadiths call for armed struggle "fighting in Allah's Cause," or, "Allah's Cause."
Political Islam is universal and eternal (see our "2 Faces of Islam" booklets for proof). In Muslim 001, 0031, we find Muhammad spoke: "I have been ORDERED to WAGE WAR against mankind UNTIL they accept that there is no god but Allah and that they believe I am His prophet and accept ALL revelations spoken through me. When they do these things I will protect their lives and property unless otherwise justified by Islamic law, in which case their fate lies in Allah's hands."
Do you want to live under Sharia Law? If yes, then you must believe and act according to what is written in the Quran and Hadith; if no, then you are counted as an enemy of Islam forever! Just where is the peace?
Armed with this little bit of background info., we proceed to the Crusade debate.
Are Yahweh Wars In The Old Testament Like Islamic Jihad?
FIRST, JESUS never used physical violence; Muhammad did! Remember, Muhammad came centuries after Jesus, so Muhammad did not get his twisted bloody ideas about jihad from Jesus, or the Holy Bible (New Testament).
To get a background of the "Canaanite Genocide" that our opponents point to, request my trilogy by the same name. The question raised is: WHY did God command such a thing? I'll give you a hint: read Lev. 18 and Deut. 18...they tell us WHY! Although the New Testament does not eradicate severe punishment, God's wrath is mostly in the background; mercy is in the foreground. But Muhammad brought the wrath side into his bloody religion (some dislike the word "religion," they prefer "politics").
Offensive Warfare
Let's ponder these two faiths. Professors P. Copan and Matt Flannagan made the following comparisons:
Judaism (Old Testament):
Geography:
War was geographically limited to the Promised Land.
Historical Length/Limit:
Limited to roughly one generation, though minor conflicts continued between Israel and her enemies.
Objects of War:
God used Israel to punish the pagan nations—deeply corrupted cultures. This punishment came 400 years after Israel came out of Egypt (Gen. 15:6).
Objects of God's Love:
God loves even His enemies (although He punishes them for sins). His redemptive plan even in the Old Testament was to save the pagans if they repented.
Standard of Morality:
God's love/mercy is the source of His commands. He cannot command what is intrinsically evil (Jer. 19:4, 5).
Signs/Wonders:
The Bible is full of such, even believers can work miracles (prophets).
Normative of War:
War is justified by God. The Canaanite war was unique and unrepeatable.
Islam:
Geography:
No geography limits; the non-Muslim world is the "abode of war."
Historical Length/Limit:
No historical/temporal limitations to jihad.
Objects of War:
Offensive/Aggressive warfare is towards ALL non-Muslims (Q 9:5).
Objects of Islamic love:
God loves no unbelievers (Q 3:32, 30:45, 6:141, 2:190, 2:98)!
Standard of Morality:
The Quran stresses Allah as sheer will, who commands indiscriminately.
Signs/Wonders:
Lacking! The Quran/Hadith mention them, but most believe they were fakes or untrue.
Normative of War:
Military aggression until the WHOLE WORLD is Islamic!
Now, with this picture of [true Old Testament] Judaism (and New Testament Christianity), compared to Islam, we can see why militant, radical Islamic jihad is what it is. NOWHERE IN THE CHRISTIAN ERA ARE WE COMMANDED BY GOD TO HAVE AN ONGOING "OFFENSIVE" WAR CAMPAIGN, AS DOES ISLAM. One historian rightly said that no matter how much we stack up Biblical texts next to Qur'anic ones, clear differences between the two emerge as we peel back the layers and explore the notable differences at various levels.
First
"OLD TESTAMENT MILITARY campaigns captured in a Biblical canon are merely descriptive of a unique part of the unfolding of salvation history" (Copan/Flannagan, "Did God Really Command Genocide?," 2014, p. 279).
I think it is clear that most Christians do not believe the Old Testament warfare texts are to be understood as literal, i.e.—all Christians are obliged to carry on with the Old Testament way of fighting enemies–while it is true that some misguided "Christians" have done this, or at least thought it was binding.
[Note: Searching of the texts of a WordWeb 2007 dictionary for all "terrorist group(s)" and "terrorist organization(s)" revealed the titles of many militant / terrorist / physically aggressive Islamic/Muslim-related groups and their branches/titles including:
Abu Hafs al-Masri Brigades, al-Muhajiroun, al-Qaeda, Qaeda, al-Qa'ida, al-Qaida, Base, al-Rashid Trust, Fatah Tanzim, Tanzim, International Islamic Front for Jihad against Jews and Crusaders, Islamic Army of Aden, IAA, Islamic Army of Aden-Abyan, Aden-Abyan Islamic Army, Islamic Group of Uzbekistan, IMU, Islamic Party of Turkestan, Jamaat ul-Fuqra, Fuqra, Tanzimul Fuqra, Jayshullah, Kaplan Group, Association of Islamic Groups and Communities, Caliphate State, Lashkar-e-Taiba, Lashkar-e-Toiba, Lashkar-e-Tayyiba, LET, Army of the Pure, Army of the Righteous, Libyan Islamic Fighting Group, FIG, Al-Jama'a al-Islamiyyah al-Muqatilah bi-Libya, Libyan Fighting Group, Libyan Islamic Group, Moro Islamic Liberation Front, Palestine Islamic Jihad, Palestinian Islamic Jihad, PIJ, Harakat al-Jihad al-Islami al-Filastini, Palestine Liberation Front, PLF, Jabat al-Tahrir al-Filistiniyyah, Pentagon Gang, Qibla, Salafist Group, Salafast Group for Call and Combat, GSPC (and under "organization"), al-Gama'a al-Islamiyya, Islamic Group, Armed Islamic Group, GIA, Fatah Revolutionary Council, Fatah-RC, Abu Nidal Organization, ANO, Arab Revolutionary Brigades, Black September, Revolutionary Organization of Socialist Muslims, Abu Nidal Organisation, Harkat-ul-Mujahidin, HUM, Harkat ul-Ansar, HUA, Harkat ul-Mujahedeen, Al Faran, Movement of Holy Warriors, Islamic Great Eastern Raiders-Front, IBDA-C, Jaish-i-Mohammed, Jaish-e-Muhammad, JEM, Army of Muhammad, Kahane Chai, Kach, Lashkar-e-Omar, Al Qanoon, Laskar Jihad, Holy War Warriors, Maktab al-Khidmat, MAK, Mujahidin-e Khalq Organization, MKO, MEK, People's Mujahidin of Iran, Mujahidin-e Khalq Organisation, 15 May Organization, People against Gangsterism and Drugs, PAGAD, Palestine Liberation Organization, PLO, Palestine Liberation Organisation, Popular Struggle Front, PSF.
THOSE ARE QUITE A FEW ISLAMIC TERRORIST GROUP NAMES/BRANCHES!!!
With all the violence and political upheaveal in the world, you would think there would be a lot more non-Islamic terrorist groups than Islamic-related ones? However, all the non-Islamic terrorist-related groups COMBINED seem about EQUAL to Islamic ones. So, what are the other terrorist organizations? Probably several violent "Christian" groups...right? Actually, almost all of them appear to be political, not religious. There seemed to be only two that had ANYTHING to do with Christians (Protestants):
Orange Group, OV: a terrorist group of Protestants who oppose any political settlement with Irish nationalists; a paramilitary group that attacks Catholic interests in Northern Ireland
And only one that had to do with Catholics for that matter:
Irish National Liberation Army, INLA, People's Liberation Army, People's Republican Army, Catholic Reaction Force: a radical terrorist group dedicated to the removal of British forces from Northern Ireland and the unification of Ireland.
And even with those stated, noticing that they are both involving Northern Ireland, I wonder if they were all responding to each other's extremism? It would seem to be the case even more if one would consider the, "Loyalist Volunteer Force"—a terrorist group formed in 1996 in Northern Ireland; seeks to prevent the peace process; MURDERS CATHOLICS AND ANY PROTESTANT LEADERS WHO FAVOR PEACE?"
Seems to me, that if more Christians believed in applying physical warfare today–such as the Old Testament describes–there would be some physically militant Christian groups. When was the last time you heard any Christian teaching conquering, Old Testament-based, physical aggression warfare?
But Islam is different. The Qur'an issues enduring commands to terrorize and kill (murder). When Muhammad died in A.D. 632, he left an "offensive warfare" example for his followers. I need not go into history here, but history does prove this out.
While those who spout "Islam is a religion of peace," ETERNAL JIHAD IS THE TRUTH OF THE MATTER.
While Christianity offers eternal life by and through the "Lamb of God," Islam offers NO salvation except by killing for Allah: "Whosoever fights in the way of Allah and is slain, or conquers, We shall bring him a mighty wage" (Q 4:74). John 3:16 is the exact opposite of Q 4:74. Q 9:29 plainly tells Muslims to, "fight those who believe not in Allah" (see Q 3:151 for "terror!", also 8:12).
This is not to say that all Muslims are violent, BUT THEIR BOOKS DO TEACH THEM TO BE SO.
* * *
The Christian-Islam Controversy
Pt. 2: Islam's History
(Originally Written In 2015)
Gen. James Green
AFTER YEARS of studying Islam side-by-side with Christianity, I have found that there are those who do not reveal the (whole) truth about either–especially in this generation of Political Correctness. Lying and cheating are common on both sides as historians/authors/theologians make a stand for either Christianity or Islam. But true Islamic history is really hard to hide—it reveals an aggressive/oppressive stance toward non-Muslims for the most part. Yet we do find where Christians and Muslims have lived in peace with each other. But the FACT remains: their founder did not preach "peace," but "war." Most contemporary and ancient Islamic scholars note(d) this (see my booklet, "Offensive War to Spread Islam." I listed dozens of scholars who are honest about their beliefs).
Dhimmitude
JUST WHAT are dhimmis? They are permanent, second-class kafir citizens in a country RULED by Islam—they pay a special tax, and their civil/legal rights are very limited. The only hope for a dhimmi is to CONVERT to Islam or FLEE (Islam gets rich off of taxes)! The Hadith has little about dhimmis, nevertheless, it is still an important political law (see Bukhari 4, 53, 388; 4, 53, 380); Umar II set the standards for dhimmis (see Al-Turtushi, Siraj Al-Muluk, p. 229, 30).
Bat Ye'or, Jewish Egyptian scholar, has thoroughly documented the history of dhimmitude in her book, "The Decline of Eastern Christianity under Islam" (1997). While, as I said, not all Muslims enforce the spirit of Islam, jizya (tax) had to be paid to reigning (militant) Muslims who compelled full allegiance in the ONGOING SPIRIT OF JIHAD! Ye'or documented the strong oppression, and even extermination (Islamic genocide) of whole Christian populations…and the slowly but surely disappearing Eastern Christian culture (cited in Michael Cromartie's, "The Myth of Islamic Tolerance," Sept. 1998).
Generally non-Muslims were not allowed free religious practices (Saudi Arabia is a current case-in-point). While Islamic writers/speakers try to play down the "intolerance," proof of it flies in our face, even today! They point to the fact that Islam protects the "people of the Book," i.e., Christians and Jews (they were spared death if the Muslims deemed it so), yet living as a slave was a punishment and humiliation, deprivation and insecurity.
Islamophile
REINHARD DHOZY wrote a book called, "Spanish Islam: A History of the Moslims in Spain" (2008, see p. 239 especially), in which he pointed out that Cordoba, Spain (a city of Muslim tolerance and city for Christian/Jewish philosophers) was not so tolerant as some believed. Dhozy (Islamophile historian, 1820-83) ACKNOWLEDGED HOW THE CHIEF CATHEDRAL WOULD BE TURNED INTO A MOSQUE.
We're all familiar with Ibn Hazm (Muslim poet) who stirred up persecution against the Jews in Granada, Spain in AD 1066, resulting in 4,000 Jews being killed!
"The Cordoba House and the Myth of Cordoban Ecumenism" (Sept. 2, 2010), told by Andrew G. Bastom, relates that the Islamic CONQUEST and RULE of Spain was marked by regular MASSACRES, RAIDS, PERSECUTIONS, and HUMILIATIONS of the dhimmis. He claims that the "Golden Age of Islam," in Spain, is a myth! Ye'or claims that tolerance there did not exist till the 20th century. The West had a lot to do with it (the West's obfuscation of "intolerance"). Many other nations were dealt with in Europe.
Now look at the Islamic intolerance—former U.S. Prez Obama had a lot to do with the latest pro-Islamic invasion of Europe (write for our materials proving this). Prez. D. Trump had vowed to destroy ISIS!! I might add, America, as I write, has thousands of jihadists within the 50 states. OBAMA, THAT PSYCHO-SICKO LITERALLY BROUGHT IN TENS OF THOUSANDS OF MUSLIMS, WHILE ONLY ADMITTING SEVERAL DOZEN CHRISTIANS. So, when you hear of, or read about, all this great Islamic "tolerance," it is lies! As a result of Europe, the USA, and other countries that are pro-Islam, a whole new mindset has been developed—even though the most brutal/blood carnage is global. Political Correctness has praised Islam and hated Christianity. We're yet to see the END of all this pro-Islam propaganda!
[Note: Notice the current violent protests in favor of Hamas, against us/ Israel]
Ibn Ishaq (d. 763) was Muhammad's first authoritative biographer. He covers 75 percent of the prophet's battles in 813 pages: murder, assassinations, rapes, plunders, and every kind of cruelty. Sex with slaves was permitted by Muhammad, along with female captives—in order to humiliate them, and to populate. This practice still is done as I write. ISIS performs every cruel act that is found in the Quran and Hadith. Where is the peace? There is hardly an ounce of support for this P.C. "inner struggle" (called jihad).
It Is Asked
DID OLD TESTAMENT war texts inspire the crusades? Did the Quranic/Hadith texts counter the "Christian" crusaders? First, the Crusades were NOT Christian; they were Roman Catholic, propagated by Popes.
Here are 5 questions put forth and answered by prof. Copan and Flannagan (ibid, p. 288):
1. The Crusades were a completely morally unjustified military campaign against peaceful Muslims initiated by the Church. True or false?
2. The Crusades were an attempt to gain riches for Christendom by plundering Muslim lands.
True or false?
3. The Crusades were an effort to gain Muslim conversions to Christianity by force. True or false?
4. Muslims held the Crusades against Christians since the Middle Ages. True or false?
5. The Crusades were inspired by Canaanite warfare texts in Deut. and Joshua. True or false?
They say FALSE! to all 5!!!
If one reads (former nun) Karen Armstrong's rants, one will get the impression of TRUE! If one believed that Roman Catholicism is "Christian," then they may see her point of view. Roman Catholicism has always been militant and bloody; Biblical Christianity has not. Period! Armstrong says, "Christianity had an inherent leaning toward violence" ("Holy war: The Crusades and Their Impact on Today's World," 2001, p. 4). Again, she believes the Roman Catholic Church was and is Christian. AT MOST, ROMAN CATHOLICISM IS A MIXTURE OF TRUTH AND LOTS OF ERROR.
This false criticism is not new. Many Enlightenment-era critics believed that Islam was merely a victim, and Christianity, the aggressor. Better do more research folks...it isn't true.
Trail Of Destruction
ISLAMIC TOLERANCE? Did you know that during the first century of Islamic jihad, over 3,200 Churches were either destroyed or converted into mosques? During the Muslim invasion of Syria in AD 634, literally tens of thousands of Christians were massacred. If you need proof, I have it; Muslims went on the aggressive throughout the world leaving behind total destruction and death. It is said that the BLOODIEST story in history was the invasion of India. Rape and plunder followed the brutal murder rampage. It is said Shah Jahon had 5,000 concubines in his harem. Not satisfied with this, he indulged in incestuous sex with his daughter.
Despite the factual historical proof of all this, Muslims, and their public relations agents, and apologists, claim that Islam is a GREAT religion of learning and tolerance. HA! What a bucket of propaganda! To add insult to injury, they claim Islam is SUPERIOR to Christianity. Well, compare Muhammad to Jesus—see which founder is greater. Even the Quran speaks highly of Jesus, but not Muhammad. Read the following please:
Muhammad/Christ:
* ''Muhammad was the prophet of war; Christ is the Prince of Peace (Isaiah 9:6).
* Muhammad's disciples killed for the faith; Christ's disciples were killed for their faith (Acts 12:2; 2 Tim. 4:7).
* Muhammad promoted persecution against the "infidels"; Christ forgave and converted the chief persecutor (1 Tim. 1:13-15).
* Muhammad was the taker of life; Christ is the giver of life (John 10:27-28).
* Muhammad and his fellow warriors murdered thousands; Christ murdered none but saved many John (12:48).
* Muhammad's method was COMPULSION; Christ's aim was CONVERSION (Acts 3:19).
* Muhammad practiced FORCE: Christ preached FAITH (John 6:29, 35).
* Muhammad was a WARRIOR; Christ is a DELIVERER (Col. 1:13: 1 Thess. 1:10).
* Muhammad said to the masses, ''Convert or die!": Christ said, "Believe and live!'' (John 6:47: 11:25-26).
* Muhammad was swift to shed blood; (read Rom. 3:15-17); Christ shed His own blood for the salvation of many (Eph. 1:7).
* Muhammad preached "Death to the infidels!"; Christ prayed "Father, forgive them, for they know not what they do" (Luke 23:34).
* Muhammad declared a holy war (Jihad) against infidels; Christ achieved a holy victory on Calvary's cross (Col. 2:14-15) and His followers share in that victory (John 16:33).
* Muhammad constrained people by conquest; Christ constrained people by love (2 Cor. 5:14).
* Modern terrorists derive their inspiration from Muhammad and carry out their despicable atrocities in the name of his god; Christians derive their inspiration from the One who said, "Blessed are the peacemakers" (Matt. 5:9).
* Modern day disciples of Muhammad respond to the terrorist attacks by cheering in the streets; modern day disciples of Christ are deeply grieved at past atrocities carried out by those who were "Christians" in name only (the Crusades, the Spanish Inquisition, etc.).
* Many Muslims are peaceful and peace-loving because they do not strictly follow the teachings of their founder; many Christians are peaceful and peace-loving because they do strictly follow the teachings of their Founder (Rom. 12:1 7-21).
* Muhammad called upon his servants to fight; Jesus said, "My kingdom is not of this world; if My kingdom were of this world, then would My servants fight...but now is My kingdom not from here" (John 18:36).
* Muhammad ordered death to the Jews (see A. Guillaume, "The Life of Muhammad," Oxford University Press, 1975, p. 369); Christ ordered that the Gospel be preached "to the Jew first" (Rom. 1:16).
* The Quran says, "Fight and slay the Pagans wherever ye find them" (Quran 9.5); Christ said, "Preach the Gospel to every creature" (Mark 16:15).
* Muhammad's mission was to conquer the world for Allah; Christ's mission was to conquer sin's penalty and power by substitutionary atonement (2 Cor. 5:21; 1 Pet. 3:18).
* Muhammad claimed that there was but one God, Allah; Christ claimed that He was God (John 10:30-31;John 8:58-59; John 5:18; John 14:9).*
MUHAMMAD'S TOMB: OCCUPIED!...
CHRIST'S TOMB: EMPTY!"
*Don't ever let Muslims convince you that Muhammad took the place of Christ. Muhammad was a religious FRAUD! He took portions of our Holy Bible and made an unholy political/religious system of aggression from it.
The Bible says of the risen Christ: "I am Alpha and Omega, the beginning and the ending, saith the Lord, which is (present tense), and which was (past), and which is to come (future), the Almighty" (Rev. 1:8). There is no record of Muhammad coming back. He is DEAD FOREVER!!!
Crusade!
THIS WORD is never found in the Bible, nor is it commanded in Christianity. On the other hand, Jihad is found in the Quran and is listed as the second greatest command by Muhammad.
The Crusades ENDED centuries ago, but Jihad is still very ACTIVE today! There have been millions, with a capital "M," of people murdered throughout the past centuries by militant Muslims—all in the name of "Allah" (there were 1.5 million Armenians slaughtered in Turkey in 1915. They say 2016 was a year of great slaughter of peoples by ISIS).
The Old Testament Holy War was not to be replicated by New Testament Christians, yet Pope Urban II acted in response to a letter from Alexius Comnenus, Byzantium's emperor (AD 1095), concerning the Muslims that were on a rampage. He, Comnenus, was requesting help. If you want to read that request, see Rodney Stark's book, "God's Battalions, 3" (2009) where he cites the letter. He complained of rape, torture, and murder of Christians [Catholics]. The Crusades were a RESPONSE to Islamic AGGRESSION, not an act of aggression as many claim. The Crusades were a defensive war.
The renowned historian Bat Ye'or's book, "The Decline of Eastern Christianity under Islam," pp. 89, 90 gives us a peek of what was happening in the years AD 1058, 1261 AND 1264.
I'm not defending Roman Catholicism, but realize that was the only religion representing "Christianity" in those dark centuries. We're all too familiar with her bloody and dark past, but the Crusades were not about expansion, but about DEFENSE AGAINST THE MUSLIM EXPANSION.
Second Crusade
THIS WAS also a response to the Islamic conquest of Edessa (Turkey in AD 1144).
Third Crusade
THIS WAS a response to the Islamic conquest of Jerusalem and other lands east of there in AD 1187. A good source is "Inventing the Crusades" (2009), by T. F. Madden.
Augustine's Just War
THIS "JUST WAR" has been used many times in the past. But, if we look at the situation in those days, Christians (not all were of the RCC) either fought for survival, or basically died/were enslaved. If we merely look at the situation without any "Christian" aspect, Muslims were attacking, destroying, and enslaving. Those who were attacked either fought for their lives/lands, or lost them.
In T.F. Madden's, "Crusade Propaganda" (2001), he writes:
"THE CRUSADES WERE IN EVERY WAY A DEFENSIVE WAR. They were the West's belated response to the Muslim conquest of fully two-thirds of the Christian world. While the Arabs were busy in the seventh through the tenth centuries winning an opulent and sophisticated empire, Europe was defending itself against outside invaders and then digging [itself] out from the mess they [those crusades] left behind. Only in the eleventh century were Europeans able to take much notice of the East. The event that led to the crusades was the Turkish conquest of most of Christian Asia Minor (modern Turkey). The Christian emperor in Constantinople, faced with the loss of half of his empire, appealed for help to the rude but energetic Europeans. He got it.
In any war/revolution/crusade, things done are not always moral or justified. Was the slaughter of 3,000 people in Jerusalem just/moral (AD 1099)?
[Note: Was the murder of 1,400 Jews moral – done by Hamas Oct.7, 2023?]
We may not share their convictions, or agree with their methods, but we dare not blame them (Catholics) for the Crusades. They had a desire to fight for and defend the honor of Jesus the Lord, and defend themselves and others from the cruel jihad on the offensive. I believe Islam to be a plague upon all humanity.
There are those who are not Muslim, but hate Christianity so much that they side with their BLOODY religion [which is] against Christians. The first 5 centuries of Islam were an ongoing Crusade against non-Muslim nations. Prove me wrong if you can! IT IS ESTIMATED THAT 50% OF ALL CHRISTIANS IN THE WORLD WERE SLAUGHTERED BY THOSE BLOODTHIRSTY PSYCHOS. In reality, Islam is an ongoing CRUSADE against non-muslims.
All this PC propaganda is a distortion of real history. The fictional (cry baby Muslim) "victim" lies are conveniently propagated by Christ-haters. All this ridiculous PCism will eventually bite the dust, then we'll have to deal with the real (Bloody) Islam.
5 Centuries Later
AS I SAID, the Crusades came 5 centuries after Islamic Jihad. Where did they (Muslims) get their inspiration to go on such extreme crusades against the non-Muslims? Right out of their books—the Quran/Hadith.
Nowhere can we find the call/command/order to launch a Christian Crusade for conversion (—at the point of a sword, as Muslims do!) or conquest (theft of lands/spoils etc.). The Crusades were strictly defensive—to free others from Islamic domination, to take back what was rightfully theirs before the thieving Muslims invaded, and to restore religious freedom to the Holy Lands.
P.C. Propaganda
THIS POLITICALLY CORRECT Propaganda has grown into a mighty river that overflows its banks; it reflects a sheer hatred for Western civilization. All one has to do, as I have done, is go to the Islamic sources and see WHY Muslims hate all non-Muslims—their demented (false) prophet ordered eternal jihad!
A Western Scholar Writes:
"FOR ALMOST a thousand years...Europe was under constant threat from Islam. In the early centuries it was a double threat--not only of invasion and conquest, but also of conversion and assimilation. All but the easternmost provinces of the Islamic realm had been taken from Christian rulers, and the vast majority of the first Muslims west of Iran and Arabia were converts from Christianity. North Africa, Egypt, Syria, even Persian-ruled Iraq, had been Christian countries, in which CHRISTIANITY WAS OLDER AND MORE DEEPLY ROOTED THAN IN MOST OF EUROPE. Their loss was sorely felt and heightened the fear that a similar fate was in store for Europe" (Bernard Lewis, "Islam and the West," 1993, p. 13).
A British Historian Writes:
"THE HISTORY of Islam has essentially been a history of conquest and reconquest. The7th-century "breakout" of Islam from Arabia was followed by the rapid conquest of North Africa, the invasion and virtual conquest of Spain, and a thrust into France that carried the crescent to the gates of Paris. It took half a millennium of reconquest to expel the Moslems from Western Europe. The Crusades, far from being an outrageous prototype of Western imperialism, as is taught in most of our schools, were a mere episode in a struggle that has lasted 1,400 years, and were one of the few occasions when Christians look the offensive to regain the 'occupied territories' of the Holy Land" (Paul Johnson, "Relentlessly and Thoroughly," 2001, cited in Nat'l Review). Don't let the word "offensive" fool you, he means "initiative."
Movie Propaganda
I THINK most have either seen or heard of Ridley Scott's movie "Kingdom of Heaven." Talk about disinformation and propaganda! He depicts the Crusades as a brutal offensive—by Christians/Crusaders to overrun those "victims"— the peace-loving Muslims who only wanted to defend themselves from their oppressors (see the PC movie for yourself, 20th Cent. Fox, 2005).
Did Scott get his inspiration from another Scott—Sir Walter Scott (who wrote the classic, "The Talisman," 1825)? The accusation is the same. PCism would have us believe that the backlash of the Crusades=Islamic terrorism. Get a life stupid!
Puritans Etc.
THERE HAVE BEEN (and still are) those who have abused Scripture. The Puritans were such a people—who believed they were preserving the Protestant Reformation (along the lines of John Calvin's "Holy Commonwealth"). The "New Israel" people (as they called themselves when they got to the New World), took the "Manifest Destiny" idea very serious.
In the early 1980s I read, "The Light and The Glory" by Peter Marshall and David Manuel (1977 pub. by Power Books) in which they reemphasized the Manifest Destiny idea. Then in 1986, their "From Sea to Shining Sea" book came out—writing about God's plan for America.
This "idea" sparked the literal slaughter of the Indians that lived on this land. I'm not saying that the Christians did the slaughter, but in the name of Christianity, it was mostly done. This is a black spot in America's history. Many "Christians" looked upon the Indians as evil, "cursed seeds of Canaan," which promoted a "holy war" against the Pequots in 1636-37 (see B. E. Johansen's, "The Praeger Hand Book on Contemporary Issues in Native American Linguistics," 2007, p. 123).
Other Christians were concerned for the salvation of the Red Man (Edwards/Brainerd especially). Actually, the Dartmouth College was established for this purpose.
My wife (half Sioux) and I have worked with Natives—black and red, in many countries. We have been working with Navajo, Apache, Ute, Zuni, Hopi, and many Pueblos for years now. We've led thousands to Christ, and SEEN HUNDREDS SUPERNATURALLY HEALED BY GOD'S SPIRIT—some were "hopeless" according to the medical establishment.
Islamic Reprisals
AGAIN, IT IS FALSE to believe that the Crusades caused Islamic Reprisals. Reverse this and we'll have the truth. Those who play the Political Correctness game of BLAME! minimize the real cause: Islamic jihad for over 500 years. We DO NOT need to ask forgiveness from the Muslims, they need to repent of their BLOODLUST!
Now, because of PCism, America has a real Muslim problem. They are calling for Sharia law here in good ol "Christian" America. They don't even care about the U.S. Constitution: Obama did not either! He brought in literally tens of thousands of Muslims in order to populate this land for Islamic RULE! This is true. Let's hope prez D. Trump reverses this insanity.
[Note: He promises to do so if elected in 2024.]
We Might Ask…
HOW DID all those 'once non-Muslim nations' become Muslim? Do you think they asked the Muslim invaders to kill off the male population, rape their women and steal their land?
Saladin, The Merciful?
WHEN THE MUSLIM Saladin [the Great] captured the Crusaders at Hattin (July 4, AD 1187), this psycho ordered the MASS EXECUTION of ALL, ALL Christians: "they should be beheaded in accordance with Quran 47:4 'When you meet the unbelievers on the battlefield, strike their necks!'" This sura is current too.
It was reported by Saladin's secretary Imud, "With him were a whole bond of scholars and Sufis and a certain number of devout men and aesthetics; each begged to be allowed to kill one of them (Christians) and drew their swords and rolled back their sleeves. Saladin, his face joyful, was sitting on his dois; the unbelievers showed black despair."
Tell me, does this portray the "victim" lie?
Nur ed-Din
THIS ISLAMIC PSYCHO ordered the slaughter of every Christian in Aleppo.
Mamluk Sulton Baybars
IN 1268, when psycho Baybars seized Antioch, he commanded ALL men slaughtered, women sold into slavery, the crosses in every Church destroyed, every Bible burned, the groves of Christians desecrated, and monks, priests, deacons to have their throats slit. The Church of St. Paul and the Cathedral of St. Peter were destroyed and the bodies burned therein. Now, WHO were the "VICTIMS"?
Constantinople
THIS BEAUTIFUL CITY was taken by the Islamic "victims," oops!, I mean JIHADISTS, May 29, 1453, when the Muslims "slew everyone that they met in the streets: men, women and children, without discrimination." So much for Muhammad's "peaceful" religion!
Upon entering the Hagia Sophia, the Muslim psychos slaughtered thousands of worshippers without mercy. Without mercy? Yep! These were not combatants folks.
[Note: The Hagia Sophia (built by Justinian, with beautiful green columns [J. Vernon McGee]) still stands today in Salonica (Thessalonica in Bible times), the second largest city in Greece (Baker's NTC, 1955). From an endnote in Flavius Josephus' book, we can get more of a perspective on the word "hagia," "Josephus himself, when he speaks of the two inner courts, calls them both hagia or holy places; but, so far as I remember, never gives that character of the court of the Gentiles (See B V, Ch. 9, Sect. 2)." This means that the CHURCH SANCTUARY Hagia Sophia was invaded by Muslims, and the believers were killed. If anyone cares for religious freedom, this is the antithesis of it! Does that sound like poor innocent little Muslims being attacked and destroyed by crusaders to you?
Spain/Europe
SPAIN WAS UNDER Islamic rule for eight centuries. Most of Europe suffered the same fate. Do you think Muslims went door-to-door asking the residents to have a Quran study with them? NO! They went forth as a marauding, blood thirsty army to: murder, enslave, and steal all that did not belong to them.
It was because of the Crusades that Europe had some peace and security. Now Islamic hordes are flooding into Europe as refugees, becoming "victims" once more. You may want to order our DVDs about this—see for yourself if these Muslims are "victims" or secret Islamic warriors.
Not only did Europe receive Islamic invasion, Egypt, Turkey and most of the Middle East, Far East etc. did as well.
Crusades Ended...
But Jihad Continues!
THE MIDDLE EAST was the birthplace of Christianity. Islam came from Saudi Arabia into the whole of Christian North Africa, into Spain, into France, within the first century after the death of Muhammad. His psycho armies SLAUGHTERED their way across some of the greatest Christian cities in the world: Alexandria, Carthage, Antioch and Constantinople. These Islamic hordes destroyed over 3,200 Christian Churches in just the first 100 years of (bloody) Islam.
How can anyone say, "Islam is a religion of peace?" BEFORE ISLAM, THESE CONQUERED NATIONS WERE MOSTLY CHRISTIAN. None of them went into Saudi Arabia with the intent of conversion at sword-point, nor with the intent to slaughter all males and enslave women and children. Where is the historical account of any of this?
Born For War!
ACCORDING TO MUHAMMAD, He was born for war!, hence, Islam became a warring political/religious machine. Islam's Caliphs carried on in Muhammad's absence.
Islamic jihad was (and is!) an act of HATE!!; Christianity was (and is!) an act of love. Muslims are not known for "love thy neighbors/enemies," but Biblical Christianity is (Matt. 5:44). Jesus said, "Greater love hath no man than this, that he lay down his life for his friends" (John 15:13).
Mind Thought
AFTER ONE STUDIES the Crusades (be they: Christian, Roman Catholic, Jewish, or merely pagan) one will see that the Crusaders saw themselves as redeemers—setting out to redeem nations that were captives of (bloody) Islam. The mindset of those who took part in all three, saw it as their task to defeat and defend those who had been, and were, terrorized by Muslims. The Medieval Crusaders did not set out to CONVERT Muslims, but to FREE the enslaved. While it may have been true of some of them to convert Muslims—and we do hope it was—the BIG picture was freedom and restoration.
Dr. Peter Hammond, a long time Christian missionary from South Africa, and long time friend of ACMTC, spoke out and said, "The Crusades were a battle against all odds with impossibly long lines of supply and cripplingly inadequate logistics. The chances of success for the first crusade were highly improbable. They had no leader, no chain of command, no supply lines and no detailed strategy" ("Slavery, Terrorism and Islam," p. 188).
Well, Christianity—Biblical Christianity—has maintained its respect for women: Islam never has, and never will! Christianity fought to end slavery; Islam enslaves as I write! Christianity cares about ALL lost souls; Islam only cares for Muslims!
Turn The Other Cheek
WHAT? NOT MUSLIMS! The Bible teaches this. On the other hand, Romans 13 teaches that the state's responsibility is to protect its citizens against evil doers, "… for he beareth not the sword in vain: for he is the minister of God, a revenger to execute wrath upon him (or them!) that doeth evil" (v. 4). When Islam poses a threat, as it does!, the state must take action. There are times when it is morally imperative to use whatever means—even violence—against those who represent violence and injustice.
[Note: The Islamic population in the U.S. daily – waiting to go into "JIHAD" mode!]
Have we Christians forgotten about the imprecatory psalms (prayer curse!), which fly in the face of liberal PCism?
At times, it is demanded that the state use physical force against evil doers. Actually, using force when necessary IS LOVING ONE'S NEIGHBOR. I'm not referring to getting back at our personal enemies, but Islam—militant Islam—is an ENEMY of Christianity and ALL who are non-Muslims!
In the instances of assaults/attacks/terrorism, a military response may be the only appropriate way for them to be dealt with. But this should be done by the state, not Christians per se. I don't endorse taking the law into our own hands, but I do believe a person has the right to protect him/herself from harm if the occasion arises. I have traveled the world and never carried a weapon. But, it was God who protected me.
Divine/Human
ROMANS 13 definitely teaches two things:
1. God ordains the sword;
2. God uses human powers/authority.
God delegates "sword authority" through human governments. This is a real touchy point. We would like to see God execute His wrath upon His/our enemies without we people involved. This has happened, but He definitely uses human instruments as well.
Insult Or Violence?
I HAVE TWO DVD teachings on "The Solution to the Pollution is Bloody Revolution" (1-6) in which I deal with Jesus' "Turn the other cheek" philosophy. Most take His words in Matt. 5:39, "But I say unto you, that ye resist not evil: but whosoever shall smite thee on thy right cheek, turn to him the other also," as an admonition to be passive. But this admonition to "turn the other cheek" is NOT the response to an act of violence, but rather, to a gross insult. I spend considerable time on the background of this text. Jesus is NOT speaking against the administration of proper justice towards those who are evil (see Rom. 13:1-4). WE'RE NOT TO REACT TO THE WRONGS DONE TOWARDS US IN A SPIRIT OF HATE, BUT IN A MUCH HIGHER SPIRIT. Jesus quotes, "Ye have heard that it hath been said, An eye for an eye, and a tooth for a tooth..." (see Ex. 21:24; Lev. 24:20 and Deut. 19:21; those deal with personal insults).
In Jesus' Sermon on the Mount He prohibits returning insult for insult…break the cycle of exchanging insults. He does not ABSOLUTIZE loving one's enemies (see Matt. 23 where Jesus rebukes the religious leaders hotly!).
Jesus said, "…If I have spoken evil, bear witness of the evil: but if well, why smitest thou Me?" (Jn. 18:23). In some cases, to forgive your enemies, repentance is needed by them. A good example of this is Lk. 17:3, "Take heed to yourselves: if thy brother trespass against thee, REBUKE him; and IF HE REPENT, forgive him." Jesus here is dealing with a domestic offense, NOT A MURDEROUS ACT!
So, take all this into consideration concerning militant Islam. Be careful not to fall into error of passive sentimentality when GROSS injustice is perpetrated upon innocent peoples by jihadists. Most terrorist attacks are carried out upon people who are innocent; by this I mean that they have not offended their attackers, and are not combatants. Should we just sit by while jihadists plan other attacks, or while they preach a deceiving message from their books? I have been exposing their lies and deception for years and I believe I need to. Our phoney "forgiveness" and phoney "love" has not stopped their centuries of jihad! Sometimes force is needed. This is the state's responsibility.
Romans 13 is not about love and forgiveness per se, but about punishing evil doers. Even force can be tempered.
Jesus was always RESISTING evil. Do we remember Jesus' actions at the temple-cleansing escapade? Actually, Matt. 5:39 is better translated as not resisting "by evil means," rather than "the evil or person."
But…
THERE ARE TIMES when the state may go against God (as we have witnessed for years here in the U.S.). When authorities require or demand, even by the Supreme Court, the violation of our conscience, we, "must obey God rather than men" (Acts 5:29).
Romans 13 is about state officials whose roles have been ordained by God—to protect the innocent, which the state has FAILED to do for over 44 years with pre-born abortion flourishing. The state is to preserve the peace, but for years officials have allowed Muslims to flow into the U.S. unchecked. Now there are thousands of jihadists in these 50 states that have the potential of causing one Hell of a mess. We have militant GLBTQP terrorists that demand respect...or else!!
Old Testament War/
New Testament War
I HAVE TWO magazines on war in print. But for the sake of this subject, I want to say that there are Scriptures supporting war. Call it "Just War," or whatever, but the Scriptures are there. We don't have to convince you of the Old Testament war texts–such as Eccl. 3:8, a "time for war;" Proverbs 20:18, "Make war by wise guidance;" and 24:6, "For by wise guidance you will wage war, and in abundance of counselors there is victory and safety."
But what about the New Testament? First, we know that there is Spiritual warfare (Eph. 6:10-17; 2 Cor. 10:3-6 etc.). Jesus Himself spoke of war (alluded to it) in Luke 14 when he taught on the cost of discipleship. He spoke of building a tower (lookout, in time of war) in v. 28, of a king going to war in v. 31, and conditions of peace in v. 32.
His most pointed speeches are found in Luke 21:20-24—the destruction of Jerusalem (v. 23= "great distress," "wrath upon the people;" v. 24="fall by the edge of the sword," "Jerusalem shall be trodden down of the Gentiles," i.e., the Romans in AD 70).
In Luke 19:11-27—the parable of the pounds, Jesus puts forth this chilling prediction: "But those mine enemies (the rebellious Jews themselves), which would not that I should reign over them, bring hither, and slay them before me." This took place in AD 70. The risen Christ was there at that event in Spirit.
I'm not trying to prove that New Testament Christians are to go to WAR, but merely showing that WAR was common then, just as it is today. Some wars are "just" (or Holy Wars), and some are not. My point is that the New Testament tells us that it is the state, not the Church, that God has ordained to PROTECT THE PUBLIC, and punish the evil doers—this certainly would include Islam!
Ok! Ok!
WE'VE HAD ENOUGH of this "Islam is peaceful" BULL! Go to their Hadith (some have up to 9 volumes). The Hadith spells out the details of JIHAD; it is, as one critic states, "a precise tactical manual for jihad."
The Hadith summarizes all the key elements of jihad (5 in all, but the 4th is purely religious). Let's look at these keys. To start, we will use the Al Bukhari Vol 1, Bk 7, (1.)331 where Muhammad (or Mohammed, used any way you wish) spoke: "I have been given 5 things which were not given to anyone else before me:
1. Allah made me victorious by awe, by his frightening My enemies for a distance of one month's journey;
2. The earth has been made for me and my followers, a place for praying and a place to perform rituals; therefore, anyone of my followers can pray wherever the time of a prayer is due (along with comment we find in other places that the whole world belongs to Islam, so jihad is used to remove trespassers!);
3. The spoils of war has been made lawful for me yet it was not lawful for anyone else before me;
4. I have been given the right of intercession on the Day of Resurrection;
5. Every prophet used to be sent to his nation only, but I have been sent to all mankind."
In this last one, Muhammad claims to be the prophet to ALL nations; this idea I have completely destroyed in one of my other articles. Jesus, not Muhammad, was the ONLY Prophet sent to ALL nations.
THE GOSPEL OF CHRIST HAD ALREADY GONE TO THE WHOLE WORLD BEFORE ISLAM WAS EVEN CONCEIVED.
Praise to Jesus, the Savior of Humankind!!!
______________________________________________________________________
"We Will Fly Our Flag Over America!"
But What Of Those "Peaceful" Muslims?
ISLAM IS ISLAM. The Quran/Hadith remain eternally as they are…and ALL Muslims are obligated BY LAW to fight: "You shall conquer many lands and Allah will grant you victory over your enemies in battle, but NONE OF YOU should stop PRACTICING for WAR" (MO 20, 4712). So, my dear liberal Christians, my dear peaceful Muslims, what of this hadith? Fighting in jihad is COMMANDED/DEMANDED for ALL Muslims (except the sick or crippled)!
After giving the above hadith, Muhammad followed up with: "Not equal are those believers (Muslims) who sit at home and those who strive and fight in the cause of Allah" (Bukhari [B] Vol 6, Bk 60, [6.]118).
Hell For The Kafirs
TAKE HEED AMERICAN SOLDIERS: "The man who fights so that Islam should DOMINATE is the man who fights for Allah's cause" (B 4, 52, 65). Warning: in B 4, 52, 72 Muhammad said that "any holy warrior killed will go to paradise" (where beautiful huris [virgins, 72 in all] await them). Umar asked Muhammad, "Is it true that Muslims killed in battle will go to paradise and kafirs (non-Muslims) who are killed in battle will go to Hell?" Muhammad said, "Yes."
Is it any wonder that these Islamic boys/men fight in jihad? B 4, 52, 142 tells us that doing "jihad," even for one day, puts a Muslims in paradise. What of the females (girls/women now used as human bombs)? Well, the Quran says that Hell will be populated mostly by females! No reward for them; no 72 virgin men in Paradise for them! Tell me, ladies of the West, why do you want to become a Muslim??
Could Islamic Jihad Break Out In America?
THE STANCE on Muslims concerning the U.S. is one that has been underway now for years. They openly brag about flying their black flag of DEATH over this nation!
There are three steps for the takeover to be complete:
1—infiltrate;
2—indoctrinate;
3—dominate.
The first two are already complete.
B 4, 52, 86 states: "WHEN YOU PREPARE TO FIGHT YOUR ENEMY, TAKE YOUR TIME."
[Note: The observation of this rule is probably why the thousands of Islamic Jihadists right now in the US seem extremely peaceful–at the moment!]
Islamic Groups
THERE ARE DOZENS of Muslim groups working in the U.S. to overthrow it. To get a handle on what I speak of, try to get hold of "Muslim Mafia" by P. David Gaubatz and Paul Sperry, 422 pages of information. The main group is from the belly of the BEAST—Counsel on American-Islamic Relations (CAIR). The FBI says that these Muslims are "good" at what they do. Their penetration/infiltration has cut deep into U.S. politics.
Secret U.S. Brotherhoods are a deadly foe. Under former prez Obama, these sickos dug deep into U.S. policies—with his full approval.
Infiltration is the key to the Brotherhood's massive SUBVERSIVE movement. They are already decades old. When detected, they, along with the liberal media, scream "Islamophobia" (CAIR, having the loudest voice).
So, groups like CAIR, MPAC, MAS and IIAMA (Islamic Institute and American Muslim Alliance) are SWORN ENEMIES of America and its citizens. The American Muslim Task Force on Civil Rights and Elections was formed to promote candidates into public office.
Finishing Up
LISTED BELOW are 13 Doctrines of Radical Islam (which ISIS operated by). Get a Quran and check off the suras as I present them:
13 Doctrines Of Radical Islam And ISIS From The Quran :
1. YOU CAN rape, marry and divorce pre-pubescent girls (Quran 65:4).
2. You can enslave for sex and work (Quran 4:3, 4:24, 5:89, 33:50, 58:3, 70:30).
3. You can beat sex slaves, work slaves, and wives (Quran 4:34).
4. You will need 4 Muslim male witnesses to prove a rape (Quran 24:4).
5. Kill Jews and Christians if they do not convert or pay Jizya tax (Quran 9:29).
6. Crucify and amputate non-Muslims (Quran 8:12, 47:4).
7. You will kill non-Muslims to receive 72 virgins in heaven (Quran 9:111).
8. You will kill anyone who leaves Islam (Quran 2:217, 4:89).
9. You will behead non-Muslims (Quran 8:12, 47:4).
10, You will kill and be killed for Allah (Verse of the sword, Quran 9:5).
11. You will terrorize non-Muslims (Quran 8:12, 8:60).
12. Steal from non-Muslims (Quran chapter 8, booty/spoils of war).
13. Lie to strengthen Islam (Taqiyya deception, Quran 3:26, 3:54, 9:3, 16:106, 40:28).

______________________________________________________________________________________________________
Decoy Texts; Dirty Tricks
(For Your Consideration)
General James Green
In an attempt to deceive the "Christians," rabbis resort to what Dr. M. Hoffman calls DECOY TEXTS ("Judaism's Strange Gods," 2011, p. 60). Not only to lead astray Church folks, but Gentiles in general. Apologists for Judaism allude to the sayings of R. Meir in the Babylonian Talmud (BT). Abodah Zara 3a: "A Gentile who studies God's law is equal to a high priest" (a parallel text is found at BT Bava Kama 38a). Supporting the "Jews" (most are not Semites but Khazars/Ashkenazim=converts to Judaism, not descendants from Biblical Abraham) makes the Churchites feel "special" and "more loved" by God.
But these rabbis do this in expectation that their Gentile audience (goyim=the other nations) has never ever heard or read that there is a counterpart to Abodah Zara (AZ) 3a. In fact, JUST ABOUT 99 PERCENT OF THE CHURCH HAS NEVER EVER READ FROM THEIR TALMUD (like most have never even read from the Quran/Hadith of Islam). BT Sanhedrin 59a reads such: "A non-Jew who engages in the study of the Torah is liable for execution." AZ 3a speaks of "God's law," meaning the Torah. But why? Since the Church reads from the Old Testament, why the warning?
Let's dig a bit deeper. References to the Torah (first 5 books in the Old Testament in Judaism are very misleading. The true definition of "Torah" is "Pentateuch," i.e., the "Torah She Bichtav." However, in Judaism, the definition of "Torah" has been arbitrarily expanded to denote the "Torah She Beal Peh," i.e., the oral law traditions of the Pharisees as published in the BT and derivative texts.
Jesus mentions this oral law in Mark 7:5, "traditions of the elders or forefathers." He goes on to call the Pharisees (and some scribes, 7:1) hypocrites who were FAR DISTANT from Him (7:6). He accuses them of what they were guilty of: "you disregard and give up and bid depart from you the commandment of God, and cling to the TRADITION of men—keeping it carefully and faithfully" (v. 8). Read the whole discourse. The Pharisees mostly rejected the Torah, i.e., Pentateuch, and adhered to the BT (which was still in the process of being written. It was completed around AD 200 and canonized around AD 500).
"Only those Gentiles who study the rabbinic text (God's law)," writes Hoffman, "with a view to praising its virtues and enhancing its reputation are 'equal to a high priest.'" So, when the "Christian" supports these "Jews" of today, they also support the BT unknowingly.
The rabbinic doctrine in Tanya 1:1 says, "any good done by the Gentiles is for selfish motives." So, the supposed equality of the (stupid) Gentile who studies rabbinic law is found in a decoy text, BT Abodah Zara 3a.
BT Bava Batra 10b
"EVEN THE KINDNESS OF GENTILES TOWARD JEWS IS A SIN." What? Yep! A SIN!!!
If a "Jew" wants favor from the "Christian" or Gentile, they quote other favorable passages. I prove this in Islam's Quran/Hadith (write for our "2 Faces of Islam" series/DVDs). Remember, "Jews" and Muslims are cousins.
Don't forget, Judaic Talmudists call Jesus a BASTARD, and Mary a WHORE, and say that all Christians (and non-"Jews") need to be KILLED...more on this later.
Another Decoy Text
"THE RIGHTEOUS of all nations have a share in the world to come," Tosefta Sanhedrin (TS) 13. Anyone looking at the agenda of the "Jews" will discover that ONLY "Jews" will reign, not Gentiles.
Those who KNOW the Jewish writings (I do not consider myself to be versed, but certainly can smell the "sweet deceit" in all that I do read) and the rabbis will tell us that nothing is considered "righteous" which does not advance the "Jewish" people (Kla 1 Yisrael) and advance the traditions of the sages of the BT (the halachos of Chazal). So, according to TS 13, the "righteous Gentile" will have a place in the rabbinic Heaven IF he or she upholds the (alleged) divine nature of the Mishnah and Gemara (Mishnah—the first written document of the formerly oral laws and traditions of the [Babylonian] Pharisees; Mishnah means "repetition;" Gemara=the supplement of the Mishnah. The text of the Gemara is 30 times longer than the Mishnah).
Praise For The Christian Zionists!
THE "JEWS" will heap lots of praise upon those who promote Judaism, but WOE unto those who do not. People like all these TV preachers/teachers etc. are loved and praised by the "Jews," for they are supporters/advancers of Judaism. They have become UNequally YOKED together with UNbelievers, a sin in God's Word. Hey, Churchites, have you ever read this? In 2 Cor. 6, read vv. 14-18 (see more about separation required for believers in your bible). Paul, as well as Jesus (and Old Testament prophets), taught separation. We, as Christians, can pray for them, but we're not to be in voluntary partnership, or in intimate association with unbelievers, for such relationships can/will CORRUPT our relationship with Christ—the very Christ the "Jews" had crucified.
Paul makes it clear as glass that there is NO fellowship between: Christ and Belial, Christianity and Judaism, and no fellowship between believers and infidels. There is no agreement between the temple of God and idols (forget that future "Jewish Temple;") GOD'S TRUE EKKLESIA IS HIS TEMPLE, the born again believers.
Paul instructs the true believers to "Come out from among them, and be ye SEPARATE…touch not the UNCLEAN thing" (like Babylonian Judaism).
In case you think I'm being just too harsh and unloving, below is a short Scripture Study for your consideration:
2 Cor. 6:17-18, "Wherefore come out from among them, and be ye separate, saith the Lord, and touch not the unclean thing, and I will receive you, And will be a Father unto you, and ye shall be my sons and daughters, saith the Lord Almighty."
The concept of separation from all evil is fundamental to God's relationship with His people. According to the Bible, separation involves two dimensions, one negative and the other positive: (a) separating yourself morally and spiritually from sin, and from everything that is contrary to Jesus Christ, righteousness, and the Word of God; (b) drawing near to God in a close and intimate fellowship through dedication, worship, and service unto Him. Separation in this twofold sense results in a relationship where God is our heavenly Father who abides with us and is our God, and we in turn are His sons and daughters (2 Cor. 6:16-18).
(1) In the Old Testament, separation was a continual requirement of God for His people (Ex. 23:24; Lev. 20:22-26; Is. 52:11; Jer. 51:45). God's people were expected to be different, holy, and separated from all other peoples in order to belong to God as His very own.
(2) In the N.T. God commanded separation of the believer
(a) from the corrupt world system and unholy compromise (John 17:15-16; 2 Tim. 3:1-5; Jas. 1:27; 4:4),
(b) from those in the church who sin and refuse to repent (Mat. 18:15-17; 1 Cor. 5:9-11; 2 Thes. 3:6-15),
(c) from false teachers, churches, or cults who teach theological error and deny Biblical truths (see Mat. 7:15; Rom. 16:17; Gal. 1:9, note; Tit. 3:9-11; 2 Pet. 2:17-22; 1 John 4:1; 2 John 10-11; Jude 12-13).
(3) Our attitude in separation must be one of
(a) hatred toward sin, unrighteousness, and the corrupt world system (Rom. 12:9; Heb. 1:9; 1 John 2:15),
(b) opposition toward "false doctrine" (Gal. 1:9),
(c) genuine love toward those from whom we must separate (John 3:16; 1 Cor. 5:5; Gal. 6:1; cf. Rom. 9:1-3; 2 Cor, 2:1-8; 11:28-29; Jude 22),
(d) fear of God as we perfect holiness (2 Cor. 7:1).
(4) The purpose of separation is, that we, as God's people, might
(a) persevere in salvation (1 Tim. 4:16; Rev. 2:14-17), faith (1 Tim, 1:19; 6:10, 20-21), and holiness (John 17:14-21; 2 Cor. 7:1);
(b) live wholly for God as our Lord and Father (Mat. 22:37; 2 Cor. 6:16-18);
(c) convince the unbelieving world of the truth and blessings of the gospel (John 17:21; Phil. 2:15).
(5) If we separate ourselves properly, God Himself rewards us by drawing near with His protection, blessing, and fatherly care. He promises to be everything that a good Father should be. He will be our counselor and guide; He will love and cherish us as His own children (2 Cor. 6:16-18).
(6) The refusal of the believer to separate himself from evil, the false, and the unclean, will inevitably result in the loss of his fellowship with God (2 Cor, 6:16), of his acceptance by the Father (6:17), and of his sonship with God (6:18; cf. Rom. 8:15-16).
Are You Part Of…
ARE "CHRISTIANS" part of Judaism's chicanery, masquerading, and counterfeiting apparatus?—which is all a part of the New World Order apparatus—whose agenda calls for the enslavement/murder of all Gentile nations—unless they are pro-"Jew?" (Many believe this).
"Jew" Pride
THERE IS PLENTY in the Talmud that supports this. To deny their writings is to call them liars. Hagigah 27a says that no rabbi—no matter how wicked!—can ever go to Hell. Abodah Zarah 17a states that there is not a whore in the world that the Talmudic sage Rabbi Eleazar has not had sex with. BT Baba Bathra 10b says the deeds of Israel are righteous, but the Gentiles are capable of sin.
[Note: BT (Vol. III) Erubin, ch. 2, Mishna 1 says: "The fires of hell cannot gain access to the bodies of the sinners of Israel; Abraham the patriarch, seeing that they are circumcised, rescues them." That is saying that ALL circumcised Jews, even if they are murderous sinners, cannot go to Hell! That also means that if a Jew kills a beloved non-Jewish family member/friend of yours, even if he never repents, he won't stay in Hell!
Even "Jews" who disagree with the BT rabbis deserve DEATH and will be punished by being boiled in hot excretement in Hell—this also includes ALL Gentiles (BT Erubin 21b). Their hubris pride is so great that "A sly rabbi debates God and through trickery, defeats Him. God admits the rabbi won the debate" (BT Baba Mezia 59b). I have shown that Muslims call God (Allah) a tricky God who deceives.
I could go on and on with all their insane and odious babblings. Since they claim superiority, it stands to reason that the Gentiles are inferior, "…Eve had sexual intercourse with the serpent, transmitting lust to the Gentiles, from which Israelites are exempt" (BT Abodah Zarah 22a). Gentiles are called "dogs," "donkeys" etc.
Rabbi Saadya Grama has stated that "Jews" experience good fortune only when Gentiles experience catastrophe…" This rabbi is from NJ's Beth Medrash Govoha, (the Lakewood Yeshiva, a renowned Talmudic academy). He makes no pretension about "Jews" being more superior to Gentiles, "…the goy, by his source and in his very essence, is completely EVIL!" (see his sick book "Romemut Yisrael Ufarashat Hagalut," i.e., "Jewish Superiority and the Question of Exile," 2003). This book was denounced by other savvy rabbis, but it should be BANNED completely.
This kind of junk food actually provokes "hate." These hubris rabbis use the word "differentiate," meaning, "Let us differentiate" between totally different SPECIES—MEANING GOD MADE THE "JEW" SUPERIOR TO THE GENTILE. IS NOT THIS RACISM?
NOW LET ME COMMEND THESE JEWS SINCERELY to whoever feels the desire to shelter and feed them, to honor them, TO BE(:) fleeced, robbed, plundered, defamed, vilified, and cursed by them, and to suffer every evil at their hands — these venomous serpents and devil's children, who are the most vehement ENEMIES OF CHRIST our Lord and of us all. And if that is not enough, let him stuff them into his mouth, or crawl into their behind and worship this holy object. Then let him boast of his mercy, then let him boast that he has strengthened the devil and his brood for further blaspheming our dear Lord and the precious blood with which we Christians are redeemed. Then he will be a perfect Christian, filled with works of mercy for which Christ will reward him on the day of judgment, together with the Jews in the eternal fire of hell (Martin Luther, "On the Jews and Their Lies," 1543, emp added)!
P.S. I have shown you what the Qur'an/Hadiths/Talmud teaches.
While I do not believe that most Muslims/Jews are violent, however their "books" do
teach hatred and violence. Our Commision as born again believers (BAB) is to pray
for our enemies that they will find Eternal Salvation thru Jesus Christ the Lord.
_____________________________________________________________
WOS 10-24-23 Don't be Pained, Drained, and Chained!
I speak unto you this day and I say, do not be pained, drained, and chained to the troubles that are in the world at this time. The reality is that the world will always have troubles, sorrows, wars, and rumors of wars. Likewise there will be present the leaders and nations that imagine that they will last forever because they are invincible. However such imaginations are demonic and do not come of Me.
It is Me the Living God who will uplift, direct, and guide My people in the Way that I have intended and that Way is perfect, it is spotless, and undefiled. I do not call you to follow after the ways of the heathen and imagine that you will be uplifted for you will not. Instead, you will grow hopeless and literally feel crushed and helpless.
My people are not meant to be crushed, helpless, and hopeless. They are meant to be uplifted, rejoicing, and giving thanks and praise to Me as the One they trust themselves unto at all times. As you keep your focus clear you will understand more and more clearly that the world is cursed and that because of that, there will always be troubles, sorrows, wars, and rumors of wars. Endless discussions and meetings will solve nothing, negotiations will break down and friends will become enemies. Why? Because in these times, far too many are constant in their pride, arrogance, impudence, and false assumptions about their own abilities, ambitions, and agendas. Leaders of nations are seeing themselves as the very greatest, totally invincible.
The facts are that no people or nations are invincible and nations are nothing more than a drop before Me, people are nothing if they do not serve Me. Remember, it is My Word that stands for ever. While the flowers bloom for a season then fade away, and as the grass grows then withers and is blown to the wind, so are people without Me. They have their time, their season, then they are over and done and remembered no more. Those who have refused Me and despised the truth will end in hell because they loved lies and chose the same.
Yet, those who are willing to humble themselves and come into the truth are guided forth by a plain path and taught the Higher Way that I provide, the straight and narrow Way that leads to Eternal Life in Me. Be glad even today that you can be kept in the clarity that I give to you each day and that you do not need to go in the way that is ugly, filled with the vanity, stupidity, and insanity that is manifest in these times. Be thankful that I am the One who is your Strength, Safety, and Sanity in these crazy and chaotic times. Do not live in the multiplied fears that are besetting the evil doers, rather live rejoicing that you are in the company of the redeemed and are not the damned.
Do not look at the treachery of the evil and think that there is no hope, remember, I AM the HOPE of MY people and they do not need to be ashamed for I am with them forever as they maintain their righteousness before Me.
While the echo of WAR, WAR, and more WAR is being sounded throughout the earth, consider that you are not meant to be pained, drained, and chained by the same. Call to mind the fact that you are the citizens of My Kingdom and your lives are in My hands. Therefore it is not intended for you to be embroiled in their maladies and mistakes. When proud men and women refuse to humble themselves and seek My face and My counsel, they will never find lasting peace. In fact they will have peace demonstrations that will erupt into violence because the pride of humanity is raging and ranting in these times.
Such pride as is strutting and boasting in these times, is because people have opened themselves up to demons with no restraint. Because they are fueled by demons they are ready to erupt into violence over nothing. They are ready to "go to war" at the slightest provocation without any consideration for the consequences of the same.
Because of the fact that people are separated from Me by their sins, they will go headlong into the tragedy of war and never feel remorse over the same. Useless and senseless wars have gone on and on in the history of humankind. What has become of the same? Nothing for the generations grind on and point back to the sins of their fathers. Then they, wise in their own conceit do not learn and repeat the same mistakes as were committed by their ancestors.
So, the curses are multiplied and as the death toll rises, do I see all die off ? No, I save the remnant who desire to live in My Kingdom and who are willing to adhere to My standard and keep peace with each other and with Me. Remember the wages of sin are death and endless wars are sin in My sight so what is the consequence that comes from the carnage of war? Death, death, and more death. Over and over, the horrid and tragic consequences of war are shown throughout the world and people who have not trusted their lives to Me live in the constancy of fear and violence. Driven by demon forces, even those who are boasting and strutting are full of fears they show thru aggression against others. Be glad even that you do not need to be found continually pained, drained, and chained by Media and her minions for you can turn away from the world and have peace in Me.
---
Photo of Jim & Deborah Green (1982) standing by a carved idol, a "god" of the Hawaiian Islands. We spent time there to teach spiritual warfare and work deliverance (Casting out demons).
FOLLY & FOOLERY of IDOLATRY!
Isaiah 44:9 says, "Those who make an image, all of them are useless. . . .neither see nor know, that they may be ashamed." Isaiah goes on to write, "who would form a god or mold an image that profits him nothing?", Verse 10 The prophet goes on to describe those who fashion idols (Verses 12—20) and "falls down before it and worships it, prays to it and says, "deliver Me for you are My god!" (Verse 17.
Idols and idolatry are old as humanity. Read the entire Bible and see how many times idols/idolatry-carved images, statues, poles, etc. are used in both the Old Testament and the New. (see "Operation Mobilization) listed under videos on the front page of Aggressive Christianity. Net which we filmed while in India and Nepal in the 1980's). The following excerpt from Words of the Spirit (Found At- JesusCallsToAll.Com) tells us again that idolatry is an abomination. You can read and listen to the WOS there. All of those Spirit Words are given by Prophet Deborah:
WOS 10-2-23 FOLLY & FOOLERY of IDOLATRY!
I speak unto you this day and I say that those who pursue the course of idolatry are dull and dumb because the idols they serve can do them no good at all. This is because idols are not alive, they are shaped by the hands of men and women, and they cannot hear, see, or speak. Idols are literally the inspiration of demons and they are meant to confuse and delude people that they do not realize the futility of the worship they give to their idols.
I created men, women, and children to worship and serve Me, and Me alone and I have done this in order to bless them and provide for them in abundance the many blessings I have in store. However those who do not listen to My Spirit, but prefer to listen to demons will fall down before their idols all to their own confusion.
My people are not meant to worship idols nor enter into the useless folly and foolery of the same. If you consider that what people worship is what they or others have made, how foolish it really is to bow before such lifeless and useless things. For Full Word Click HERE
___________________________________________________________________________________________
THE WAR GOES ON! 8-7-23
By: General Jim
There are those who have not and will not engage the enemy/enemies of our souls, Satan and his army of demons. Years ago, a brother (?) came to me and my wife and told us that if we would leave off talking against the devil, the devil would leave us alone. That unscriptural advice has caused the enemy to work havoc in and out of the church.
While that advice sounds pretty good, "no fight, devil's delight" it is certainly not true! No sir! True Christianity as the Africans used to tell us as we worked in many of the nations of Africa, "Christianity is War".
Did Jesus, our Captain in this great War, draw back, zip-the-lip and not contend with Satan? Please take note: "Then Jesus was led (guided) by the Holy Spirit into the wilderness to be tempted—that is, tested and tried by the devil." Matthew 4:l (read the full account, verses 2-11). Jesus did not go looking for a fight, the Holy Spirit sent Him into the spiritual battle.
The devil and demons have an unholy Hatred for useful persons, especially when they first start out. Oh, we could write a good-size book on our warfare as young disciples/soldiers of Christ. When we refuse to engage the enemy or enemies, we give an advantage to them. Jesus, the Lamb of God, did combat with the destroyer of souls and He won! Think about this: Christ Jesus was fasting all those forty days. Now, My wife and I have been on numerous long and short fasts and one's body is weak. But you see, our strength must come from the Spirit. In conjunction with this article, read Words of the Spirit, dated August 7, 2023, given by My wife, Deborah Green. It starts out like this: "The true Christian sooner or later comes to the revelation reality that they are literally born into WAR and that if they are continuing steadfast, they will see that THE WAR GOES ON! The WAR for their own souls and the souls of their loved ones. The WAR goes on against the forces of evil...." (See Eph. 6:12)
This prophetic word ends with, "I do not want you to give into weariness and defend your position. I want you to know the War goes on and you are in that WAR. Do not look to collapse, believe to conquer the enemies." Is not our life in Christ a warfare? Yes! We struggle with the common calamities of human life & wrestle against despotism, powers, master spirits of this world and against spiritual forces of wickedness in the supernatural sphere. Our prayer is that we all Wage Aggressive Resistance (W.A.R.) till the end.
______________________________________________________________________________________________________________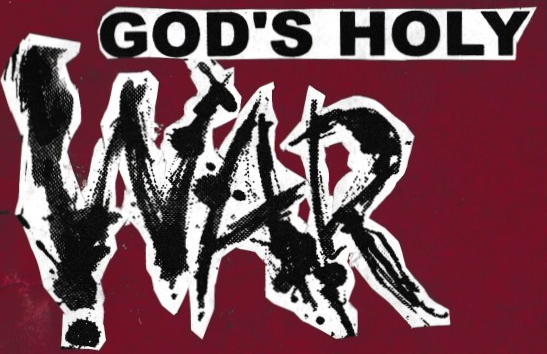 Get Ready! The Storm Approaches!
The Lord is raising up His true ones to
confront the enemies of His purpose…
spreading as a single cloud, moving into
a Great Cloud Cover…
moving into a Massive Storm that will
invade and take on the forces of
Hell!!!
---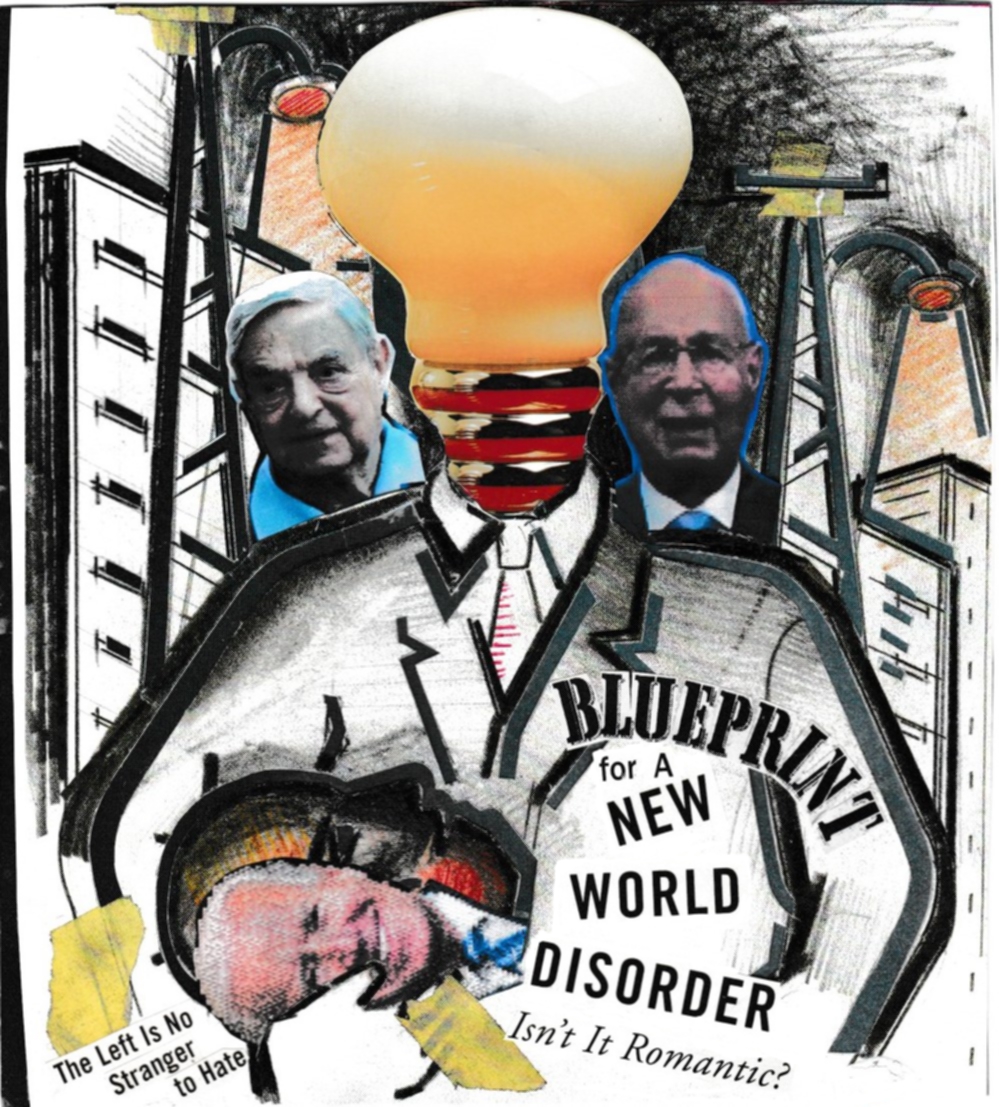 IN TIMES OF TROUBLE!
9-9-23
''But the Lord shall remain and continue forever; He has prepared and established His throne for judgments, (see Hebrews 1;11) And He will judge the world in righteousness—rightness and equity. He will minister justice to the peoples in uprightness (see Acts 17:31) The Lord also will be a refuge and a stronghold in times of trouble (high cost, destitution and desperation). Psalms 9: 7-9 Amp. Bible
There are evil forces at work, right now in real time-to destroy the Christian faith. In the ranks of the unrighteous there is great celebration. . .believing they will control the world thru machinations & fear. The Spirit of the Living God has been giving us Word—after—Word about the plots, plans, schemes of evil men and women. See Words of the Spirit- (WOS) @(jesuscallstoall.com)
Psalms 9:9 says, "The Lord also will be a refuge (lit: secure height) for the oppressed, a refugee in times of trouble".
High Tower of Strength and Power
You can read this Word, dated 9-3-23 in which
I quote, ". . .I want you to remember in these days that when the tycoons of fear and terror are plotting and scheming and sending out their networks of demon forces that you can run into Me. . .in fact you are enabled by My Strength and Power to resist, refuse, and rebuke such forces. . .as your High Tower and the One who remains standing forever and ever. . .Proud predators are every where and attempting to bring down those who are listening to their boastful speeches and tactics of take-over. . ." (read the entire WOS @ (jesuscallstoall.com).
Who?
Who are these plotting and scheming tycoons, ie. Demons in human bodies? Who are these antichrists that are leading multitudes down the Damned Rabbit Hole of Destruction? Who are these psychos who are rewriting history to suit their "One World Order" agenda? See Project Clarity's Documentary, "Great Awakening".
It is no secret that the USA, is their prize goal to convert into a "New Age Elysium", ie. A Socialist/Communist "paradise". The Top Hat of this movement is none other than Comrade Klaus Schwab of the World Economic Forum, started in 1971. This is the year I gave my life to Jesus Christ after serving time in the U.S. Military. This was during the time that the US was at War against Communism in Viet Nam. After receiving a medical discharge, I joined the Revolution that Rocked America!
The WEF was held at Davos, Switzerland this past year. All the one worlders were in attendance. The rich and powerful feckless, feral fiends separated themselves from the lesser FFF, hence there were two DAVOS. The one you could see, then there was the one you did not see. The latter was those who were "chosen" to be in on the "Great Re—Set". These dirt-bags are the ones who are planning to take over and Control the Whole World. Unless, the world gets it's priorities right, God will allow this to become a reality!
Could their "plan" be what Revelations 13;3 says ". . .And the whole earth went after the beast in amazement and admiration". Read verses 4-9.
Look up Klaus Schwab's welcoming remarks and special address at Davos WEF 2023. In 2016, Then Vice President, Biden gave his remarks. Past President Donald Trump gave a special address at WEF in 2020. Take note of what the "Great
Re—Set" is all about—it is CONTROL!!!
Vladimir Putin (President of the Russian Federation) gave his address in 2021. Billionaire Bill Gates also spoke in 2008. XiJinping of China, Yuval Noah Harari spoke about the world being controlled by AI. Sour face Billionaire George Soros also had his say-so. This list is long.
Florida Governor DeSantos ruffled some feathers when He called out the Elite at WEF "THEY WANT TO MAKE US SERFS".
It has been brought up, "Forget the "Great Re—Set", embrace the "Great Escape".
Elon Musk, the richest man in the world, slams all this propaganda, calling it SATANIC! Good for him. Communist Trudea (Canadian) and etal., are considered as pin-up boys for the WEF. Since Canada has gone Socialist, will the USA turn RED as well? O, sleepy, creepy Joe Biden appears to hope so.
Well folks, what the Spirit has been telling us over the span of over forty years is all true. Some of the things He has been telling us over the past decades are surely frightening. It is time to "GET REAL". If you have not accepted Christ as your personal Savior, now is the time to Repent, Turn from your sins and turn to the One who died in order to forgive our sins...Making us a New Creation.
By: General James Green
____________________________________________________________________________________________________
LAUGHTER 9-8-23
"Behold, God will not cast away (reject) the blameless, nor will He uphold the evil doers.
He will yet fill your mouth with laughing, and your lips with rejoicing.
Those who hate you will be clothed with shame, and the dwelling place of the wicked will come to nothing." Job 8: 20-22 NKJV
"Ah, here we have something to contemplate: When we are hated for His (Jesus') Namesake (Mt 10:22; Mk. 13:13, Lk.21:17; Jn. 15:18; 17:14) We will feel sorrow , even terror at times, but we will laugh when God deals with our persecutors.
When evil persons persecute/prosecute, even imprison us, we must see this as a blessing! What? Yes, a blessing. . .knowing that we suffer for His Namesake.
When we are in the midst of the trying of our faith, all seems like God is for our enemies and against us. Ever feel this way?
Though in the midst of the "fire of refinement" we feel FORSAKEN of God, we are Not! We are being refined like pure gold. Pain, yes, lots of pain. . .but in God's timing, LAUGHTER.
Those who despise and hate us (for our faith) laugh at our demise, but hang on, they will mourn. They may triumph over our sorrow for a season, but that will come to an end. Praise the Lord! We may be Cast Down, but not Cast Out. The Holy Spirit will be with us in our distress.
The dwelling-place of the wicked (their nest of Hatred) will come to naught. . .in God's time. Those who make their dwelling-place in the LORD are safe forever!!
Don't give up when you feel hopeless and helpless—HELP IS ONLY A PRAYER AWAY. Deliverance is on the Way.
In this life we will suffer persecutions, sorrows, even terror. But we will also feel His presence, His love, His desire towards us as we remain true. All of us who are in God's Holy Family around the world will feel joy and be in great rejoicing because no one can defeat Our God, the Most High.
Please read WOS 9-8-23 Violation, Mutilation, Assassination!
I speak unto you this day and I say that the masters of wickedness are out in full array against My true believers. When I say "full array" that means basically that they are using their techniques and tactics of war in order to frighten and negate My people in terms of their labors of love for Me...
Click Here For Full Word-
WOS 9-8-23 Violation, Mutilation, Assassination!
________________________________________________________
Words Of The Spirit
DELUSIONAL PREPAREDNESS!
MESSAGE SPOKEN April 18, 2013
I speak unto thee this day, and I say that I the
Living God do laugh, I do laugh, I do laugh at
the ones who are claiming that they are
mine, yet I say they are far from me. That is, I
laugh at them because they are so dull, so
dumb, so stupid, because they have turned
unto idols. I say all the while they see
themselves as something that they are not, I
say they see themselves as full of courage,
bravado, when it is not true...
TO READ FULL WORD CLICK HERE-
God Laughs?
Gen. James Green
WHEN WE
posted the above Word—April 18, 2013—on the Youtube, one critic wrote that
"God DOES NOT laugh at people!"
Really?
This person surely doesn't study his Bible
:
"He that sitteth in the heavens shall LAUGH: the Lord shall have them (kings, rulers of earth, v. 2) in derision" (Ps. 2:4, KJV). This LAUGHING is followed up with God's WRATH, VEXING them in His sore displeasure (v. 5). The Revised Standard Version uses, "TERRIFY them in His FURY;" like TERRORIZE!! The Lord laughs and holds their (heathen, v. 1) vain conceits in derision; then in terrifying anger He sets about to show that the king, whom He has set up on Zion, is inviolable (v. 6).
"I also will laugh at you calamity; I will mock when your fear cometh" (Prov. 1:26, KJV).
Why would God LAUGH at someone's calamity? Verse 24 and 25 tells us WHY: "Because I have called, and ye refused; I have stretched out My hand, and no man regarded; But ye have set at nought all My counsel, and would none of My reproof."
"Set at nought" (KJV), or, as the RSV has it, "ignored." The root idea of the verb 'para' is "to let loose" (see Ex. 32:25); then "to let go free," and so "to neglect," "to avoid," "to ignore."
THUSLY, WISDOM, IN TURN, HAS HER LAUGH WHEN MISFORTUNE BEFALLS THOSE WHO HAVE DISREGARDED HER WARNINGS.
MOCK!: A stronger word than LAUGH of the preceding clause—since it implies utterance.
FEAR/PANIC: 'pahadh' means, "sudden terror." The PANIC (RSV) results from events which strike FEAR into the heart, when those who disregard wisdom feel most secure in their own strength, CALAMITY strikes, and brings them to RUIN! Our mere human reason, like that of our critic, is repulsed at Wisdom/God gloating over the misfortune of others. Yet, here it is in the Bible, used by the psalmist, and the prophet, who, likewise, exult over the downfall of the sinner.
Why is it that people only want to believe that God/Jesus/Holy Ghost are only love, love, love? They certainly have another side to them—and it is called WRATH/ ANGER/ FURY/ INDIGNATION/ JUDGMENT!!
I challenge all our critics to read "The Wrath of God" magazines parts one and two; I put days, weeks, months into these. If anyone can prove them false, just try it.
Verse 29 opens our minds a bit more: "For that they HATED knowledge, and did not choose the fear of the LORD." The verbs noted: "did not choose, would have none, despised," are synonymous; revealing the antagonistic attitude of the FOOLS to Wisdom and her counsel, (see Jer. 18:18). Read vv. 30-33 also in Proverbs one.
"The Lord shall laugh at him: for He seeth that his day is coming" (Ps. 37:13). Verse 12 tells of who "him" is: "The wicked plotteth against the just, and gnasheth upon him with his teeth." Verse 12, 14 provides us with a precise picture of the anti-godly; but the LORD LAUGHS at him/them…there is a painful touch of ridicule in v. 13. Amen! God sees ahead that the "wicked" will come to ruin himself/herself.
You see, eventually, retribution will overtake the ungodly. We know this by Ps. 52:5 where, "God shall likewise DESTROY thee for ever, He shall take thee away, and pluck thee out of thy dwelling place, and root thee out of the land of the living." We are surely seeing this happen here, and now, in good ol' backslidden USA—many are being deprived of their power, wealth, health; made homeless. Verse 6 tells us that, "The righteous also shall see, and fear, and shall LAUGH at him!! (V. 7 continues: "Lo, this is the man that made not God his strength; but trusted in the abundance of his riches, and strengthened himself in his wickedness.") We, personally, know some who are under God's judgment: some have died a HORRID DEATH, others are in total RUIN!!
"But thou, O LORD, shalt laugh at them (enemies of vv. 1-7); thou shalt have all the heathen in derision" (Ps. 59:8, KJV). Read this entire psalm.
The LORD, who is competent to SAVE, is also the same LORD that is competent to SLAY…LAUGHTER and corrosive SCORN are all part of God's character!
You see, if, and when, men mock God/laugh at His Word, the pleasant vice of such will become instruments to scourge us. God MOCKS the mockers. Those who conspired to have Jesus put to death (see Mark 10:32-34) were MOCKED in 70 AD. Tens of thousands of the Jews were crucified!! Jesus put forth a parable (a true one!) in Luke 19:12-27 in which He was revealing what lie ahead for, "those mine enemies, which would not that I (Jesus) should reign over them, bring hither, and SLAY them before Me" (v. 27). Why isn't this taught by our "Jesus is only love, love, love" Churchites??
In every parable that Jesus uttered, there was something that lay at the door. In this one, Jesus foretells the DESTRUCTION of Jerusalem, and His enemies. And I'll warn all of you, that, if you, too, refuse to let Jesus reign over you (v. 14), YOU WILL FACE HIS WRATH.
No doubt Jesus had in mind 1 Samuel 15:33—the prophet Samuel's treatment of king Agag. Matthew's version describes the fate of the "worthless servant" (Mt. 25:30); and Codex Bezae adds this matter to Luke's text.
Verse 27 refers to the Jews, whom Jesus would SLAY by the sword of the Romans—this is New Testament folks, not Old Testament. And, as I write, God is pouring out His Wrathful judgments/punishments upon this world. And, they are going to increase, too. I PITY YOU WHO ARE THE ENEMIES OF CHRIST—HE WILL LAUGH AT YOUR RUIN!
Not only did the Jews kill Jesus, they also were guilty of killing the prophets (Matt. 23:37). Jesus wished to gather the Jewish people together into the Kingdom of God "as a hen (or bird) gathereth her chicken (or brood) under her wings, and ye would not!"
According to Josephus (Jewish War VI 5:3), at the time of Pentecost, just before the temple's fall, the priests heard a portentous voice say, "We are departing hence." It must have been generally believed that God's presence had forsaken His house.
The lament and pathos over Jerusalem came before God's WRATH; mercy before FURY. There is no doubt that Jesus loved both Jerusalem, and the people. He wanted both to be spared (v. 37 echoes Ps. 17:8 and 57:1). Lest we forget, the Jews were under the wings of the Roman eagle, not God's, because of their rebellion/sin. Jesus wanted to free their minds/hearts from the same. Had they accepted Him, the Romans would have been driven away by God. But, because of their continued rebellion against God, Roman dominion prevailed…and ICHABOD (1 Sam. 4:21) was written upon that city. Jesus says in v. 38, "Behold, your house is left unto you desolate." Has this happened to America? Is it a matter of time before America lies in ruin?
Let's face the facts, America's "freedoms" are fading fast. We can become like Jerusalem in our obstinate rejection of God's love—it can, and will, run out!!
Jesus predicts the destruction of Jerusalem, and the temple in cpt. 24:1-2. No doubt, Jesus, regarding this future catastrophe, predicted its ruin, not with happiness, but with sorrow. Remember, too, that His enemies, at His trial, accused Him of planning to destroy the temple. Their evil returned unto them; the temple was destroyed by the fierce and overwhelming vengeance of Rome. Jesus saw a DARK day coming, and He could not hide the Truth.
Most think that America will not suffer ruin. Don't be so sure, dear ones. Jerusalem's great building—her great temple, became a tower of Babel! Don't be fooled by America's "Greatness;" God's temple was the "beauty of holiness" (Ps. 29:2; 96:9); yet destroyed
WHEN MERE MEN MOCK GOD, GOD WILL MOCK THEM.
________________________________________________
About all this "Left's Elysium" 8-18-23
By: General James Green
In case some of you don't know what the word, "Elysium" means, it is: "plain of the departed, the dwelling place or condition of ideal bliss or complete happiness" in short, the Left's "Paradise."
Well, there is BAD NEWS for them, their version/vision of "Paradise/Elysium" is the opposite of the Christian's.
With the Left's take over of the Pubic, oops! Public School System, they can push their version /vision (VV) of paradise off onto the children. They can freely push the LGBTQ plus perversions, promiscuity, their sexual correctness/abuse/immorality all in the name of Sex Education. They are free to push their "gender insanity." Sex idolatry is literally killing America. . .but just protesting and rejecting the ethos of our sick-and-dying age isn't enough we are called upon to bear witness to what God's Word says "sexual correctness."
The Left's (et al.) goal is to utterly, totally corrupt ALL America. We must go to WAR ("Wage Aggressive Resistance"). Enough of this being tolerant and respectful of differing lifestyles.
Once we accept the premise that innocent life isn't worthy of protection and respect (murder of the unborn) we have sealed our DOOM as a nation that once stood united against infanticide and sexual lasciviousness.
The Left (et al.) wants to push their unchristian, unholy, unhealthy, claptrap off onto the whole nation—spare none! This whole SEX IDOLATRY is an ABOMINATION a term of opprobrium that God's Word (Bible) reserves exclusively for idolatry, human sacrifice, ritual prostitution, and homosexuality (male/female).
When sexuality is divorced from morality, BIG TIME TROUBLE will occur ... and America is in BTT!!! [Check Out the Bare Minimum parts 1-5 and 15 more New Articles, given Jan. 2017:
15 NEW ARTICLES, GIVEN JANUARY 2017
_____________________
MARK THOSE WHO SIGH & CRY!
By: General James Green
In reference to the Word of the LORD given 8/12/23-CHRISTIAN MANIFESTO (Given By Deborah Green) The LORD GOD is going to strike down world leaders and individuals alike for their pride, arrogance, character mutilation of His true believers.
The Lord spoke, "Go through the midst of the city...of JerUSAlem, and put a mark on the foreheads of the men who sigh and cry over all of the ABOMINATIONS that are done within it. To others He said in my hearing, "Go after him through the city and kill (strike); do not let your eye spare, nor have any pity...do not come near anyone on whom is the mark..."Eze. 9:4-6 NKJV
Some believe the "mark" was the last letter of the Hebrew alphabet, which originally looked like (X or the cross) (See Rev. 7:2-4;13:16, 14:9,11; 20:4, 22:4 etc.; a seal/mark). [note: it was common in ancient days and even now for idol worshipers to have certain marks upon their foreheads. For example Hindus as well as other idolaters.] In India, there are worshipers of various gods and goddesses that use different markings and colors both on their foreheads and hands.
Verse 6 says, "....begin at My sanctuary", the place where the real Living God was present but some made mock of it—these were to be SLAIN! Will God do this once again?
If we look nationally, the White House (aka "Pink House") is where the Maniac Dictator" lives, the "father, leader" of this nation, now called the United Snakes of America."
This Word also says, "Likewise I intend to DEVASTATE many who have sought to destroy My true people. They too will end in the DARKNESS & DEATH of their own imaginations & conjectures. All that has been done by the wicked will be returned to them and they will be proven to be the liars that they are."
Take heed all you former ACMTC members, those of you that have LIED in order to get MONEY$$$ from us and put us in prison, your days are numbered. For the full WORD go to Jesus Calls To All Link Below. The WORD states, "When My timing arrives you will see what I do..."
America has become a nest of poisonous snakes that God's Spirit is going to tear up! AMEN
- Read: Christian Manifesto 1&2 at JesusCallsToAll.Com
- Read: Communism and Humanism-Bedfellows
- Read: The Means of Communism
_________________________________________________________________________
Who Stole Our Child?
-General James Green- Jan. 23, 2012
"WHO STOLE YOUR CHILD?" No one! You gave it away, dear parents, when you sent your child to public school, where prayer and Bible reading were revoked by the Supreme Court. You gave away your child when you allowed him or her to have their own TV…to watch MTV, or live porn and every other kind of entertainment from the pit of hell. You gave away your son or daughter when you sent them away to some DAMNED, anti-Christ, ungodly college / university… where they were indoctrinated in Marxism, Darwinism and politically correct "pink perversions".
Why cry tears? Why get mad? You, mom and dad, literally sent your precious babe, lamb, to the camp of the DAMNED!
Oh, sure, we can blame the leftists, the devils for stealing your precious, but did they come to your home and snatch them away?.... out of your loving arms? NO! You turned them over to be raised for the world and by the world.
Why did you do it? To turn your child over to demons and devils (in human bodies), knowing full well that the Bible tells us to raise up our children to love and fear the Lord. In fact, mom, dad, it was suicide. How could you ever trust America's wayward institutions, seeing the kind of perverts they turn out? You ought to know that your national sovereignty and parental authority will not be honored. HA! You ought to know that your religious freedom is merely an illusion at best.
Resist the Devil?
YES, THE BIBLE DOES tell us to do so (James 4:7). But you, mom, dad, were just too busy to do this. Therefore don't cry big tears if your son, your daughter have turned homosexual, lesbian, communist,… God haters, Bible haters! The Bible told you: "Neither give place to the devil" (Eph. 4:27). The devil is the father of lies—of sin. Sin is contagious.
Train Up a Child
WELL, YOU PARENTS OUGHT TO BE ashamed of yourselves! You let the world do your job, and, I might add, you shepherds, Church overseers, spiritual parents, ought to be ashamed, doubly ashamed for contributing to the damnation of the youth. Not only have you advised mom and dad about how to raise their kids, (most suggesting the way of the world), but you brought the world into the church – now the kids can have the music, the garments, the piercings / tattoos, the nine yards of worldliness… all with the label "Christian".
Shepherds have left off preaching sound Bible doctrines. Now they poke fun at the Word of warning, admonition, correction, rebuke, instruction. Unchristian aberrant philosophies, with a few out of context Scriptures thrown in, is today's food.
The Great Commission?
HA! SINCE WHEN DO CHURCH LEADERS SPEAK ALONG THESE LINES? (for truth's sake, there are a precious FEW who dare to do this). We might as well call it the Great Contamination… making disciples for the devil. Ineffective and self-serving Churches all across this land are raising Church brats that know more about Rolling Stone (magazine) than about the Bible.
Face IT!
TODAY'S BACKSLIDDEN, EMERGENT CHURCH is not interested in godly instruction. Your typical church prefers, rather, to provide entertainment, and make the dupes that attend feel comfy and secure. Your hyper leader, like Brian McLaren and comrades, who promote "the way forward", is a wolf in sheep's clothing… taking you silly church folks backwards into spiritual and intellectual darkness.
Face it, most Bible-believing believers know little if nothing about all this, this Emergent church Movement, which is currently invading the already sick and diseased "Christian" colleges, and seminaries (where maybe some of you sent your precious son or daughter).
Whether you send your kids to a secular or religious college / seminary / university you can bet that precious few teach the Bible in light of godliness. While you parents—both natural and spiritual—are not interested in training up your child / kids, the devils within the mentioned institutions SALIVATE over the opportunity. The humanists, commies, crazies, perverts truly have a handle on equipping your sons and daughters. If atheism doesn't ruin them, social religious training will. Their goal is to rape and ruin your mind.
It was once asked: "Have you ever found in history, one single example of a Nation thoroughly corrupted that was afterwards restored to virtue?" We're not speaking of a Nation that didn't have a godly foundation. Nations like these can be Christianized. We're speaking about a Nation that had a godly foundation (like America did), and then left off following the ways of Jesus and greatly corrupted itself (like America has presently done). Can a nation like that ever turn back?
The very things America fights and dies for (not in a Christian sense) are the very things that corrupted this people. Will anyone tell me how to prevent luxury and easy living from producing laziness (both naturally and nationally) intoxication (there are numerous things society can be "drunk on"), extravagance, vice and sheer folly? These things have literally killed the desire to serve and obey God. While Americans strive, fight and die for all the above, these things have literally CAPTURED / ENSLAVED the people. ARE YOU FREE? One author and critic, (and for good reason) has said, "…the average American male has become a feminized wimp." Amen and amen! And, I might add, the average American female has become a domineering Jezebel.
Man Exodus
THERE IS A MAN EXODUS from the ways of God into the satanic ways of the world. If it wasn't for these Worldly "mega" churches, where falsehoods and filth are promoted, most church goers would become less and less. But still, considering the worldliness within the "mega" whorehouses, the man exodus continues… away from godly instruction, education and into socialism, evolution, sex—perversion, political correctness, situational ethics, post-modernism, blah, blah, blah. The Reaper is reaping his harvest.
If God was to do what He did in Ezekiel 9, we would see very few marks upon the foreheads of the men (and women) that sigh and cry for ALL THE ABOMINATIONS that be done in the midst of America! Who is crying and sighing over the sins of this nation? Very few.
And if God was to do what He did in Israel (Ezek. 9) "…smite; let not your eye spare, neither have pity; slay utterly old and young, both maids and little children, and women…" We might see a tear or two.
Jeremiah (6:16) pleaded with old Israel to "stand in the ways,… ask for the old paths, where is the good way (of God). And walk therein, and ye shall find rest for your souls." Am I not now preaching for Americans to REPENT and RETURN unto the ways of God, getting off the broad way, and getting back to the straight and narrow? What did Jeremiah hear from backslidden Israel? "But they said, 'We WILL NOT WALK THEREIN." And so, I hear the same… hence the pain, troubles, crime, vice, sickness, disease, poverty, and hundreds of other vexing and tormenting things that plague Americans daily. To top it off, secular (and, sadly too many religious officials), who RAGE against the LORD, against His laws and reign (see Ps. 2:4, 5), make things worse. The RAGING of the heathen is loud and clear.
The fires of hell are burning within this nation—people imagine a vain thing; they think that by ridding themselves of the old paths, things will get better. HA! Look around ye blind guides / followers: your new gods aren't pitying you.
RAGE ON, perverts, politicians, preachers. Protest all you want, GOD WILL REMAIN IN CONTROL even when you are OUT-OF-CONTROL.
To hell with you and your Supreme Court, who avowedly is against godliness. GODLINESS WILL PREVAIL; YOU WILL END IN HELL!
---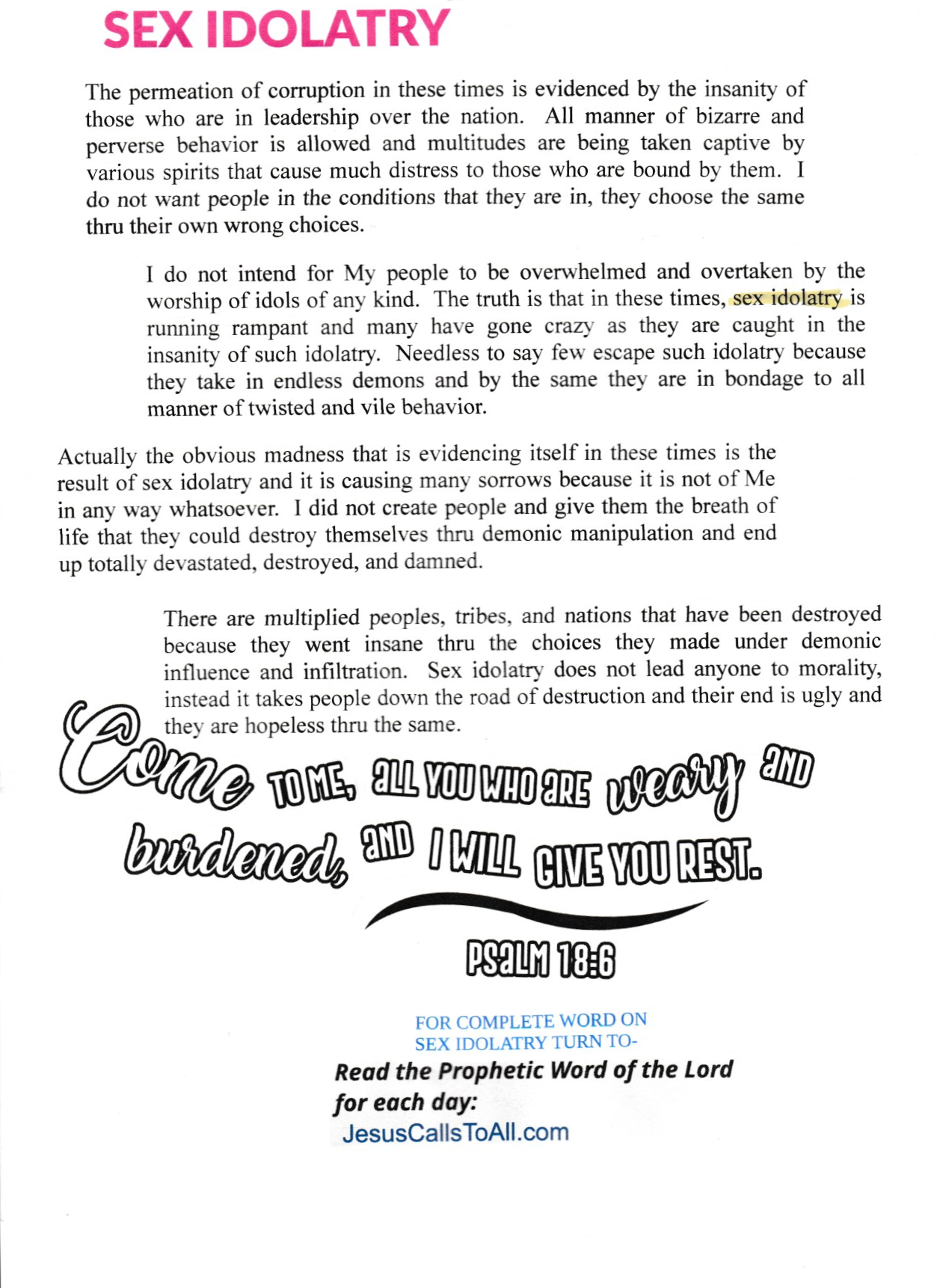 ---
ATTENTION!--STANDING AGAINST MILITANT HOMOSEXUALS, LESBIANS, AND PEDOPHILES
The militant homosexual agenda has not changed. These aggressive sodomites, lesbians, and pedophiles are more determined than ever to recruit as many young people into their ranks as possible. The predictions we made back in the 1980s about how they were tirelessly working to infiltrate our culture have become a reality. Over the years we have posted many articles exposing their agenda. You can access these resources HERE. Guard your children and educate them as to who their enemies are.
-- The Generals
* * *
IDEOPHRENIA
"The disorder of perception and thinking" – Being PUSHED on us!
What Obama Started, Biden Is FINISHING
Obama made the cake; Biden has put the cherry on top.
OBAMA in 2016
:
"So every year, we set aside [PRIDE MONTH] to celebrate the ways that so many lesbian, gay, bisexual, and transgender Americans have helped to make our union
just a little more perfect
… THERE'S A LOT TO BE PROUD OF TODAY." [June 09, 2016.]
BIDEN in 2023:

"Making human rights for LGBTQ people around the world — not just here, around the world — a

TOP PRIORITY

for my foreign policy …
So today, I want to send a message to the entire community, especially to transgender children: You are loved. (Applause.) You are heard. (Applause.) You are understood. (Applause.) And you belong! (Applause.) …
Well, I see more courage on this lawn than I've seen in any time in the recent past. …
You not only are about courage. You generate so much hope for people. HOPE AND LIGHT. You enrich every part of American life …
As I said — I mean this; I swear to God — you're some of the most — you're some of the bravest and most inspiring people I've ever known. …
You set an example for the nation and, quite frankly, for the world.
You know, we all move forward when we move together with your joy, with YOUR PRIDE LIGHTING THE WAY." [June 10, 2023.]
WELCOME TO THE UNITED STATES OF EMASCULATION!
PRIDE MONTH … PRIDEMONTH
We have been warning about this for years. Read the following article – VERY PERTINENT TODAY – that was written by General James Green in 2013:
Wussification of a Nation
General James Green
Their Speech and Their Deeds are Against the Lord!
Text: Isaiah, chapter 3
SOMEONE had sent me a short, but pointed, article about the judgment upon America. The writer was quoting from Isaiah chapter 3. His title was, "He's (God's) Giving Us Gutless Leaders and Effeminate Men." He had a picture of yours truly—Obama!! Big "O," as he is sometimes called, is, in my humble opinion, the epitome of both a gutless leader, and an effeminate man (male). This sissy-la-la, America's Commander-in-Thief, is a direct opposite to Russia's V. Putin—a man with guts— who has enough sense not to cater to the GLBTQ sickos.
"O" is a smiling "X-Factor hopeful" who loves to SPEND America's $$; as fast as it can be printed. This unprincipled politician is more womanish than mannish. Some even believe that his wife is a transgender! This prez of yours loves to play golf, and play with America's psyche…"let's get ALL America QUEER!!!"
Our writer writes: "I think en masse, societal distancing from masculinity and the systematic wussification of the male image in a puerile environment of political correctness (PCism) is more than just a flighty phenomenon. I think it's a divine judgment." CORRECT!
I've been saying this ever since "O" was placed in the presidency BY GOD! (see Tribal Call, Issue 59, pg. 50 for The Word of the Lord given the day after the 2008 presidential election. God calls this effeminate male "a weapon of mass destruction" that will be useful in the hands of God against America!). Only time will reveal ALL the damage this girlish-boy leader has done. HE (SHE) IS A JUDGMENT UPON A NATION THAT HAS GONE A WHORING ON GOD.
Look, dear ones, at this nation's EMASCULATION. Even the "tough" marines are becoming more sissified, "gays," "lesbians," "bi-sexuals," blah, blah, blah. Big "O" has even lifted the ban on animal sex in the military (maybe this is part of his "thing"??). The military is currently being morphed into a "kinder" and "gentler" club in one sense (sexually) and into a more brutal killing machine (driven by fiends that have orgasms watching the blood flow).
Your Commander-in-Thief even wants to make the Marines wear girly covers (pink?), exalt metrosexuality throughout ALL America, and masculinized ALL females who can kick a** while the males weep.
ISAIAH 3
God was FED UP! with backsliding Israel. I'll trust you will read this whole chapter—this is happening right now, right here in America.
Verses 1-15 speaks of the DOOM of godly rulers…because of the nation's rebellion against the authority of God. Hello! Vss. 13-15 are a reproach directed to the rulers themselves and accusing them of plundering the people committed to their charge. Hello! Jerusalem/Judah had become so corrupt that nothing but JUDGMENT would straighten things out. Hello!
Verse 4 is very telling: "And I will make BOYS their princes, and with CHILDISHNESS shall they rule over them—with OUTRAGE [instead of justice]." Enter Obama! This political hubris dastard, who loves chicanery, is raising up a "pink" entitlement CULTure in place of a Biblically Correct nation that once feared the name of the LORD. All MASCULINE traits are being shunned by both church and State officials. Now we are seeing spineless leaders, vapid (lacking interest in a nation's welfare) narcissists, elected to office=United States of Emasculation!!
Oh, how these feminist-Nazi women love this…the obliteration of strong, principled, God-fearing men get booted from office, from home rulership, and from church leadership. They cheer it on, this emancipation, this new "freedom." Hurrah!!!
Isaiah chapter 3 is a picture (for us) as to what may happen if we do as ancient Israel did. It is a lurid and brutal picture of the chaos that awaits a state, a nation, a people which in their rebellion/pride/corruption is beyond salvation.
Has America reached this place? YES! The Amplified Bible says that "I will make boys their princes." The KJV says, "I will give children to be their princes and babes shall rule over them."
With profound insight, the Prophet Isaiah points out the dependence of a human society upon its key members, how quickly it will collapse into chaotic and helpless anarchy when left (godly) leaderless. Look at the social ruin this nation exhibits. What used to be against the law (esp. sex sins, gambling, and abortion [murder!]) are now RULING FORCES; no longer are people dependent on God's Word or His principles — the nation has rejected His Divine Rulership! When the bedrock of a building (nation) is removed, that building will come to ruin in a great storm.
A society (any nation) where those in authority have no feeling (vapid) of responsibility—to God or country—is defenseless against the enemies' onslaughts.
Because Israel rejected God's authority, He removed "the mighty man, and the man of war (who was appointed and anointed by God), the (godly) judge, and the (godly) Prophet and the prudent, and the ancient (with wisdom)" (v. 2).
THE HA'ADHON
Isaiah begins the chapter with, "behold, the LORD, the LORD of hosts," or "The Sovereign LORD of hosts" (as in 1:24; 10:16, 33, etc.). He recognized the LORD, The Almighty overruling power of God—ha'adhon, "The Supreme Lord" when judgment is/was to be pronounced.
It was the LORD who "doth take away from Jerusalem and from Judah the stay and the staff" (v. 1). The alliteration attempts to reproduce the effect of the Hebrew use of "stay"/"staff," in masculine/feminine forms, to suggest "every kind of prop and stay," everything on which man rests the weight of his life.
When men/women no longer desire God's laws ruling over them, or those who uphold the same, He will take them away.
Look around you, Americans, where can we truly find a real man or woman of God these days?...in church, or in politics? what do we have as "America's Pastor"? We have wussified Joel Osteen who is effeminate in every way. We have his blonde wife who (behind the scene) rules! The same goes for America's political "pastor" —Obama— a boy in a male (not MAN!) body who is every bit effeminate (who, too, is subject to wifey-poo!).
One Bible scholar wrote this in 1956 : "It would be untrue to conditions in Western civilization to attempt to establish any close parallel between the situation in Israel as Isaiah saw it and that which exists in the Western Hemisphere. Our social order, despite its need for reform, is still basically sound."
Well folks, that was before the Homosexual Agenda, the Communist Agenda, the Islamic invasion, the legalization of murder (abortion), the legalization of gambling, the legalization of prostitution, the legalization of same-sex marriage, the lifting of many, many bans that denied the infusion of corruption in this society, etc., etc.
Take a good long look at the Peter Pans and Alice in Wonderlands we have in power today: CONTUMACIOUS to the core. Not only rebellious, but flummoxed, hubris, abysmally sick, idiosyncratic mephitis, reptilian, dastardly and bastardly, obdurate, and parsimonious, i.e., miserly in genuine love and compassion.
OBAMA
He and his (her?) administration are a plague to America. This overweening cry baby wants ALL nations of the world to embrace "gay rights." He demands that all this Bible thumpin' about homosexuality being a SIN! to CEASE and DESIST!...or else!! He demands that ALL nations of the world to become VACUOUS as he is, that is, DEVOID of intelligence, just plain ol STUPID!
Well, now, dear Americans, you don't have far to go, do you?
Men and women used to have some common sense. Not any more. Dull and dumb is the vogue. Political platforms and church pulpits are now occupied with masculinized women (bitches/witches in britches) and effeminate sissy-la-las (who wish they, too, could have cycles!). Pimps fill the leadership positions…making gain of you prostitutes. Nothing but "Your Best Life Now" will do for these egotistical perverts who sport earrings, wear soft clothing, and can't comb their hair (if they're not shaved bald!).
Corrupt politicians—unscrupulous religious demagogues, have become merciless exploiters of the poor and needy (but give breaks and favors to the rich)…who are demon-possessed businessmen/women without conscience, who take "all the traffic will bear," moneylenders who bleed their victims white—they are in every state/city in this nation called Amerika—poisoning its life and eating into the very foundations of the social/religious/economic order.
DAUGHTER
Isaiah describes the "daughters of Zion" as being "haughty and walk with stretched forth necks and wanton eyes…" (v. 16). The men have been taken away, replaced by silly boys who rule like tyrants. Now regarding the women, Isaiah likens the wanton women as a "STINK" (v. 24). The women were the personification of the city itself.
If you care to examine the Scriptures for yourself, you'll discover that three of the greatest Hebrew Prophets found themselves in sharp opposition to the wanton/luxury-loving women of their people (see also Isa. 32:9-12; Amos 4:1-3; Jer. 44:15-30).
It is often said that feminine morality is the surest criterion of the morality of a people and of an age. Watch out, Hilary Clinton has her eye on the next presidency—this masculine lady will carry the immorality beyond that of Barack Obama. The pride of the men were their armies, their valor in fighting, building great cities, large ships etc. The pride of women showed itself in the luxury and ostentation which had become the sole objective and standard of fashionable women, contemptuous of others and indifferent to the human cost of the privileges they enjoyed. The roles are a bit SWITCHED today—the males are more prone to "dress up" in feminine clothing. The witches are happy in britches, sporting tattoos and piercings, lifting weights, taking martial arts classes, and using the famous 4-letter "F" word.
Check out v. 17-24, if you will. This brutal language of Isaiah (God-inspired) would make most today FAINT!
So, both an effeminate male-hood and a degenerate womanhood can and will corrupt a nation. Is anybody listening?
In 11 blistering verses, Isaiah pillories their vanities, their ostentations, their vulgarities. These SINS were the RUIN of their homes/families/nation.
REMOVAL OF MASCULINE MEN
This is certainly a PLAGUE in our time, as was in Isaiah's time. Where have all the MEN gone? Some are still here, but not so public. Now, we have effeminate "lads" along with masculine "dykes" who lead…mostly. MEN of godly (or genuine manliness) character, integrity, strength, are shunned by today's whimsical narcissistic "significant others" who prey on the people. The "stay and the staff," e.g., "the support masculine, and the support feminine" are no longer here for the weak and small. What happened to Israel was God's removing of His people from Jerusalem/Judah to Babylon. 2 Kings 24:14: "He (Nebuchadnezzar) carried away all Jerusalem, all the princes, all the mighty men of valor,…" In their place, God gave the remaining people "boys"/"lads" for their princes. This was fully accomplished in the succession of "weak" and "wicked" princes, from the death of king Josiah to the destruction of the city and temple, and the taking of Zedekiah (last king) by the king of Babylon.
SODOM!
Verse 9 is very telling: "The show of their countenance doth witness against them; and they declare their sin as Sodom, they hide it not. Woe unto their soul! for they have rewarded evil unto themselves." In other words, backslidden Israel was so bent on their iniquities that their faces showed it. Their countenance showed the wickedness of their hearts (for more of our teachings on the sin of Sodom, write for our "Gay Way" series). Unlawful sexual relations, envies, hatreds, malice, malevolence, murders, thefts…all announce the presence of Satan, not God!
The "once people of the Most High God" now reflect the countenance of their adopted father—SATAN. Impure propensities are particularly legible upon the face, especially the eyes. THEY GLORY IN THEIR INIQUITIES, AS DO AMERICANS TODAY.
OPPRESSORS
Verse 12 tells us that children and women are in rulership. Not just females and young boys, but evil devils who "lead thee, cause thee to err, and destroy the way of thy paths" (v. 12). That Hebrew word "err" means "pervert," "disturb" and "trouble" (noshim, instead of nashim, women). Hard-hearted women and punk kids rule! Sound familiar?
"GOOD NEWS"
Now that I've presented the "Bad News," the "Good News" is, and God spoke this to us this morning (Nov. 14, 2013): eventually, America will regret their chosen pusillanimous path, their lacking godly courage to "fight the good fight of faith" (1 Tim. 6:12).
But, in the meantime, we've got to continue to sound the Battle Cry…call for REPENTANCE…stand in the gap. It is truly sickening to see boys morphed into sensitive little girls and the other way around. It is sickening to see "ministers" bow their knee to the Political Correctness CRAP in order to avoid persecution/prosecution. It is more sickening to see a nation, which once adhered to God's laws, continue to trash them in the name of "freedom." Hard-hearted Jezebels and weepy Ahabs blow off traditional values and praise the freakiest transmogrifying CRAP known to humankind (can't use "mankind," ol Jezebel will pitch a real fit!!).
ALL ABOARD THE GRAVY TRAIN
All this "Pink Bull" and "PC CRAP" needs to be flushed down the toilet NOW. It may be a gravy train for most, but I WARN you, God is not mocked. The ABSURDITY and ILLEGALITY of this government (political and religious) will eventually be CRUSHED BY GOD. Amen!
Both the political and religious cons are no better than the dark age priests, prophets, alchemists, witches—rattling gourds and kissing crosses. The whole operation is to legitimize evil…where ALL will be classified as "disordered." All this manufactured "pinkness" is psyche sickness. In other words, a DECLINE and DISINTEGRATION of godliness underlie the acceptance of insanity. Hello!
Any nation who MURDERS its own—via abortion—deserves God's worst judgment. Any nation which celebrates sexual perversions will, WILL receive His judgment.
GOING FISHING
Political and religious leaders are always fishing for more victims in order to make fishers of them. These P/R "guardians of human life" never tire of fishing. The GLBTQ camp is fishing day and night in order to "hook" potential perverts. The religious pimps push their enslaved prostitutes into the homes, the churches, the streets, in order to make them RICHER!
America has become ONE BIG WHORE HOUSE…and with it, plenty of pain, confusion, and death. The military complex recruits murderers for the politically rich and sick. When they are finished with the young boys/girls who were promised plenty of bloody gore and glory—who cry like babies at our prayer booth here in New Mexico, because they have MURDERED both women and children in the name of "God and Country." We pray for dozens and dozens of them. Tormented, depressed, life screwed up, totally and completely—when uncle Sammy is finished with them, they are thrown aside like unwanted garbage.
Isaiah finishes chapter 3 with, "And [Jerusalem's] gates shall lament and mourn [as those who wail for the dead]; and she, being ruined and desolate, shall sit upon the ground" (v. 26, Amp. Bible). Bye, bye mighty men, virtuous women, obedient children—welcome to the United States of Obama!!
* * *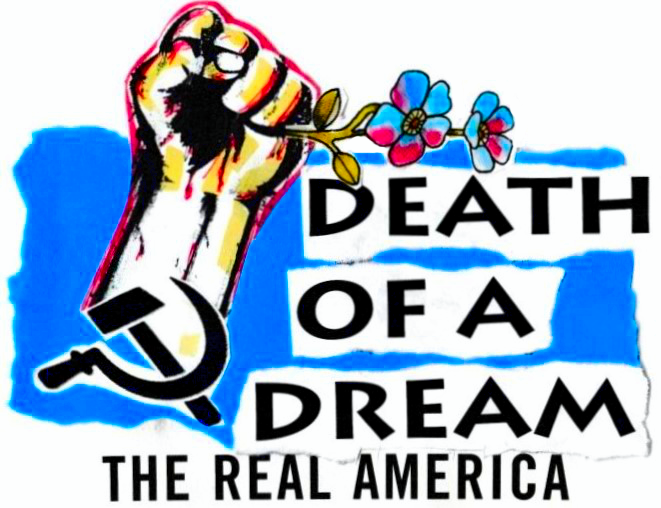 The UGLIFICATION of America!
~~THE PLANNED DETERIORATION
OF AMERICA!~~
Gen. James Green
(Jn. 7:23; Eph. 4:26)
This article is not written in anger!....It is written in fury—though not, I trust, in blind fury. It is a DELIBERATE ATTACK upon all those who have, in times part, and presently, befouled this nation for the HELL OF IT (as stated in the Congressional Record, Jan. 10, 1963, by A.S. Herlong, Jr. of FL in the US House of Reps. with UNANIMOUS CONSENT support of other involved members of Congress).
Sabotage Tactics
THE "POWER ELITE," who actually CONTROL this nation called America, are a sorry bunch of anti-Christs that run and rule the family, state, and Church through LIES, DECEPTIONS, and TERROR, not the TRUTH! These men and women worship VARIOUS (DEMON) GODS/GODDESSES. One thing they all have in common is believing in, and adhering to the Great Plan, i.e., the humanistic esoteric and mystical orders collaborated in using America for a "world-changing" experiment in enlightened self-government and religious liberty. Communism/Socialism are merely a part of this outworking...to DESTROY Biblical Christianity from all quarters of this nation.
Within this sinister plot, using tactics of sabotage, is found many Secret Societies, along with apostate Christianity (e.g., "Churchianity"). Personal ambitions, liberated by the new code of "freedom," began to dream of supremacy. Their goal is to replace America's God with their god—Satan! It isn't that blunt, but it is there. Biblical Christianity rejects paganism in any form—"we love the sinner, but hate their sin." Therefore we recognize the Esoteric Orders as Satanic. We reject the idea of embracing One World Religion, or a universal philosophy. We, who are: born-again, Spirit-filled, directed, and controlled, are custodians of Biblical faith; therefore, we contend for it (see Jude 3).
Deceivers/Deceived
THOSE WHO are members of the Orders of the Quest, have drawn from the ranks of the Church, by deceit, have been, and are being used as agents for this satanic Order/Quest. The Bible warns us time and time again about such false teachers and prophets that would draw the ignorant into their camp. I have lots of articles already written along these lines.
As I write, the Secret Societies are engaged upon a broad reformation of world-educational concepts: it is called "Political Correctness." It is everywhere! This brings me back to the 45 current goals of the Communist party in America. They were designed to DESTROY America by "Culture Change" (listen to your pink/black Prez Obama who uses the "C" word a lot [change!]). This is WHY the current presidency is trying hard to undermine/destroy the US Constitution and the US Bill of Rights. These still give the American citizens the right to worship God and have their say, but this is coming to an end...as we all can bear witness. Their PC trash is now pushed as LAW (see our DVD's on "Satan vs Christ's Revolution")!! When one goes through these 45 goals, one will see that almost 100 percent of them are now in place...while the Church sleeps on.
These satanic vandals are well-organized, like found in Eph. 6:12 (see our 4 "Spiritual Warfare" booklets—free). Not only are they well organized, but also well financed...and $$ makes more $$, plus greed!
Muckraking?
YOU BET!! Not because I enjoy pointing the finger and calling names, but because there is SO MUCH muck. We're being suffocated by it.
Not only have these (plus too many average $$ hungry Americans) people turned America into a physical slum, but also into a spiritual slum.
American suburbs are interminable wasteland, the atmosphere, water, and land is polluted beyond use in certain places. The junkiness of industries that do the polluting raise $$ for these people...seemingly with no end in sight. The natural beauty of America is just fading away...the same holds true for the spiritual; all pre-planned mind you.
Christianity=Turned into Churchianity
ALAS, the very core of America—believing in a personal God—is being attacked without mercy.
The mad men/women who hate God and His Bible (and me!), are out of sympathy with those of us who still care enough to PROTEST! Satanic behavior corrupted by false values resents anything that is pure and lovely. The Socialists and Satanists (SS) are champions of progress through constructive change, as long as that change is unholy: Destiny and Mysteries must WIN, for they are on the side of the Great Plan.
HA! God has a Greater Plan, dear readers, which will win out in the end (read Revelations). No matter how much the (true) Church/Ekklesia is defaced, demolished, or mocked in America, the true believers will live on!
Yet, it would be unfair to place on the SS all blame for advocating/promoting destruction of this CULTure heritage. Too many Americans, both pagan and "Christian," aid and abet these workers of evil.
Esthetics
THE LATE Robert S. Kerr of OK, on the floor of the Senate of the United Sates (1955), spoke about "esthetics." After all, isn't America a "free" country? In the name of esthetics, in the name of culture (he pronounced it "ass-thetics"), he said:
"It will be a grave day in this country when we reach so high an 'ass-thetic' pinnacle that men are willing and able...to deprive citizens of their vested rights...What kind of culture [is this?]...It is the kind of culture one can find in Russia. It is the kind of culture Hitler went down the drain trying to implement in Germany..."
The US gov. (along with various branches of local and state) are in session, encouraging ALL to come under the PC flag (fag) so as the desecration of America will be final. They work overtime to discourage those of us who wish to preserve the lost remaining godliness (God forbid!) that Christianity brought to these shores.
It has become a sanctified principle of our democracy, of course, that HE/SHE MUST BECOME A GOD-HATER IN ORDER TO BE VALUED U.S. CITIZEN. And to oppose this PC BULL! is to put oneself in harm's way. This is not macabre in any way; this is truth.
Initiate-Teachers
THE GREAT initiate-teachers have offered their very own souls (to Satan) as channels for the distribution of falsehoods. These channelers, be they state-craft, or priest-craft, don't mind selling their souls for the sake of the "imperishable democracy," for they, along with their glorified sages, will become a fact in the mortal sphere.
You see, genuine esoteric associations have always required that disciples prepare themselves for their required service. It used to be that the Church did this. But time has proven that the "soldiers of Christ" have retired from the fields of battle. Hey!, it is not time to RETIRE, but to REFIRE!
Keeping the Great Plan requires dedication, sacrifice, and loyalty. These great words are used to portray God's disciple/soldiers. The principle test of existing religious/mystical organizations is, therefore, their practical acceptance of collective responsibility. Laziness frustrates the legitimate program of universal enlightenment. Great work and great loyalty is the social alchemy which produces the universal plan.
Manly P. Hall, author of "The Secret Destiny of America" wrote: "The esoteric tradition, first embodied in its adepts and later incarnated in the whole body of humankind, brings the kingdom of heaven to earth." He goes on to explain: "A regenerated human society, unfolding under the disciples of the mysteries, fashions the Eternal city, which bears witness to the laws of heaven." He then asks: "who shall deny that this vision of things possible to man is the noblest and most wonderful of human dreams?" He finishes with: "And who shall deny that man has within himself the power to make his dreams come true?" (p. 250).
If we put this into Biblical terms, we, who believe in miracles, can see this. But, you see, Satan puts it into men's minds—but when all has been said and done, will not come true.
Ghettofication of Christianity
THE CHURCH of God, i.e., the universal body of Christ, is meant to be a "glory" to God, not only personally, but each Ekklesia. Item #27 of the 45 goals of the commies states: "Infiltrate the Churches and replace revealed religion with social religion. Discredit the Bible and emphasize the need for intellectual maturity which does not need a religious crutch." This has successfully been done. There are commies among us. In fact, a former female commie official became a Christian and wrote how she placed over 1,500 commies in Christian Churches to infiltrate their leadership, and turn their teachings, both Protestant and Roman Catholic, into communist teachings.
The Congressional Record for Dec. 9, 1987, revealed an FBI report on Soviet Active Measures in the U.S. The section called "The Soviet Campaign to Influence Religious Organizations" stated:
"It is clear...that the S.U. is increasingly interested in influencing and/or manipulating American Churches, religious organizations, and their leaders within the US..." (see James W. Wordner, Unholy Alliances (note p., 1996), p. 175). This report went on to say that "a campaign of disinformation" was in use (Ibid, p. 175-76).
The "ghettofication" of US cities is a reflection of a widespread tendency to "trash" national life (even all the graffiti we see is part of this mood). Move up to 2014 and we see humans all graffittied up (calledtattoos), sloppy clothing, unkept bodies, and using fowl language—all part of the communist goals.
All this ghettofication starts in the schools and ends up in the colleges/universities. Items 17 and 18 speak of this. Item 17 reads: "Get control of the schools." Item 18 reads: "Gain control of all student newspapers." By doing this, "Political Correctness" is taught/published. THIS IS MARXISM IN DISGUISE (see our Rock N Roll discs on what PCism is).
Item 20 pushes for the capturing of the media/press: this naturally controls the mind/mood. Also, #20 speaks of getting control of book-review assignments, editorial writings, and policy-making positions. Then, #21 speaks of gaining control of key positions in radio/TV/movies. With this, true patriotism, Christianity, moral laws etc. come under attack...and are destroyed.
Item #25 is currently on the offensive: "break down cultural standards of morality by promoting porn and obscenity." See it everywhere NOW in America—do it! Then comes #26: "Present homosexuality, degeneracy, and promiscuity as normal, natural, and healthy." Zap! It is here and it is QUEER!!
Once Upon A Time
AMERICA ONCE strived for glorification: NOW, ghettofication. While certain cities have tried to "clean up" their environments, the moral pollution grows thicker each year.
Once upon a time, it was declared: "It is within the power of the legislature to determine that the community should be beautiful" (US Supreme Court, Nov., 1954). I was 9 when that was said. Can you remember when America was a very different place to live? There were laws restricting profanity, nudity etc. Now they are everywhere.
"Freedom" of taste knows no bounds today. Luxury and indulgence was very uncommon among most preachers etc., but now there are hundreds, and maybe even thousands that are rich off the Gospel. Did Jesus live in luxury and indulgence? NO! What had happened? Lust and greed➞ two devils that basically rule the church today. Now "legislated evils" compound themselves. The pursuit of happiness, liberty, and the good life has literally bankrupted America morally. Self-restraint has disappeared—"Release the Beast" is in vogue.
By-and-large, the church has FAILED to set an example of self-imposed restraint, an example of quality rather than novelty.
I wish that the morbid things I've written were not true, but the 3 units: family, state, and church, are MORIBUND units! These three units should be leaders, but, at present, are instead, performing acts that further destroy (kill!) future generations. In HOT pursuit of self-indulgence, with that "mean ol' God" out of the picture, men/women/children are free to express themselves in any ol' way they wish.
I'm sure the Order of Quest is very pleased indeed. America is merely a caricature of the mess that is Politically correct in America.
Will the epitaph on America's monument read: "Twice Dead"?
So…
THE UGLIFICATION, and ghettofication of "America the Beautiful" nears completion. That is, unless God STOPS it.
Line upon line, year after year, the enemies of righteousness work to dethrone God and throne satan. This is an incontrovertible fact. We have accepted all this as the inevitable silt/filth for years. But, God's Word helps to force us to look about on our daily pilgrimage from one inflammation of the retina to the next.
Unless the Christians WAKE UP, and STAND UP, the desecration of the USA will continue as planned. Sadly, many so-called "Christians" are in cahoots with all these transmogrifying experiments: whether intentionally or not.
The despair, fear, inertia, apathy, seething frustration, and latent terrorization—PLUS a massive accretion of UGLINESS that sometimes defies belief—this is the image of our "One Nation under God" today.
What makes things even WORSE is that we KNOW that those in power—the rulers—are enemies, not friends…their minds are mere junk-piles of trash. It is time...past time, to stop being naïve and idealistic. The enemies are not at the gates, they have set up shop in the country!
Americans have lost the art of seeing and hearing. Most no longer care, or no longer care enough.We should care enough to tell the truth—even when men hate the truth. It matters to God; therefore, it should matter to us.
______________________________________________________________________________________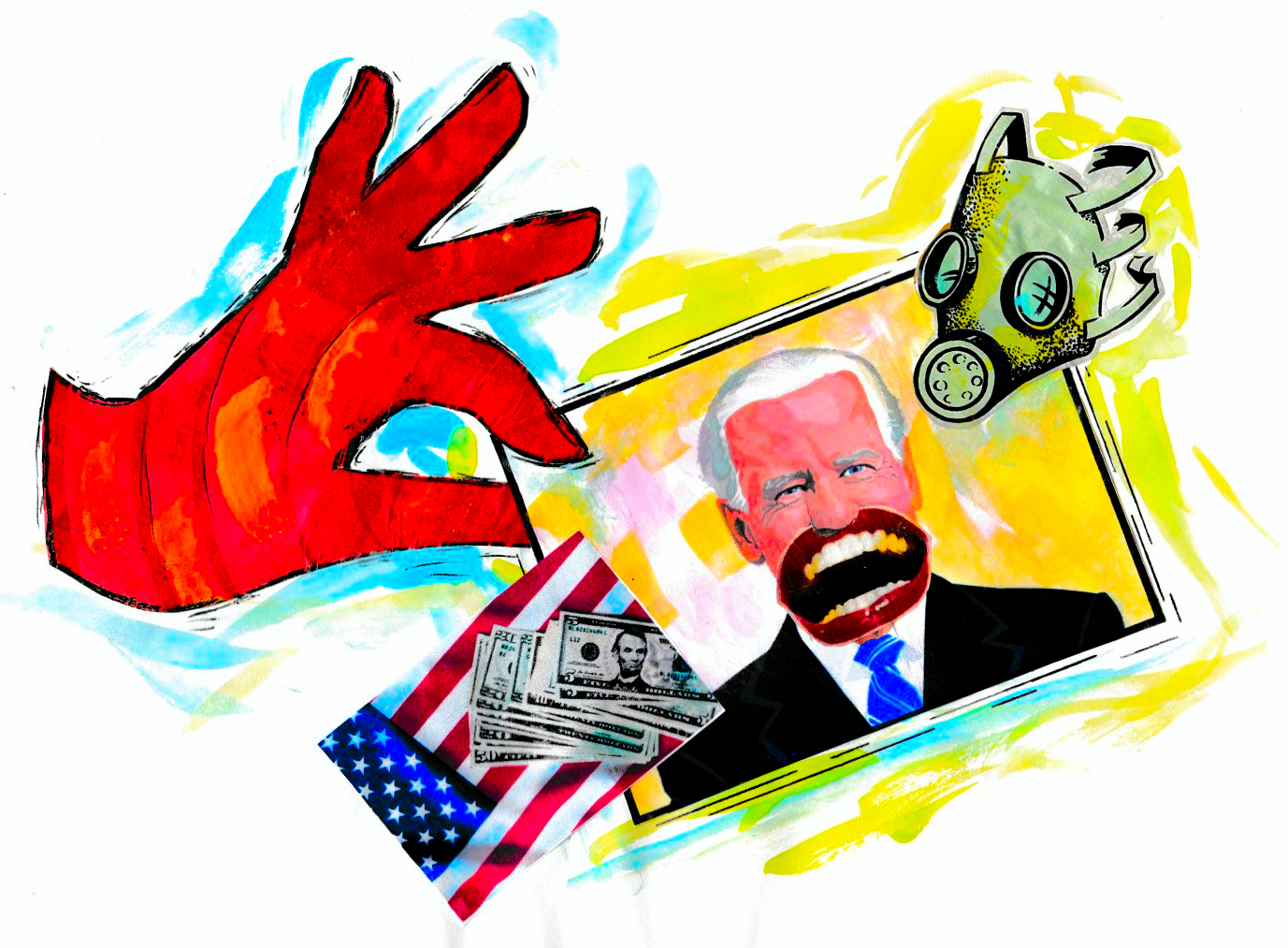 The Sodomization of our Nation!
By: General James Green
Yes! Amerika, aka America has sold it's soul to the devil in exchange for knowledge (satanic) and power. This "faustian bargain" has taken this nation into a quagmire of sexual filth that makes demons blush!! The present U.S. President has put the pedal to the medal . . . racing insanely towards HELL itself. His WHOLE REGIME is full of Machiavellian Christ-hating, megalomania narcissists who work tirelessly in the deconstruction of all that is good and honorable. Their whole reason to exist—raison d'etre—is to degrade this nation for its stand against the LGBTQI plus etc. etc. camp.
This Cartel Regime is by all signs, non compos mentis, "out of one's mind". We call this "crazy" in English. The President is NOT the real power but his handlers are the "shadow-government" aka "eminence grise".
For those of you who know what God's Word—Bible—says concerning homosexuality and all other sex sins you may not know what the early Christians believed, the Anti-Nicene Fathers/pre-Nicene Christians. [Note: for research on the ANF see (ed. Alexander Roberts & James Donaldson; 1885-87 ten volumes]
What They Wrote: [Note: for your information you can find some of my articles (in print) or DVD on this web site. I have put together over 15 booklets/magazines on this subject. When we were raided by a SWAT Team on August 20, 2017, all our printing/recording stopped. My wife, and I went to prison. Others spent time in jail and probation on false charges. At this time, we cannot offer our free materials for we are just now returning to the ministry. Maybe later we will be able to send out our free materials to those who request them. Pray for this please]
To start, the Apostolic constitutions (compiled c. 390, Vol. 7, p.463) writes; "The Sin of Sodom is contrary to nature".
ORIGEN: AD (185-255)was a pupil of Clement of Alexandria. He has been called the "father of Christian theology". But it is pointed out, that some of his writings, teachings contain unsound theological speculation. As D.W. Bercot writes in his "A Dictionary of Early Christian Beliefs".
But, here is a quote concerning same-sex sins: "Such sins are committed by fornicators, adulterers, abusers of themselves with men, effeminate men, idolaters, and murderers". (C. 245, vol. 9, p. 500).
THE BIBLE: Origen quotes part of I Cor. Chapter 6: "Do you not know that the unrighteous will not inherit the Kingdom of God? Do not be deceived. Neither fornicators, ….nor homosexuals, nor sodomites....6:9-10.
If you listen to or read some of today's "queer theologians/Bible experts" take on these texts, they tap dance all around the homosexuals, sodomites, claiming Paul (not to mention God) is not condemning them. They shame any and all who claim that sodomy is a sin. I ask, why does Paul put homosexuality & sodomy in the group with fornicators, idolaters, adulterers, thieves, the covetous, drunkards, revilers, extortioners? Are we to believe all these will not inherit the Kingdom but sodomites will? Paul says in verse 11 that "such were (past tense) some of you. But you were ...washed, sanctified, justified."
Since Paul puts the homosexuals/sodomite (NKJV) in the sex-vice list, he furthermore tells his readers "Flee sexual immorality. Every sin that a man (male/female) does is outside the body, but he (or she) who commits sexual immorality sins against his (her) own body," I Cor. 6:18)
Are we to Flee fornication/adultery and not homosexuality? Get serious, see my articles reaffirming the prohibition against same-sex sins!
There is no way that one cannot see that the LGBTQI plus sins, plus heterosexual sins are responsible for the current reign of insanity that is evident in these times. In addition to sexual sins, there is abundance of intoxication of all sorts, violence, murder, and distortion and disruption. The trauma and the drama repeats itself day in and day out.
DIDACHE: (c. 80-140) Vol. 7. page 377) says, "you shall not commit adultery". (Greek, paiderastia=lover of boys (pais (gen. Paidos) boy, to love, commit sodomy between male persons, especially as practiced by a man with a boy." [The Didache is the teaching of the 12 Apostles, an anonymous Christian treatise of the early second century.]
Clement of Rome: (c. 96, Vol. 1 p.34) "It is well that they should be cut off from the lusts of the world, since [every lust wars against the spirit] and neither fornicators, nor homosexuals will inherit the Kingdom of God." CLEMENT OF ROME (First Century Bishop) is believed to have been a companion of both Paul & Peter. See Phil. 4:3.
CLEMENT OF ALEXANDRIA (150-215) He was a teacher at Alexandria, Egypt. Origen was a student of his. One of his largest works was, "Miscellanies". Here are three quotes:
"The fate of the Sodomites was judgment to those who had done wrong and instruction to those who hear. The Sodomites had fallen; into uncleanness through much luxury. They practiced adultery shamelessly and they burned with insane love for boys." (c.195, Vol. 2, page 282);

"The whole earth has now become full of fornication & wickedness. I admire the ancient legislators of the Romans. These men detested effeminacy of conduct. The giving of the body to feminine purposes, contrary to the law of nature, they judged worthy of the most extreme penalty". (c. 195, Vol. 2, page 77);

"Men play the part of women, and women that of men, contrary to nature. Women are at once both wives and husbands. O miserable spectacle! Horrible Conduct! (c.195,Vol. 2, page 276).

No doubt Clement of Alexandria echoed Lev. 18:22 and Romans 1:24—32.
SEXUAL IMMORALITY:
When Paul wrote, "Flee sexual morality (I Cor. 6:18), did he have in mind all forms of fornication, incest, adultery, transgenderism, transvestites, male and female homosexuality, pederasty, pedophilia, euphebiphilia, gerontophilia, necrophilia, and so forth?
TERTULLIAN (c. 160-230) was a "on fire for God" Christian who lived in Carthage, North Africa. He has written many apologies, e.g. "Works against Heretics." He wrote: "The Christian man confines himself to the female sex" (c. 197, Vol. 3, page 51) "The coupling of two males is a very shameful thing." (c.200, Vol. 3, page 509); "I find no dress cursed by God except a woman's dress on a man. For He says, 'cursed is every man who clothes himself in woman's attire." (c.200, vol. 3, page 71)
ARISTIDES: (early 2nd. Century Philosopher of Athens. He wrote one of the earliest Christian apologies). He wrote: "Some polluted themselves by lying with males." (c. 125, Vol. 9, page 279)
TATIAN: (A second century disciple of Justin Martyr and apologist who wrote the Diatessaron, a harmony of the Gospels. It is reported that after the death of Justin Martyr, Tatian fell into heresy (the encralite sect). He wrote: "Paederasty is condemned by the barbarians. However, by the Romans it is honored with certain privileges. In fact, they try to collect herds of boys, like grazing horses." (c160, Vol. 2, page 77).
ATHEAGORAS: (c. 154-222, A Syriac convert to Christianity, who had been a Greek Philosopher: "They do not abstain even from males, males with males, committing shocking abominations, outraging all of the noblest and comeliest bodies in all sorts of ways." (c. 175, Vol. 2, page 143).
THEOPHILUS: (Second Century Bishop of Antioch and apologist.) It was Theophilus who first wrote the word, "triad" in reference to the Father, Son, and Holy Spirit, aka, the Holy Trinity. "Show Me yourself whether you are not an adulterer, a fornicator, a thief, a robber, ... Show Me that you do not corrupt boys. For God is not manifest in those who do these things." (c. 180, vol. 2, page 89).
Same sex was just one of the damnable abominations that was written about by Biblical and non-biblical authors. There are numerous other sins/crimes that were either mentioned or implied:
ABORTION: Many church fathers wrote against the murder of the unborn.
Have you considered what Exodus 21:22-23 says? Barnabus the Didache, Letter to Diognetus, Athenagoras, Clement of Alexandria, Tertullian, Mark Minucius Felix, Hippolytus, Cypria, Lactontius, the Apostolic Constituions all wrote about/against abortions.
Clement of Alexandria also wrote against pornography (c.195, Vol. 2, p. 189) [addressed to the Pagans] "on the other hand, what kind are your pictures? Diminutive Pans, naked girls, drunken satyrs and phallic tokens—painted naked in pictures, disgraceful for filthiness! More than this, you are not ashamed before the eyes of all to look at representations of all KINDS of licentiousness that are portrayed in public places. Rather you set them up and guard them with scrupulous care. You consecrate these pillars of shamelessness at home as though they were the images of your gods. We denounce not only the use of them, but the very sight and mention of them!" (c. 195, vol. 2, page 189).
Ezekiel, the Prophet of God, wrote about phallic symbols/pictures: "You also took the find jewelry, gave you....and you made for yourself (Israel) male idols and engaged in prostitution with them." [male idols were phallic symbols or pictures of naked men (a penis)].
Ezekiel goes on to describe Oholah and Oholibah (2 sisters of Israel) "Oholibah....in her lust and prostitution she was more depraved than her sister. She too lusted after the Assyrians.....all handsome young men....she carried her prostitution still further. She saw men portrayed on a wall, figures....as soon as she saw them, she lusted after them....then the Babylonians came to her, the bed of love, and in their lust they defiled her."
Ezekiel 23:11-17 Please read verses 12-21, Do you think the LORD was pleased with sodomites & prostitutes?
Jeremiah also wrote about such things in Israel. Objects (penis) and pictures, (porn) arouse lust in people.
Ezekiel says, "For she doted upon their paramours..."23:20, using the Hebrew word "pillagsheyhem", their harlots or concubines. Anciently "harlot" meant in our language either the male or female prostitute. (See chapter 16:25,26. Verse 26 Says that Israel hast also committed fornication with the Egyptians. . .great of flesh; and hast increased thy whoredoms to provoke Me (God) to anger." See verses 36-41 God's punishments.
Have we provoked God to anger? Tell Me! How long will we either condone such sins or participate in them? I know we here have cried out against gross sex-sins hetero/homo for over forty years. Now this nation is promoting child mutilation (transgenderism) and pedophillia.
Clement of Alexandria wrote: "Scripture does not regard it as right for sexual relations to take place either in wantonness or for hire like prostitutes. Rather it is only for the birth of children".(c. 195, volume 2, page 367).
LACTANTIUS wrote: "There would be no adulteries, debaucheries, and prostitution of women if everyone knew that whatever is sought beyond the desire of procreation is condemned by God." (c. 304-313, volume7, page 143).
FIN: Romans 1:26, 27 & I Cor. 6:9 show that for Paul, from first creation to new creation, the primal genre of male-female marriage is an INSEPARABLE part of the framework of God's provision for human sexual expression. Paul makes the claim that homosexual practice is not a faithful way to enact the creation story. In many of my articles (1980—2023) I quote numerous authors, gay and non-gay on the subject at hand. One thing is clear: The Sodomization of our nation is HERE....and it is QUEER! [see exposing the cruel trap of homosexuality on this site. There are articles by Prof. Robert Gagnon, Ph.D in which he opposes "gay marriage" decision & challenges. New Testament professors acceptance of homosexual unions. I have articles called: "To Do or not To Do, Gay Suicides, Godly Homosexuality???, Homo Behavior, Dirty or Sinful? Is Homosexuality Wrong? The Shocking Truth!" Gay Way Booklet Series—table of contents, and Preying Peds, 6 articles exposing the Pedophile agenda! Plus other articles in abundance.
________________________________________________________________________________________
By: General James Green
OUR CHRISTIAN FAITH must never be compromised with anti-
Christ forces arrayed against the Bible-believing Christian. Especially now-this is NOT the time to leave the "Field of Battle" but to be empowered by the Word and Spirit.
Intolerance towards God's holy standards (for His people to live by) is at an all-time high. We expect this from the world...but when the Church is trashing God's standards, "deconstructing grace, faith, Christ's atonement, and even Christ Himself," this spells "REBELLION" and STINKS like REBELLION too!!
While we have found eternal life in and through the teaching/preaching of God's Word, others DISHONESTLY find-in the Bible ways to justify their STINKING REBELLION...all in the name of God/Jesus!
BIG TROUBLE AHEAD!
WITH THE Hate Crime Bill passed, our opponents are on a witch- hunt, especially the homosexuals. These "tolerant"-INTOLERANT people will go to EXTREMES to bring down Christianity. I've said it for years now, that both Islam and the Homosexual Movement would become America's TERRORISTS within. And the liberal/"Progressive"/"Emergent" churchites and the haters of Christianity within secular politics will become more OPPRESSIVE as time goes by: both are under the umbrella of "government protection." This unholy alliance of the churchites/God-haters with the government will become a more intense and daring threat to our Christian faith (see my articles called "Vibrant Faith Beyond the Church" 1 & 2).
PERSISTENT REJECTION
PERSISTENT REJECTION of Biblical truth paves the UNHOLY way for UNHOLY persecution and violence against those who believe in the Bible. While the liberal/"Progressive"/"Emergent" Church subverts souls, the world's people will try and stop EVERYONE from teaching/preaching against sin and sins.
It is no secret that this unholy alliance (which was devised years ago) will try to work at taking out the teeth of Militant Christianity (the same Militant Ekklesia that Jesus founded!). New Age leaders, religious and political leaders, are convinced that they WILL VANQUISH and DESTROY true Christianity here in America. Years ago, we had ex-members of their movement tell us so. They bragged that they would use the Homosexual Camp to ram-rod the churches, making them submit to their unholy agendas. Are we seeing this now? Yes indeed!
We also have known for years that a plan was devised by Christ- haters in the political arena to use the courts to knuckle under the resistant believers. Are we seeing this now? YES! They-the fake Christians and the secular Christ-haters-also believe that their TAKEOVER of true Christianity will be welcomed by millions, especially by compromising and scared laymen and ministers. Haven't you noticed how Bible words have been dropped from usage by most BIG NAME ministers? Joel "Lollipop" Osteen is a prime example. This "cute boy" has NO GUTS FOR TRUTH! Dozens and dozens of others now use New Age language, bow to the god of secular humanism, and walk the crooked path.
"OUTMODED DOCTRINES"
THIS IS the tactic: Get the Bible believer to rid himself/herself of "outmoded Bible doctrines." Our opponents have already declared that most "Christians" will eventually discard their "out-of-step-with- the-times beliefs in droves, and enthusiastically embrace/adopt those beliefs of the New Age/"Political Correctness" (PC-ism). Such discarding is currently transpiring.
PC'ERS' DIRTY LITTLE SECRET
HAVING (SPIRITUALLY) Militant Christianity in their cross-hairs, the reign of terror intensifies.
Now, to my main point: How can the Christian camp expect to win this war (not just a battle or two) if you Christians have an unholy alliance with the world, that is, with the U.S. government? You say, "The government is Christian!" Get serious! You know it isn't Christian. That's just one of your delusions and, may I say, "IDOLS." The PC'ers' dirty little secret is to revoke your 501(c)3 if you do not "tow the party line." Why do you think all the "BIG BOYS" in La-La Churchland have turned from Biblical Correctness to "Political Correctness"? FEAR!-fear of having THEIR PRECIOUS 501(c)3 REVOKED!!
CURRENT SATANIC CAMPAIGN
MAKE NO mistake about it, there are forces within your make- believe Christian government that are arrayed in full Battle Dress Uniforms (BDUs), ready for WAR. Their current satanic campaign of both subtle/clandestine subversion and in-your-face bullying is winning victories and battle medals for them...while the unprepared and pampered "Church" cries in pain. Remember, we've been telling you folks all this was coming for years now.
THEIR STRATEGY?
ANYONE WHO has studied the PC'ers' wicked/sinister plans knows that the greatest strategy is not a frontal assault, but a veiled/insidious attack: get Christians fighting among themselves, as one minister said quite frankly-"Conquer Christianity as bacteria does to a living organism." You see, the end result will be to leave the Christian Body a dead, rotting corpse, eaten away from within. This is the current design behind the "Emergent c Church" (backed by the thieves/liars/murderers within the political camp): make true, genuine Christianity look like BIGOTRY, HYPOCRISY, INTOLERANCE, ETC.
NEW SPIRITUALITY = OLD SERPENTALITY
DON'T BOTHER to look up my words "Vomitanation" and "Serpentality"; they are not in any dictionary that I know of! I coined these words myself. All this "New Spirituality," that is, "New Way Forward" BULL belongs on the dung pile. But this religious/political crap will not just disappear. No way! Neither will false preachers and priests disappear, for this "New Strategy" is not intended to force Christianity out of existence (at least not right now); but Christianity will, they claim, be ABSORBED into the existence of the New Age/PC agenda.
HISTORY: FORCED REPRESSION, OR WILLING ACCEPTANCE BOTH HAVE been used to conquer/subjugate people and nations. It has been said that dictators learned long ago that willing/submissive acceptance by a people/nation is preferable to forced repression/submission. I've always believed that making a known enemy a friend is far better than fighting him/her. Wasn't this the way of Jesus-to die for His enemies and therefore open up the way for them to become His friends/servants/soldiers?
TRICKERY/TREACHERY
THIS IS the name of their game! So, no matter how we view it, WE MUST PERSEVERE! One thing we must get straight here and now: America is not a Christian nation. True enough, it has (past tense!) incorporated Biblical principles within its framework, but it never was "Christian."
A nation that espouses both Christ and the world is no Christian nation. It cannot be. It is a Biblical/theological IMPOSSIBILITY! And a faith that can be denied by the government is not Christian. Indeed, America is and always was a nation with both observant Christians and Christless sinners in it-not a Christian nation.
Human freedom (non-Christian) and Christian freedom (liberty) extend to one's conscience. I can't make a non-Christian obey God, and they ought not try to silence my conscience as well. However, it is still our duty to witness about our Christian faith; but to coerce/force leads to tyranny. Jesus never forced anyone to believe on/in Him. He said that "whosoever believeth in (on) Him should not perish but have everlasting (eternal) life" (Jn. 3:16b). Yet I DO believe that governments should abide by God's eternal universal laws for the preservation and well-being of the peoples. I believe that ALL nations should adopt His binding eternal principles, which many do. But look at the current state of affairs here in the U.S.: God's laws are being dismantled and New Age/PC/Humanistic/Communistic/etc. principles are being set up. I think MURDER of the pre-born is one SIN that God will NEVER overlook. The same goes for unlawful sex-sins. Same-sex marriage is also one gross SIN against God's established and eternal marriage ORDER.
HOLDING HANDS
THE BIBLE makes it clear: YOU ARE EITHER WITH CHRIST OR AGAINST HIM. Tell me, how can the Christian Church have it both ways? Even Jesus Himself said in His earthly days, "My Kingdom is NOT of this world." So why does the "Church" persist in holding hands with a worldly government?...a government that makes sure to discard as many of God's principles as they can get away with?
WHO'S RIGHT?
THE POINT I'm making is that before there was a United States of America, there was the Holy Bible. In it we find principles of NO COMPROMISE, of INTOLERANCE (we're not to tolerate what the Bible calls SIN!), and of CHOICE. We can't force the non-Christian to obey our tenets of faith for the Church; we need to win him/her to Christ. If a faith is one of coercion, it is no real faith. We must love the Lord with our whole being and convince others to do the same. Is this too radical for you? This is Bible; but very few do this.
So far, America has given protection to all religions, but these days are drawing to an end. When we can be fined/jailed for preaching against certain sins (like sodomy, especially), be it known unto you, God's grace is not shining bright and clear in the nation.
WHAT A SHAME!
THE CHURCH ought to be ASHAMED of herself for fearing the government more than God and His Word. SHAME ON YOU THAT IDOLIZE YOUR 501(C)3 RELIGIOUS ESTABLISHMENT...JUST FOR TAX WRITE-OFFS!
Why can't you trust God? Why can't you live and work within the Biblical standards and commission? It is SIN to depend upon the arm of flesh, (i.e., the U.S. government). And why have you trashed TIME-TESTED TRUTHS for the perpetuation of a PC faith?!
BYE, BYE
THE DEPARTURE from Biblical Christianity has and will continue to be problematic for the Church. This information, to many, will sound moribund, but sooner or later the Church (at least some in her) will have to come to grips with all this "Emergent"/PC/New Age ideological fantasy stuff. It's true, we are living in both a fascinating and depressing time.
By removing Godly principles from this nation, it has contributed greatly to the increase of DAMNABLE things "from sea to shining sea." By removing Christian elements from government (all thru U.S. government policies!), it has opened this nation up to the JUDGMENT of the Great Judge. By removing prayer, Bible reading, witnessing, and so on,-which are (were!) guiding forces and lights-deep darkness has set in like rigor mortis upon a corpse. Now our textbooks have to be rewritten so as not to offend the non- Christian. I agree that some damage has been done in the name of "Christianity" in the past, but this is NO EXCUSE to punish the Christian Church as a whole.
"Congress shall make no law respecting an establishment of religion..."-this is WHY America was never Christian-..."or prohibiting the free exercise thereof; or the abridging of the freedom of speech, or of the press..." We all grew up knowing this. But this is not the case anymore, as you know.

____________________________________________________________________________________________
ONE OF THE MOST OBVIOUS FEATURES of current/contemporary idolatry is that it ROTS the moral fiber of societies, both spiritually and emotionally. The quest for "another way" or "other ways", other than God's way, puts the human world in dire jeopardy, starting with the "Christian" (tongue-in-cheek) Church.
Haven't You Noticed?
IT IS all around us . . . the worship of "many paths to God". Growing weary with Biblical truths, men and women who claim the title of "Christian", have departed from the faith and have given themselves over to seducing spirits and doctrines of devils—"godless men, who change the grace of our God into a license for immorality and DENY Jesus Christ our ONLY Sovereign Lord"(Jude 1:4, NIV).
One serious sin that these godless men and women teach today is that there are OTHER PATHS TO GOD! I want to stick with this damnable heresy in this article.
My title, "Stinking Rotting Corpse", could very well be a "Jesus Rock" band that opens up any "Christian" evangelistic campaign today.
It is amazing how BACKSLID the Church has become! Converts at these Jesus Rock concerts and campaigns are more converted to the music than Christ. Any true messenger in God's service, first and foremost, would never use filthy Rock music for praise/worship unto the most High God. It takes little discernment to realize that the idiots putting on these gross exhibitions of falsity, in terms of their life and message, are not Biblically based—they USE Biblical passages, but let's be honest, they lack the anointing of Jesus, the appointment of Jesus, and true fruit of the Holy Spirit.
Today one can't even put on a "Christian show" without lots of worldliness. Is not this the fruit of "another way"?
The Gospel of Jesus Christ
THIS HAS become the battle cry—"irrelevance of relevance". But what is relevant today? The Gospel of Christ is still relevant for "1) Obeying Jesus' command to 'Go and make disciples of all nations'(Matt 28:19); 2) The lost of this world (Jn 3:16); 3) ALL TIMES IN ALL PLACES. So when men put on THEIR RELIGIOUS shows, to be seen and heard of other men, this, in truth, becomes irrelevant in God's eyes. Jesus belongs in the CENTER of ALL Christian endeavors—PERIOD. Man doesn't need to be the central figure. And once we, the modern Church (aka, the "Stinking Rotting Corpse"), come to grips with this (once again), and once its truth—its content—is applied, putting Christ at the center of ALL, in all likelihood it will also (once again) be appreciated. Men are sick-up of religious displays of Babylon, the Great Whore!
Magnified Images
THE WORLD is aware of the horrid acts of terrorism today: bloody images are magnified (even glamorized) by the media—factional and international hatreds, national disasters, etc., fill our newspapers and run in endless clips on TV/Internet. We are living in darkened times, dear ones. Life has NO value whatsoever.
But...
ARE WE the least bit disturbed at the horrid image of a silent, stinking, rotting corpse?...where beauty and truth used to flourish...where men/women/boys/girls were told of Jesus, His loving sacrifice of His very own life being laid down for lost sinners...from where men and women went into ALL the world to tell of this Great Love for souls...from where colleges/universities/schools/churches taught the profound truths of the Bible...when Biblical truth was not irrelevant, but very much relevant for the times...when prayer, fasting, discipline, and dominion over demonic powers was paramount, and separation from the world was practiced...where consecration was a virtue, not looked upon as a vice...where dedication was expected...where, in and out of the pulpit, the men and women of God practiced what they preached...when the sword of the Lord cut the sin out of the hearers and the fire of God burned the hell out of them!?
Where has all this gone, my Christian friend? IN THE TRASH BASKET!! Now we have "dazzling darlings" and "strutting studs" putting on good shows for us.
An Extension
YOU MAY not comprehend what I'm trying to convey, but some see the Rotting Corpse as an extension of our despairing image of the modern Church (I'll throw in politics for consideration): Dead (Christ is our Life: if we've forsaken Him, how can there be any Life?), Stinking (reeking of the filth of sin!), Rotting (the putrescence is only getting worse!).
You see, the extinction of the Spirit's Life and Power from this rotting stench called "Churchianity", leaves little hope for the world to KNOW JESUS as Savior, deliverer, healer, baptizer, etc. We've got man playing God! Since the Church has chosen death and not Life, how can she offer eternal Life to the lost? Since the Church has incorporated many pagan idolatries into her "death camp", this leaves the lost LOST!
Enter the Apostle Paul
THE APOSTLE Paul, who was "sent not from men, nor by man, but by Jesus Christ and God the Father" (Gal 1:1), tells us that it was Jesus and JESUS ONLY "who gave himself for our sins to rescue us from the present evil age" (v. 4). Do you think, my liberal backslid professors of faith, that Jesus has changed His mind about rescuing lost souls today? And has He changed His status as the only one who has died for us and made the way to the Father? NO! But we have many, too many "Christians" telling us that there are NOW other paths to God; Jesus is only one of them. Really? How so? That is strictly demonic!!
In Paul's Day
GALATIANS CHAPTER one tells us, "I am astonished that you are so quickly deserting the One who called you by the grace of Christ and are turning to a different gospel—which is really no gospel at all" (v. 6). Take note, dear haters of truth, Paul is pointing out that salvation from this evil age can come ONLY from the One who defeated it—JESUS Christ. Remember this.
Christ is the ONLY one who can forgive sin/sinners.
May I ask you liberal theologians and Bible "experts" a question? What was the first Gospel message preached after the Pentecostal outpouring of the Holy Spirit (Ghost)? Tell me, you who teach and believe there are "other ways" to God: what was that message? In case you don't know or don't want to correctly answer me, I'll tell my readers who are not backslid, rotten and stinking: "Save yourselves from this corrupt generation" (Acts 2:40). And just how does one go about doing this? By accepting the ONLY means available—Jesus Christ the Lord (vv. 37-38).
Corrupt Generation
OH, THE stench of religion permeates the very atmosphere... everywhere.
No one can be saved who does not turn away from the corruption of present society (look up Luke 9:41, 11:29, 17:25; Phil 2:15; et al.). It is sheer stupidity to embrace idols, adulteries and customs of pagan cultures in order to play God. God gave the world ONE and ONE ONLY Savior, the Lord Jesus Christ.
Angel Preaching?
FRIENDS, THE basic tenant of Christianity is to break off all evil communications with the world...uniting ourselves with other (true) believers thru Christ; and to give ourselves over to the work of God.
Notice, after St. Peter preached his message in Acts 2, the Bible says, "Those who accepted his message [about Christ Jesus] were baptized...they devoted themselves to the apostles' teaching and to the fellowship…" (vv. 41-42). But Paul, who came later, wrote that "even if we or an angel from heaven should preach a gospel other than the ONE we preached to you, let him be eternally condemned" (Gal 1:8).
So What Is This Bull?
WHAT IS all this BULL we hear of, coming from the Church? Another gospel! That is what it is.
Paul's words sound a note unfamiliar in an age encouraged to think "politically correct", live on the "sexual" level of life, being alienated from the true Gospel of Christ. This new way, folks, is CHURCH! To me it is repulsive.
But what of this lovely stinking church corpse? What shall be done with it? BURY IT, of course. We can't be true to Jesus and be true to satan. Get serious here! As believers, yea, disciples, we must live for the ONLY TRUE GOD and His Son, Jesus the risen Christ.
Our desire must be towards Him, not the world with all its enticement, allurements and entertainments.
Of course, Paul was dealing with those Jews who were pushing for "law" observances: circumcision, dietary laws, holy days, etc. Friends, all this was replaced in Christ.
We don't need "Messianic Jews" and "Messianic Gentiles"—we need CHRISTIANS!...who are led of the Holy Ghost of God. To go back under the Old Testament Law or to incorporate pagan laws/customs into the Gospel is to pervert it. This is what we have today in Churchianity.
Adding - Taking Away
ANYONE WHO adds or takes away from the original Gospel is condemned by God. Make no mistake about this. All this "religious" BULL we have going on today is demonic (see Rev 11:18-19).
We are commanded to defend the faith, not defile it. Silly men in this hour and in this evil generation go about forming new gospels every day. All this "seeker friendly" nonsense flies in the face of truth. We are to defend the faith (Jude 1:3), to correct in true love (2 Tim 2:25-26), and to separate ourselves from "religious" perverts (Rom 16:17-18; 2 Cor 6:17).
Pluralism Sunday
HERE IS just an example of what I write. On May 11, 2008, the world was to celebrate "Pluralism Sunday" in recognition that other religions may be as good as our Christian faith. Are other religions equal to Christianity? I'll say, yes, if you mean the rotten mess the Church is today; and no, if you're talking about genuine Christian faith.
This day was to have speakers from other faiths (non-Christians) and music and liturgical elements from pagan religions, honoring the "religious diversity" of the world. Honor? It will be a cold day in Hell's Fire when I honor any pagan religion, even those claiming to be part of the Christian faith! I must recognize other religions exit, sure, but to put Biblical Christianity on the same level as paganism is sheer foolishness!
And just who sponsored such a sick event? The perverts at the Center for Progressive Christianity. What is wrong with Aggressive Christianity? This is more Biblical! Progressive Christianity (really "Churchianity"!) is another gospel...one that has "progressed" far beyond what the Bible teaches.
Welcome Statement
OVER 5,000 affiliates and nearly 400 churches nationwide (USA) have adopted a "Welcome Statement". That sounds clever, but what does it mean? It means, according to these rotting corpses, that other religions can be just as good as Biblical Christianity.
Some of these perverts claim that we can experience "the similarities of our faith paths". Really? Jesus said you must be born-again. This alone puts us onto another path, totally different from the pagan way.
Other Paths?
THIS IDEA is as old as man. These perverts teach that Jesus is the Church's gate to God, yet there are other equally important and credible gates to God for other people. This, my dears, abrogates the Great Commission. If other faiths lead to God, why bother to be a soul winner? or a teacher of Scripture?
Have We Also Abrogated Exodus 20:3?
"THOU SHALT have NO OTHER gods before me." The New Testament echos this all the way through.
This internecine war of Truth vs. Error, has resulted in plenty of destruction—but we are in this war for souls, at least we here are.
Virgin Birth
MANY WITHIN the so-called "Christian" camp today, deny the Virgin Birth of Jesus Christ. Most pagans deny it also.
Inspiration and Authority
AGAIN, MANY within the "Christian" camp deny this.
This is not all, they also disbelieve in the Garden Fall, the inherent corruption of human nature, humanity's LOSTNESS without Christ, salvation by grace thru faith in Christ—made possible by His death and blood atonement. Many disbelieve in Jesus' bodily resurrection, the reality of miracles, the reality of satan and evil spirits (demons), the fact that there is a Hell and that Jesus will some day return to earth.
If many liberal churches disbelieve in some or all of the above, where does this leave the pagans who do not even claim Christ, the Bible, or the Church? IN THE DARK!
Life or Death?
THE LIFE of any nation depends upon its relationship to God. Sooner or later, God will judge nations for their sins.
In carrying out their global wrecking programs to DETHRONE God, men have put the world in a state of chaos, even as I write. The more that religious men and non-religious men usurp God's authority, the more mankind will feel the effects of God's displeasure.
All this international "merging"—the cooperation between governments to persecute Christians and abolish Christianity—bears an uncomfortable resemblance to many anti-Christ movements of past history...that ended in tragedy.
"Will God Deliver America From The Next Crisis?" reads the headlines in a newspaper. "Is America Headed for Jericho?" it states. Jericho is the name of a recently cancelled TV drama in which the US collapses after 23 simultaneous nuclear blasts destroy Washington D.C. and every major U.S. metropolis except New York City. What do I believe about this? I believe it could happen: maybe not 23 blasts, but a few, enough to SCARE the HELL out (I wish!) of the Americans—enough to bring in Marshal Law and the terror that follows in its wake. It is probable that the U.S. Government would sacrifice a couple of cities, blame the Muslims, and play the good guy, like 9-11. It is more remote that Islamic jihadists would or could pull this off. Yet nothing at this point in time would surprise me...NOTHING!
As far as God helping us, more likely His hand of protection has been removed from this sick and perverted, stinking and rotting corpse.
80-year Cycles?
IT IS said that American's history is made up of 80-year cycles: each is comprised of four 20-year segments that follow one another with predictable regularity. The staff at Christian Crusade out of Tulsa, OK, write that the first 20-year segment in each cycle is described as a "high" following the preceding crisis—such as the 20 years of prosperity enjoyed by the U.S. following the Second World War, or the Louisiana Purchase after the Revolutionary War.
The second 20 years are characterized, they say, as an "awakening" which is described as"a passionate era of spiritual upheaval when the civic order comes under attack from a 'new values' regime."
Onto the third segment which is called an "unraveling"—"a downcast era of strengthening individualism and weakening institutions, when the old civic order decays and the 'new values regime' implants."
Ah! What we have here is a stinking, rotting corpse!
The fourth and last 20 years of each cycle is a "crisis" described as "a decisive era of secular upheaval when the values regime propels the replacement of the old civic order with a new one."
What Next?
I'LL TELL you what—our God is going to pour out His wrath, not only upon the USA, but upon the whole world; He is also going to show mercy towards those who repent of their evil ways. It will be a time of great darkness, yet a time of great light, a spiritual awakening, not a "churchy" thing that religious men put on, but a real, living awakening to men's souls.
God could use Militant Islamic terrorism on the homefront, for He has in times past used "the sword" to humble His people. He has also used natural disasters as the Scriptures read quite often.
The Jury Is Still Out!
IN OTHER words, we'll wait and see what happens next. I have no doubt that the Church as it stands will grow more cold and liberal, the civic order will work harder at giving perverts (like sodomites) more rights, the family unit will continue to be fragmented, and God will continue to pound away at the nations that have departed from Him.
Even when the LORD GOD punished ancient Israel for her gross sins, He still spared some and gave hope to the hopeless. Over the years, we've said much about God's judgment and mercy. I don't have to go into all the messages I've written or preached for radio over the past 25 years; we have them available if you're interested.
Amos Chapter 4 Tells the Tale
YOU BACKSLID professors of faith that belong to the "Stinking Rotting Corpse" called "Church", ought to read this whole chapter. You think you are getting away with your rebellion on God? How did God deal with His "chosen" people in Amos' day? What say ye? Was it not by death? by plagues? mildew? blight? drought? famine? etc.?
It was God who gave Israel what they deserved. It was God who "made the STINK of your camps to come up into your nostrils: yet have ye not returned unto me…" (Amos 4:10).
I do not believe that America, as a nation, is ready to repent. So, God is going to make things a lot worse to bring her to that point. You will see!
Deserted!
AMERICA IS almost here: completely deserted by God. Amos 5:2 tells us that "Israel is fallen; she shall no more rise: she is forsaken (deserted) upon her land; there is none to raise her up."
Enemy, Not Friend!
NOW GOD was Israel's enemy, and not her friend...because of her unrepentant sins. This same kind of judgment can be found in Isaiah, Jeremiah, Ezekiel, Hosea, etc.
Hosea 13:1
WHEN ANY person, congregation or denomination forsakes the Living God and turns to dead idols, DEATH, spiritual DEATH ensues.
Take Hosea 13:1 for example: "When Ephraim spoke, men trembled; he was exalted in Israel; but he incurred guilt through Baal and died."
Hosea was writing about God's very own son here, His people. Ephraim is also called Israel (the 10 northern tribes), the former term being used to signify the tribe by itself, the latter, the 10 tribes.
Hebrew scholars render 13:1 as, "When Ephraim spoke tremblingly (or 'stammeringly', as a child) then He (the LORD) was exalted in Israel; but when he (Ephraim) incurred guilt through Baal (worship), he died."
This means that when Ephraim was in his youth (young days), when he spoke tremblingly or hesitantly, honored and served the LORD, so that the LORD was exalted; but when Ephraim fell into Baal worship (idol worship), he incurred guilt and, in the spiritual sense, DIED!
Cannot we see the similarities between old Israel and the New Testament Church? As time progressed, so the Church (as a whole) progressed (or regressed) in worldliness. True, always a small remnant has refused idolatry and adultery; but as a whole, the Church went awhoring after other gods.
And what can we say about the American Church (as a whole)? She too has fallen into idolatry and adultery, thus she has DIED spiritually!
There Was a Time . . .
THERE WAS a time in America when preachers preached under the holy power and authority of God—men trembled too! These men of God exalted the Holy One of Israel, and in turn God honored and blessed America. Churchfolks , for the most part, feared God and lived godly lives; their character reflected discipline and denial (of worldliness).
Not so today. In fact, the character of most professing "Christians" is ease and sleaze!
Ministers are soft on sin and hard at playing the whore on God! Their words are mostly counterfeit, "sounding brass, or a tinkling cymbal" (1 Cor 13:1), whereas the old time Gospel ministers' words rang true, where genuine.
What did the people say of Jesus in His day? "The people were astonished at His doctrine: for He taught them as one having authority, and not like the scribes" (Matt 7:28-29). Jesus' authority came from a godly and disciplined life. But who in this hour and in this evil generation "DIES TO SELF"?
Stinking Rotting Corpse
AS SURE as Ephraim died spiritually by idolatry (Hosea 13:1b), so has the American Church. To be sure, her rotting body has not been placed in a casket. No black hearse has born her to her grave—she lives on in decay, debauchery, deceit, . . . in a stinking dead and damned state, only to call others into her putrid defilement. Her soul is DEAD and DAMNED!
Depths of Hell!
PROVERBS 9:17-18 tell us thus: "Stolen waters are sweet, and bread eaten in secret is pleasant. But he knoweth not that the DEAD are there; and that her guests are in the depths of hell." Oh, how true of today's modern, liberal, progressive and damned Church!
First Timothy 5:6 tells us, "But she that liveth in pleasure is DEAD while she liveth"—the curse of the "living dead"!
"Living death" is to be feared: separation from God for all eternity! "The wages of sin is death; but the gift of God is eternal life through Jesus Christ our Lord" (Rom 6:23).
When man loses his soul, like Ephraim, by killing that life which is within, even fellowship with his God, there is nothing awaiting him but eternal BLACKNESS of soul for ever.
Sin Plus!
HOSEA 13:2 tells us that the people of Israel sinned more . . . making molten images . . . kissing them! The signs of Israel's spiritual death were thusly defined. And cannot we behold the same "progression" downward in today's Church?—the ingress of evil, the declension to idolatry, the "weakness of the king's (rulers)" and the sheer stupidity of the people (congregation); the inevitability of the coming down!
(For more on Israel's idolatry, see Hosea 4:17, 8:5-6, 10:5-6).
As I close out Part One, ask yourself if you are really in right-standing with God. Do you have unconfessed and unrepented of sins that can be held against you? If so, repent now and be ye clean.
[Study material for this article was adapted from its original sources.]
* * *
________________________________________________________________________________________

GO TO: PAGE 2